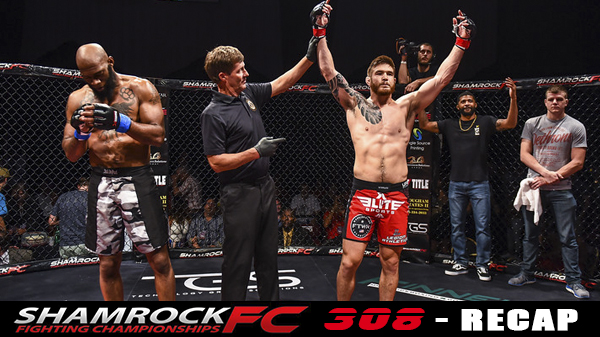 Shamrock FC 308 - Recap
The Ameristar's cool interior was a welcome respite from the stifling Missouri humidity as Shamrock FC 308 rocked the house with an entertaining patchwork card.

In the Main Event Johnny Eblen quickly went to his wrestling background to nullify any chance Wayman Carter had in winning the fight.

Shamrock FC CEO Jesse Finney was all praise for the former Missouri Tiger wrestler, who's following in a long list of accomplished former Mizzou grads.

"The kid's a beast, we started Tyron Woodley and Michael Chandler on their first couple of fights and he's at their level," Finney said. "He's an explosive young man. We appreciate Wayman Carter stepping in, he's a veteran, he hits like a tuck. Can't blame Eblen for taking him down. "

Eblen feinted with level changes early and when the opportunity presented itself he struck.

"The plan was to feint and get a reaction out of him and see what he was going to do," Eblen said. "He threw a knee when I level changed, and I just started throwing after that. I saw a double open up, so I just took it. Took him down, he wouldn't let me get his back, he kept holding onto my glove, so I snuck that glove up under his chin and got the submission."

Eblen finished it quick from there with a guillotine at 1:37 1st. This was the third straight, professional win for Eblen who plans a quick turnaround and to be back in KC on October for SFC 310.

The co-main event between Ivey Nixon and Montrell James was the clear fight of the night winner. A three round contest that covered every inch of the mat. Stylistically, Nixon was loose open and flowing. James was compact and looking to counter. Nixon's long arms and legs combined with his open style made him look like stretch arm strong throwing punches from the outside.

In the first round James' more conventional stand up allowed him to avoid any real punishment. On the ground, Nixon a blue belt, used his long legs to consistently attack with submission attempts.

Nixon said of James, "I was staying on the outside but his hands were so tight, it was really hard to land the outside punches."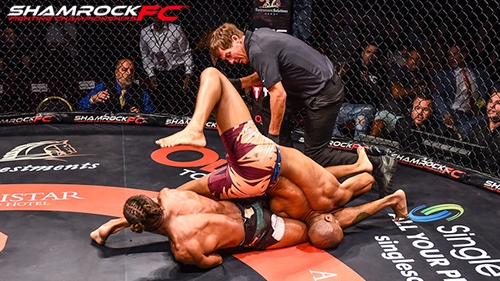 In the second Nixon worked to close the distance and went to town with repeated standing elbows. The ground battle was split in the second. It was a close fight and could have been split going into the last and decisive round.

James had to weather the storm in the third again but refused to quit. James had rear mounts and a triangle attempt but at this point both were too slippery from the exertion of the fight. Nixon was able to score again with elbows. Nixon got the unanimous decision victory in a "helluva" fight.

Nixon is looking to continue to grow, or rather shrink, as a fighter on his cut down to 155.

"He could be the biggest 155er I have ever seen." Finney said. "Nixon will be interesting to watch as he stabilizes and gets comfortable at 155."

The Matt Uhde and Bo Kunz fight wasn't the original plan, but matchmaker Rob Donaker was determined to keep a heavyweight fight on the card, and the fans were thankful. Uhde took the fight 3 weeks ago and Kunz just 10 days prior to Saturday night. However, both are entertaining heavyweights always willing to put on a show, and Saturday night was no different.

Uhde had more in the gas tank, and that was the difference maker on the night.

"I've been running a lot, actually quite a bit of running," Uhde said. "So my cardio was pretty good, I was confident in that, I just hadn't been in the weight room all summer. I've been working on my Summer bod, not my fighting bod."

Both men weren't messing around with too many jabs and were looking for the big shot. By the end of the first, Uhde's extra cardio started to show and it allowed him to get Kunz to the mat and finish with a triangle choke at 3:57.

"I hit him with some good shots with the kicks in the midsection and I could tell it hurt him," Uhde said. "I knew that would take some wind out of him. When I rushed him, I thought 'I know what do do here', I was going to drop some bombs on his but I saw he was breathing pretty heavy so I just thought I'd end his night real fast."

The win was Uhde's third in a row has now won four of his last five to even up his record at 7-7.

The tough piece of 47 year old leather known as Raul Romero was able to wriggle free from the submission attempts by Steve Brown. "Machine Gun" Romero never stopped firing and got the tap out due to strikes at 2:05 of the second round.

With lots of young talent on display on the undercard, it was Caveman Crew's Derrick Wicks who received the highest praise from the boss.

"Derrick Wicks, he's something that I haven't seen in many years," Finney said. "That kid has great streaking, he's in your face. He's pinpoint, he's explosive. Keep an eye on that kid."

Wicks was confident and outspoken backing it up with a s strong performance with his TKO of Roland Harris at 1:53 of the first round. In preparing for the fight Wicks said he needed to be more confident and carry that through into the ring. The win was his third win out of his last four.

"I just knew he had nothing for me," Wicks said. "I could walk through his punches, he could take me down and I would stand right back up. I just knew he had nothing for me. In my past fights I wasn't confident enough. You really got to believe in yourself, you can't have any little bit of doubt when you walk in there. "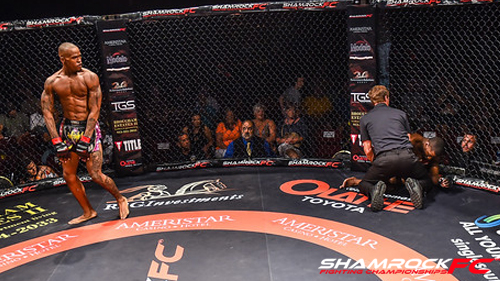 Cody Gillenwater was victorious over Alex Borden in a three round decision. Gillenwater took the match to the ground in the first but was under constant assault by Borden's jiu-jitsu. Gillenwater wisely switched it up and kept the fight standing in the second controlling with dirty boxing. Gillenwater then used his wrestling in the third to win the round and the decision.

Blue belt Jeff Allen had an inauspicious start to his match with Lantz Nave. Allen walked into a punch to start the match landing on his back. The crowd assumed to the match would end quickly after as Nave tried to finish with hammer fists. Allen remained composed and worked his ground game. The work paid off he got armbar submission victory at 1:41 of the first round.

Allen said "I've been working the past 9 months to improve my bottom game."

Shamrock FC returns to Kansas City on October 13th.

Full results:
Johnny Eblen DEF Wayman Carter - Guillotine, 1:37 1st
Ivey Nixon DEF Montrel James - Unanimous Decision
Matt Uhde DEF Bo Kunz - Triangle, 3:57 1st
Raul Romero DEF Steve Brown - Submission to Strikes, 2:05 2nd

Derrick Wicks DEF Roland Harris - TKO, 1:53 1st
Cody Gillenwater DEF Alex Borden Unanimous Decision
Jeff Allen DEF Lantz Nave - Arm Bar, 1:41 1st
Nik Bowers DEF Luke Lanier - RNC 2:36 1st
Fernando Andrade DEF Puls TKO 1:08 1st
Dan Olajiga DEF Harley Heavner - TKO, 1:39 1st
Josh Horn DEF Chris LaPerle - KO, 0:15 1st
Jacob Harbit DEF Derek Crawford - TKO, 1:50 1st

KICKBOXING Drea Hawkins DEF Haylee Woodward - Decision
KICKBOXING Shaun Birch DEF Tyler Rowe - Decision

Photos courtesy of Jerry Chavez Photography. See the entire gallery
here.