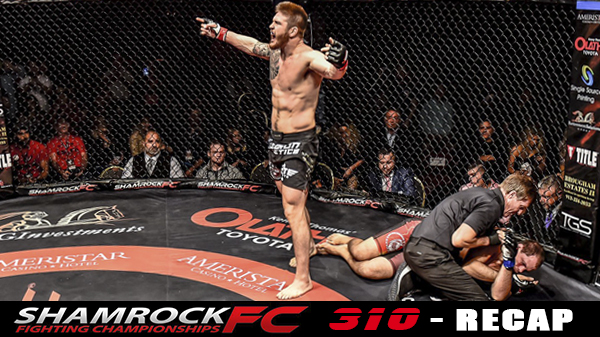 Shamrock FC: 310 - Recap
Spooky October 13th was the date for Shamrock FC 310 at the Ameristar KC. Rob Donaker cast his match-making spell, setting up a night of fights filled with tricks and treats. The night was highlighted with pair of pro debuts, amateur defenses, and saw red-hot prospect Johnny Eblen stayed unbeaten.

"Johnny comes out there and just goes, goes, goes. He's a Mizzou wrestler and all that so he's just going to go nonstop," Donaker said. "We brought in someone we thought could weather that storm and also a very good jiu-jitsu guy. This was only Tyler Lee's second loss as an amateur and pro, he was undefeated in his amateur career. He is a LFA-vet so this definitely puts Johnny on the map for sure. He's got a lot of big things ahead of him down the road."

Eblen imposed his will on Lee finishing the fight midway through the first. The wrestling versus jiu-jitsu match up went to the wrestler this time as Lee wasn't able to weather the storm that Eblen brought.

Having finished all his three of his previous fights in the first round, Eblen has faced some criticism for having an easy go thus far.

"I don't give a fuck how long it took, I fucking won. I finished that mother fucker. I finished him." Eblen said. "That's all that matters, I finished that dude."

In preparation for a seasoned grappler in Lee, Eblen continue with the same recipe that has seen him jump to a 4-0 record to start his career.

"I didn't prepare any different, I trained liked I always train, I'm trying to be the best in the world." Eblen said. "You don't train for specific fighters you train to get better, to become the best in the world. You find out your opponent's tendencies and find out some simple things they do, and then you train. That's how world class level fighters train."

The explosiveness of Eblen allowed him to strike, move in, secure a takedown, and finish the fight with ground and pound. Eblen is a rocket on a moonshot, and it's a clear course to the national stage.

"Maybe I'll get another fight this year, not sure who it's going to be with," Eblen said. "I'm sure I'll fight a couple more times regionally, and then I'll be looking to sign, next year."

The co-main event pitted Deron Carlis and Nick Radtka in another wrestling versus jiu-jitsu match up. Carlis came out strong landing strikes and securing takedowns. Carlis looked in control throughout the first and into the second. In a Frank Mir-esque performance Radtka weathered the storm defending and waiting for his chance to spring a submission trap.

"I think Carlis dropped him right off the bat," Donaker said. "A lot of those jiu-jitsu guys, some like to get hit and don't mind if they can get the submission and others freak out. I think in this case Radtka just weathered the storm, and was thinking one or two steps ahead of the game. Once that choke got on he went out quick, he didn't even have time to tap."

Late in the second as Carlis postured up for continued ground and pound Radtka wrap his legs high trapping Carlis in a triangle choke. The choke was so secure and tight that Carlis didn't have time to tap and was KO'd at 4:14 of the second.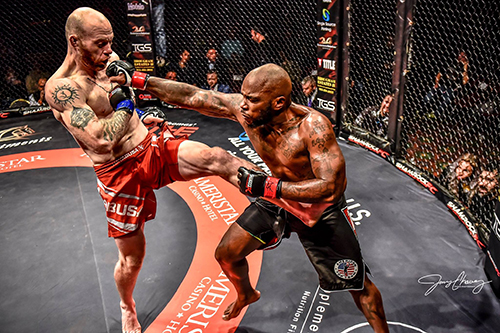 Flyweight Florina Moeller, in her pro debut, took on late replacement Erica Torres in one of two female bouts on the night's card. Moeller out of Glory MMA was calm and in control for all three rounds of the fight.

"She was really tough for sure," Moeller said. "She could take a punch, she was working off her back on the ground. She was a solid fighter. I was surprised she was trying to take me on the ground, which normally i'm pretty comfortable, I always end up on top in that position. "

Torres proved tough to finish but wasn't able to generate enough offense off her back, while Moeller was comfortable and prepared for the 5 minute rounds at the pro-level. Torres began to fade in the third round but Moeller's cardio didn't give out and she was able to finish Torres with strikes at 1:28 of the third round.

Grant Hartwig finished Sergio Robles late in the first round with an avalanche of elbows. Robles had taken the fight on short notice and faded in the late stages of the round.

"Ben from Glory told me exactly what to do and I tried to follow it," Hartwig said. "He took the fight short notice and probably hadn't been in a camp. I'm sure he trains obviously, he wasn't preparing for a fight so probably wasn't in the best shape."

Also in his pro debut, Devon Webber took on Isaac Doolittle, a Joe Wilk protege out of Manhattan Combative Sports in nearby Manhattan, Kansas. With both men well versed in the ground fighting styles, it was Webber who made the first move, attempting to secure a standing guillotine, before transitioning to the ground. Doolittle was about to escape and rough up webber from top position when Webber attempted to employ a rubber guard to slow down his opponent.

"Rubber guard generally doesn't work," Doolittle said. "I'm a brown belt under Joe and we've had so many people try rubber guard on us, and we do a smash pass and just smash through it. Everything he threw up, I had an easy defense for it."

Webber looked visibly fatigued at the end of round one as the 5 minute pro rounds started taking their toll. Doolittle came out strong in the second as Webber looked just to defend. Off a takedown Doolittle worked to a dominant position and transitioned to a north/south choke submitting Webber at 2:17 of the second evening his pro record at 1-1.

Tranvis Sumler looked to defend his interim amateur bantam weight title against Cesar Morales. The always measured Sumler had a surprisingly fast start, matching the intensity of the always up tempo Morales.

"After the gloves touched, he immediately fired so I sorta just fired right back," Sumler said. "I tried not to let him get the center too soon."

Sumler sprang to action attacking with a standing guillotine that transitioned to the ground. Sumler's edge on the ground was quickly apparent and resulted in a quick arm bar submission victory a shade under a minute of the first round. If all goes to plan, Sumler will meet the titleholder Tim Jackson in January to find out who is the best bantamweight in Missouri and take sole ownership of Shamrock FC title.

Truly an entertaining night of fights with implications and foreshadowing of bouts to come. Shamrock FC returns to KC in December for Shamrock FC 312, stay tuned for more on this event in the days leading up to December 8th.


------------Main Card Results---------------
Johnny Eblen DEF Tyler Lee -- TKO Strikes, 2:21 1st
Nick Radtka DEF Deron Carlis -- Triangle Choke, 4:14 2nd
Florina Moeller DEF Erica Torres -- TKO Strikes, 1:28 3rd
Grant Hartwig DEF Sergio Robles -- TKO Strikes, 4:29 1st
Isaac Doolittle DEF Devin Webber -- N/S Choke, 2:17 2nd

------------Under Card Results--------------
Travis Sumler DEF Cesar Morales -- Arm Bar, 0:55 1st
Isaac Lyons DEF Ian Smith -- Split Decision
Zeb Vincent DEF Dan Olajiga -- RNC, 2:33 2nd
KICKBOXING -- Sarah Christianson DEF Angie Marquez -- Unanimous Decision
Trevor Johnson DEF Joe Estrada -- Arm Bar, 1:40 1st
Patrick Pace DEF Johnny Roberts -- TKO Strikes, 1:28 3rd

Photos courtesy of Jerry Chavez Photography. Check out Jerry's entire gallery on his official website.