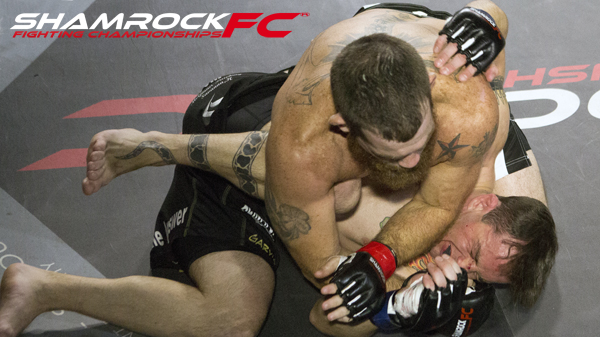 Shamrock FC: Brave - Recap
Eric Irvin smashed and Steve Knogl inspired.

A card made up of two pro fights and nine amateur, Shamrock FC's Brave at the Lumiere Casino on Saturday was a casserole of story lines.

There was the undercard that featured at least five MMA debuts, two victors who took their bouts on extremely short notice, a co-main event competitor who is nearly half-a-century old, with the whole thing topped by bout between a 30-pro fight veteran versus a Hedgehog.

Irvin returned to old form but combined it with his veteran savvy and had his way with Jeremy Castro, winning in the night's main event with a first round submission.

Irvin has carved out a pro resume of 10-4 with most if not all of that time spent at lightweight. Irvin and Castro met at a catch-weight of 165. He felt supercharged, more energized and stronger physically and mentally. Irvin was dominate, yet also wise and patient, when he got on top of Castro early in the fight and never relinquished dominate position, in complete control the whole time.

The win got the pendulum of momentum back on his side. After winning four straight and six of his last seven, Irvin lost a split decision in his Bellator debut in June.

"I'm probably going to move back up to welterweight after this fight," Irvin said. "These last couple of cuts have been hard on me. I've had health issues. It's starting to hurt my body. I'm almost 30 years old and I have a life to live after this so I'm going to move back up to welterweight "

"Everyone is like, 'well, you're going to be fighting tall guys,'" Irvin continued. "Look who I fought last time. Hugh Pulley is like 6-2, 6-3. Why not go to '70, feel better, be a little faster, and get my strength back. And be happier. When I'm making '55 and working 60 hours a week it makes me hate MMA. I'm going to get back into loving the sport again."

The only offense Castro (14-18), a former Division I wrestler out of Iowa's Miletich Fighting System, could muster came seconds into the fight when he scooped up a quick takedown. Irvin immediately popped back up, reversed Castro's onto the cage, and then placed him on his back. Irvin was immediately in to side control. Once there it was a milkshake of elbows, punches and knees, battering the midsection. At one point Irvin thought he had sniffed out an armbar, but chose not to give up such a dominate position and went right back to tenderizing the body.

Once back on the feet, Irvin continued to do work and landed a heavy knee to the body. The Hedgehog went for a guillotine attempt, re-established and sank in a rear naked choke, this time for good, at 4:41 left in the first round.

"I gave him shots with the elbows and it was like it didn't phase the guy," Irvin said. "Just a tough guy. The feeling of victory right now is so awesome I'm ready just to do that again."

Knogl is the head coach at Granite City's CMMA and has churned out a stable of fighters known for their toughness, punching power and grit. On Saturday, he was on the other side of the fence, facing power-punching Bo Kunz at heavyweight.

The 48-year-old Knogl weathered a rough and tumble first round to score a TKO win in the second over the popular Kunz (2-2), 16 years his junior.

"I had a good time", Knogl said. "It was interesting returning to the cage after several years off. I felt a little ring rust early and felt more in a rhythm as the fight went on."

Kunz (2-2) looked good to go at the sound of the bell, landing a heavy leg kick which led to a takedown. Kunz did a nice job of keeping the pressure, mixing in elbows and punches to the body.

Eventually Knogl reversed positions, took Kunz's back, and landed shots from underneath. He eventurally pressured Kunz against the cage once it got back to the feet and was effective with his dirty boxing. Coming off a separation, Knogl landed a front kick and the two had a nice exchange before Kunz scored another takedown. It wasn't long before they were back on their feet where Knogl landed a nice left to close the round.

"I was happy to see that I can still take a shot," Knogl said. "I was surprised that Bo was able to take some of the shots that I landed early. He could step up and take a shot out of the box. It took a lot to break him down."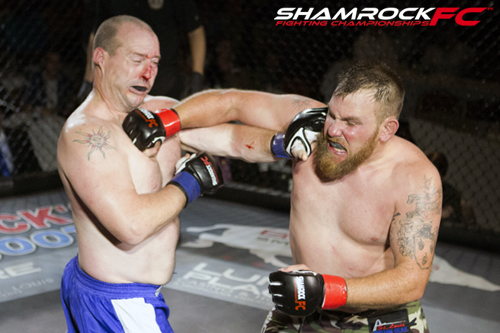 The second round began in brawl mode as Kunz matched Knogl's left with big rights of his own. Knogl continued to press forward and when Kunz turtled up near the cage, he dropped several punches to get the finish.

"I was in shape and prepared to go three rounds from the beginning," Knogl said. "I don't take anybody lightly. I'm too old and too experienced to ever think a fight is predictable. It's a live animal and anything can happen. I prepared for the worst, hoped for the best and wound up somewhere in the middle. Now I'm going to drink a couple thousand beers tonight. Every time I fight I'm retired and father time will eventually take the ability away from me but I really had a good time tonight."

Erik Newman's SFC flyweight title defense highlighted the amateur portion of the card. The speedy Newman improved to 9-2 with first round submission of Quentin Garrison via von flue choke.

Matt Ray was all kinds of dominate in his second round win over Bobby Mendica. Ray barnstormed through the first round and in the second, landed a head kick off a scramble to get the TKO win at 1:52.

In other action, Eric Williams earned a unanimous decision over Aaron Kuhl.

Dustin Lampros is an Illinois native who has been spending time in Florida at American Top Team. Lampros was ready to make his return to St. Louis and Eric Ellington, out of the Academy of Courage, stepped in last minute to replace Cyrus Walker. Ellington shook off some early-fight nerves and went to a sound wrestling game. Ellington took it to Lampros, scoring a unanimous decision win.

Mark Kirkland, another Academy of Courage product, put together violent outing. Kirkland rained down punches from mount before finally sinking in an arm triangle to get the first round submission win over Josh Speaks.

Marye Dalton earned a unanimous decision win over Royal Schirmer, Derik Scott submitted Cody Naucke with a key lock at 2:32 in the first in Scott's MMA debut.

Deb Shipley agreed Saturday morning to her fight with Tiffany Axton, both making their MMA debuts. Shipley's rock-solid boxing led to a 58 second TKO.

In an MMA debut for both, Dustin Ventimiglia out of the War Room in Alton, IL got on top of Travis Perry and never let up, getting a first round TKO. Ventimiglia is the nephew of St. Louis MMA pioneer Scott Ventimiglia, who retired in 2010 with a 14-6 record.

Gaston Marabotto secured a standing guillotine in 22 seconds to beat Nate Dieckman to start the show off.

Shamrock FC returns to the Lumiere with XFN 5 on November 14.

Photo courtesy of Jimmy Range Photography