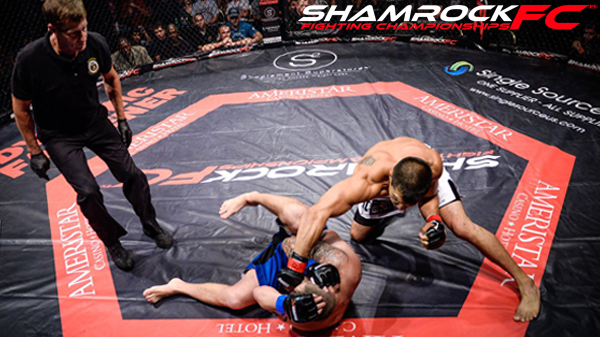 Shamrock FC: Clash - Recap
Again the Ameristar Casino served as the perfect battle ground in Kansas City for Shamrock FC.

Clash was a long card with 14 fights, but the pace never dragged as no fight went to decision. The under card was a surprise with many fights show casing excellent skills and techniques throughout, and the pros delivered an exciting finish to the event.

"The undercard delivered exciting fights." Shamrock FC President Jesse Finney said. "That's what it's all about, until the big boys come out." Akin and Joplin I thought was going to be fight of the night and ended up with a first round submission. They came out quick in that first thirty seconds. I told someone this was round 4, but Joplin ended up catching him early."

In the main event, the hometown hero Bobby Voelker had one of his most impressive performances in years, with a throwback to his Strikeforce days when he earned the title "Vicious Bobby".

"His footwork was great, he was countering punches. Most people don't know, but Bobby was going through Paramedic school, he was working a full time job, and trying to fight." Finney said. "He was doing all of that in the UFC. He's finished with Paramedic school and he told me 'I want to fight, and I want to fight often' That was the best I've seen him look in a few years."

Voelker came into the main event on a mission.

This wasnt the old Bobby who rushes forward as he puts it blocks punches with his face. Voelker using excellent footwork and head movement picked his spots and countered.

"Mike Estus is a game guy, but that was probably the best Bobby Voelker has looked since his Strikeforce days." Finney said.

A jab by Voelker knocked Estus down and Voelker never let him up. Voelker jumped on Estus with a flurry of blows. When the stoppage didnt come immediately Voelker listened to his corner, relaxed and picked his punches keeping Estus down until the stoppage was called at 1:27 of the first round.

This was another step on the ladder as Voelker beefs up his resume for another run at Bellator or the UFC.

"Everyone wants this guy." Finney said. "In all his fights, amateurs and pros, you've never seen a boring fight. He's one of those guys who you say 'Bobby's fighting, I'm going to buy that."

One of the standout performances went to Adam Meredith who came from behind with a submission to take a win back home to St. Louis. Meredith out of St. Charles MMA's broke Manny Merazs undefeated record, and possibly his arm.

"I was extremely impressed with Adam Meredith." Finney said. "Round one could have went either way. I actually had him losing the fight in round two, it seemed like almost he was playing possum and at the last minute he pulled out a super slick armbar, I think he broke his arm. I was super impressed with the way he hung in there."

Meraz stung Meredith in the first under the left eye. The swelling was pronounced and Meredith admitted later it was impairing his vision from that eye in the second round.

"It wasn't like a big shot or anything." Meredith said. " We were on the cage, I didn't have the best head position and he landed a real good, short shot there and landed right in the eye. Coming in that second round it was definitely effecting my vision, but all in all it wasn't too big of a factor."

During scramble from a takedown Meredith grabbed an arm bar. Meraz refused to tapped and fought hard to break the hold but it was secured too deep escape. Meraz finally tapped painfully at 3:50 of the second round.

"I wasn't very happy with my movement on the ground." Meredith said. "I felt like I was just resting there a little too much, but I felt comfortable on the ground. Once I got back to guard he just left his arms hanging out there, I could have taken either arm, and I just went for the armbar."

Meredith improves to 4-1 and will now turn his attention to a possible Bellator fight on November 6th in St. Louis.

Second verse not quite like the first. The rematch of Akin and Joplin went a little different than the last time. The first meeting was a 3 round war going to a split decision for Akin.

Joplin refused to get drawn into another stand up battle sticking to his game plan.

"The crowd from the last one was so looking forward to this one," Joplin said. "I was kind of afraid they were going to be upset with this one. I knew I wasn't going to get into a cussing, yelling, slugfest with him in this one. I wanted to get in there, be technical and get the win like my coach said. You can never really plan anything, but that was the gameplan."

Joplin, fighting for Glory MMA and Fitness, took care of business quickly winning with a guillotine choke at 1:11 of the first.

"I got him down, he got up and turned right into me." Joplin said. "In practice I work that guillotine all that time. It just fell into place and I took it."

The match between Aaron Poston and Christian Camp had Poston as the sentimental favorite with Poston vowing to donate his winnings to his couchs daughter for medical need. Camp was undeterred by such outside interests, he pushed the pace with smothering wrestling and strong ground and pound. The Camp earn the TKO victory midway through the second.

"The gameplan originally was to out strike him standing, and then wait for him to take me down." Camp said. "When we ended up on the ground I found out I was a lot stronger than him. I didn't think I was going to control him that well on the ground, I just wanted to pressure him and make him as tired as possible.'

Camp improves to 3-4. Two of his four losses have come by way of split decision.

"This is definitely a confidence booster for sure." Camp said. "I should have fought for these guys sooner, and maybe some day Bellator down the road."

In a generous gesture Jesse Finney entered the ring after the fight and announced he would be giving Poston the full purse as it was going to such a worthy cause.

Chance Thackston out of nearby Manhattan, Kansas climbed his was to victory attempting a flying triangle on Andrew Swofford. With Thackston hanging off him like King Kong on the Empire State building, Swofford placed Thackston on the mat in a very controlled manner, a scramble on the mat helped setup the submission.

"I watched a couple of his videos," Thackston said. "I knew his takedowns were body locks so I was looking for a flying triangle to be honest with you. In a scramble you can catch a submission, and I ended up catching his arm. He looked like he might escape and I almost gave up on it, but I still had the elbow."

During the ensuing scramble Thackston, a blue belt under Joe Wilk was able to catch onto the arm of Swofford and forced a tap to at 1:23 of the first round.

The all-amateur undercard was fun and entertaining including a wild bout between Tyson Hicks and Trevor Johnson. Hicks, a student of Rob Kimmons, came out with an unorthodox, tornado style that saw him throwing and landing multiple spinning punches which helped earn him a KO victory a minute into the first.

"I like to mix it up. I was kind of watching his film and noticed he left that hand out a lot." Hicks said. "I probably should have setup more stuff, but I caught him later on. That was the plan to see if I could catch him with his mistakes."

Caveman Crew's Dejuan Harper worked his dirty boxing and relied heavily on his takedown defense in an intense battle with Brandon Santana. With the fight running too close to call, Harper stopped Sanatana

"We were just trying to faking him out, freeze him and attack," Harper said. "Miss his counters and control him if he does take me down and get good positions. I think I did a good job."

Shamrock FC returns to Kansas City on November 21st.

Full Results:
Bobby Voelker def. Mike Estus TKO 1:27 1st
Adam Meredith def. Manny Meraz Sub. Arm bar 3:50 2nd
Will Joplin def. Jacob Akin Sub. Guillotine 1:11 1st
Christian Camp def. Aaron Poston TKO 2:50 2nd

Chance Thackston def. Andrew Swofford Sub. Arm bar 1:23 1st
Tyson Hicks def. Trevor Johnson KO 1:24 1st
Kinney Licea def. Devin Webber KO 0:11 1st
Dejuan Harper def. Brandon Sanatana TKO 0:00 3rd
Chris Mitchell def. Josh Mitchell Sub. Standing Guillotine 1:11 1st
James Wolverton def. Harley Heavaner TKO 1:48 2nd
Curtis Mar def. Aaron Harvey Sub. Leg triangle 1:33 1st
Travis Sumler def. Kiley Hanson Sub. Arm bar 2:13 1st
Jennifer Nunn def. Brittany Bailey TKO 0:31 1st
Brian Reeves def. Chance Barnes Sub. Gogoplata 1:22 1st

Photo courtesy of Jerry Chavez Photography.