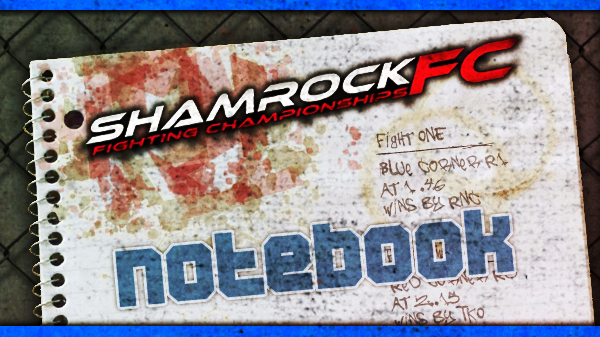 Shamrock FC: Collision - Notebook
When Shamrock Fighting Championships: Collision takes over the Lumiere Casino on Saturday the main event will have a touch of novelty to it.

Booker DeRousse will face Jordan Mitchell and the asterisk to the middleweight bout is that DeRousse will hang up his gloves and retire from the sport when it is done.

The charismatic DeRousse has always been a big draw and crowd favorite. But with 10 pro fights, he has decided it is time to move on.

"Booker called me up and said he wanted to go one last time and get one more in," Shamrock FC matchmaker Rob Donaker said.

Donaker couldn't recall if SFC has ever had a professional retirement match before.

In Mitchell, DeRousse will have a scrappy 23-year-old with a 3-3 record. Mitchell, out of Indiana, brings solid grappling to the table and will look to nullify the 33-year-old DeRousse's go-for-broke style.

"Booker is really strong," Donaker said. "He's not the most skillful but he has a lot of heart."

DeRousse is coming off a first round submission of Dan McGlasson in April of 2012. Along with SFC, DeRousse has fought for Strikeforce, Fight Me MMA, and Rumble Time among others.

Women trouble

SFC: Collision features two female fights.

First, on the main card, Beckie Ruth will face Mandy Polk in a flyweight pro bout.

Polk is a standout BJJ practitioner who has fought anywhere from 115 to 125. Polk brings a high-level of fitness to the cage. This will be her SFC debut as the Tennessee product has cut her teeth for V3Fights in that region.

Ruth is a familiar face to the region. The Benny Voyles product from 21st Century MMA in Pacific has shown that she has the skill level to take it to the next level if she can just get some fight night consistency. Ruth has had a couple of false starts where opponents dropped out at the last moment forcing cancellation.

On the prelims, Gabrielle Labbee will face Shawna Tyler. This will be the MMA debut for Labbee, who brings a vaunted karate and striking background with her.

SFC has always prided itself on showcasing female fighters. As women's MMA becomes more and more mainstream and more and more ladies have embraced training, finding fighters shouldn't be a problem, right?

"Finding female fighters can be a headache," Donaker said. "It's a big trend right now but a lot of the women don't want to fight or if they do, they want someone easy and they want to protect their record. There just isn't as many out there. But now that the UFC is putting a 115 division, they all think and want to go pro."

Keeping busy

For the year, SFC will have put on seven shows in seven months between St. Louis and Kansas City. With another six on the calendar, SFC is actually looking to add another. With 14 shows likely for 2014, SFC will try to up its game in 2015 with 18 shows and is looking to secure more locations in the Midwest.

"We're busy and it's a good thing," Donaker said. "We have plenty of opportunities for guys who want to fight and stay busy."

Title fight

The SFC amateur lightweight title will be up for grabs as belt holder Brandon Nehls will jump to the main card to face Zack Davis out of Carbondale. Both Nehls and Davis are big, strong 155-ers who have wrestling backgrounds that could negate each other. Nehls, who cross trains between "Mean" Mike Green and Berger's MMA, is 4-0. Davis comes in with a 7-1 mark.

Lost fight

Submission whiz Ben Chesser was originally on the main card. Chesser was going to face Willis Ferrell but after Ferrell dropped from the card, Sheldon Smith stepped in to take the fight. But a combination of strep throat and a ankle injury forced Smith to withdraw.

Well-represented

Not only will there be fighters from Finney's MMA and Finney's HIT Squad along with at least three out-of-state schools, but there will be St. Louis representatives from ATT Evolution, Hahn's MMA, and the Academy of Courage among others.

Prelims

The highlight of the preliminary card will be the matchup between Shapen Jorden vs. Montrel James.

Both Jorden and James are talented stand-up fighters. James comes from Integrity MMA, coached by TJ Mohler. Jordan is a product of Benny Voyles and 21st Century MMA.

The rest of the prelim card features plenty of newcomers. A cynic might roll their eyes at watching a handful of newbies go at it, but an open mind could lead to a entertained one.

"Sometimes these newcomers come in with no fear," Donaker said. "They come in slinging."

Tickets are still available for Saturday's fight. Go to https://www.cagetix.com/shamrockfc to get yours.

Find out even more about Collision with our event preview.