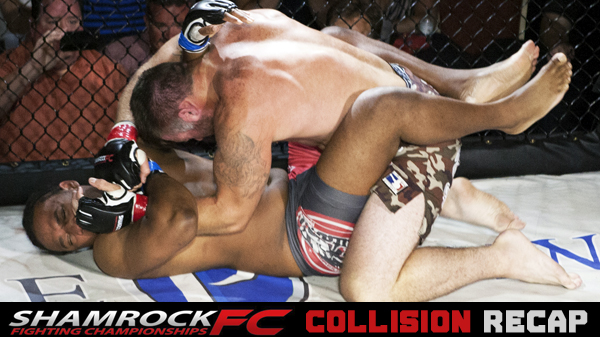 Shamrock FC: Collision - Recap
Booker DeRousse wanted to go out on his shield.

Instead, he left with a 'W', a sore head, and an uneven taste in his mouth.

DeRousse's retirement match was the main event at Shamrock FC: Collision Saturday at the Lumiere Casino.

Matched against Jordan Mitchell, DeRousse earned a disqualification victory when Mitchell's second illegal elbow to the back of the head left DeRousse unfit to fight according to referee Tim Francis. DeRousse was seeing double even after a substantial amount of time was allotted for him to recover.

The odd finish was a rare blip on an otherwise raucous card.

In the co-main event, Beckie Ruth showcased superior boxing against Mandy Polk.

While Polk, an in-shape grappler from Tennessee making her MMA debut, tried to close the distance. Once Ruth got separation, her hand speed and accuracy slowly wore Polk down. The TKO finish came while Polk was still standing but had nothing left.

The win improved Ruth to 2-0.

Eric Crittendon put together one of the night's top performances at light heavyweight with his submission win over Marc Godeker. Crittendon's mix of kicks chopped Goedeker down and the finishing touch came with 4:40 remaining as Goedeker tapped to a rear naked choke.

Zack Davis took the fact that opponent Brendan Nehls missed weight by four pounds and used it for inspiration. Nehls was heavy and strong early but once Davis started opening up he landed punches, kicks and knees. He pushed Nehls into the cage and followed with a devastating head kick knock out. With the win, "The Cadillac" became the amateur Shamrock FC lightweight champion.

In a key amateur bout, Shapen Jorden had Montrell James in trouble early on but James recovered and locked on a arm triangle submission to win with 2:14 left in the first round.

Making her MMA debut, Gabrielle Labee won with a second round TKO of Shawna Tyler.

Brandon Pearson was both accurate and effective with his striking. The Academy of Courage product won when Payton Leaster couldn't answer the bell after the second round.

Joe Kelso fought with bad intentions as he finished Scott Sutherland with 1:42 in the first round via ground and pound TKO.

Dan Haley swarmed Jordan Scott. Haley battered away during the first three minutes giving Scott a swollen eye, but Scott turned the tides and won with a second round rear naked choke.

The Hit Squad's Colin Parr won a nice back-and-forth fight with Danny Jackstad with a rear naked choke with 2:06 left in the first round.

Dillon Pousson from ATT Evolution won via arm triangle over Josh McElhiney. Steve Mutzu earned a 29-28 unanimous decision over Justin Williams.

Shamrock FC returns to the River City Casino on September 13th

Photo courtesy of Jimmy Range Photography.