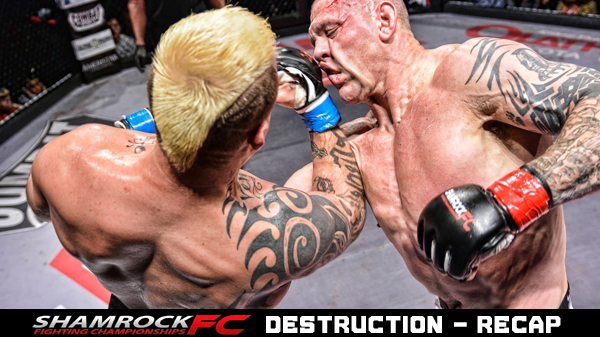 Shamrock FC: Destruction - Recap
Saturday night at the beautiful Ameristar event center was the site for Shamrock FC Destruction.

This was the last Kansas City show of 2014 for Shamrock FC, and the theme of the night for Destruction was "knock outs".

As Shamrock FC President Jesse Finney put it "fights were back and forth then BOOM lights out. I call them one hitter quitters."

The KOs came in all forms haymakers, head kicks and knees.

The main event was an exciting finale to the night. Matt Uhde and Marcus Sursa both came out ready to bang with not much thought to protection. Both men absorbed heavy shots from the other.

The turn came when, as Marcus Sursa said "I slipped out, Landed my money shot, that's my elbow. I knew I just had to follow up on it."

Sursa followed with a solid left hook that ended the fight at 2:52 of the 1st.

"He caught me with a little hook or something." Sursa said. "That first exchanged just fueled the fire. When I hit him back I felt it. You know when you hit a home run and you feel it. I just felt it."

Elated, Sursa believed this was the best version of him we have seen.

"I've been in a lot of struggles in my life, and that's what makes you tough." Sursa said. "Tonight I came in tougher than I've ever been."

The co-main event was a thrilling fight between a couple of promising Midwest fighters; Zak Bucia out of Lawrence KS and Hugh Pulley out of Hazelwood MO.

Bucia was relentless with ground control and submission attempts while Pulley held the advantage in the stand-up. Pulley showed grit in fighting off the choke for a.most the entirety of the 3rd round. Ultimately, it was the positional dominance and submission attempts throughout the 1st and 3rd rounds the earned Bucia the victory.

This is a bounce back victory for Bucia from the loss to Rudy Bears in July and disappointing stumble for Pulley who was handed his first loss as a professoinal.

"I thought the fight of the night was Zak Bucia and Hugh Pulley," Shamrock FC President Jesse Finney said. "Hugh almost got choked in the first two minutes and he fought that choke off forever. He came out firing in the second round. Hugh Pulley has a huge upside, he went all three rounds with a veteran. I told him after the fight this was just a bump in a road. That fight was unbelievable."

Both men after the fight talked about what they can take from the hard fought fight. For Bucia it is to take the stand-up he trains and put it into practice in the cage. Pulley sees this as an opportunity to work harder and grow from the lose.

Scott Futrell was dominating his fight with Derek Williams until Futrell started to fade in the second, absorbed a knee from Williams, and could not continue 3:30 into the round..

Jordan Howard knocked out Owen Evinger with a head kick midway thru the second round of their match. Joe Fulk and Raul Romero kicked things off on the pro portion of the card. Fulk connected with a pair of knees. The first dazed Romero and the second knocking him out.

After the fight Finney discussed 2015.

"The plan is we're going to bring Bellator to Kansas City." Finney said. "I'll know more when I get back from California in a couple weeks, but we're definitely going to bring Bellator here."

Of particular incentive to professional fighters in the KC area is a cross-promotional agreement between Shamrock FC and Bellator.

"If you win a Shamrock belt, you're going to get a contract with Bellator." Finney said. "No grey areas, you get a contract to Bellator if you win a Shamrock FC professional belt."

Full results:
Marcus Sursa DEF Matt Uhde - KO 2:52 1st
Zak Bucia DEF Hugh Pulley - Unanimous Decision
Jordan Howard DEF Owen Evinger - KO 2:23 2nd
Derek Williams DEF Scott Futrell - Stoppage 3:29 2nd
Joe Fulk DEF Raul Romero - KO 0:41 1st

"KING OF KC" Amateur Titles
Steve Nguyen DEF Izzy Ortiz - RNC 2:53 2nd
Steven Barbee DEF Jose Andrade - Split Decision
Snodgrass DEF Jamese Taylor: Snodgrass - Arm bar 1:39 2nd
Will Johnson DEF Jeremy White – KO 0:44 1st
Duane Johnson DEF William Lavine – TKO 0:34 1st

Shamrock FC returns to Ameristar Casino in Kansas City on January 17th.

Photo courtesy of Chavez Photography.

See the full gallery from last night here.