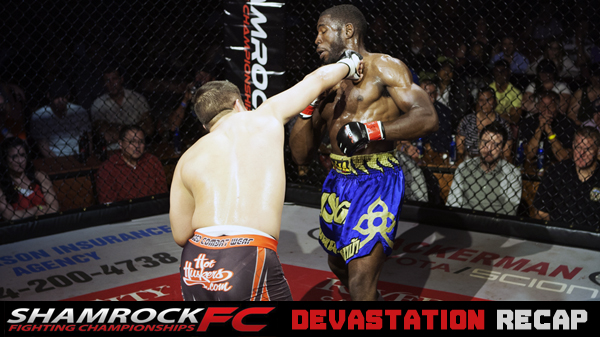 Shamrock FC: Devastation - Recap
Shamrock FC's last trip to River City saw welterweights Adam Cella and Lucas Gwaltney battle to a bloody finish in one of the area's most epic fights to date. Saturday marked the return to the promotions marquee venue for a night of six pro fights and plenty of amateur action.

Darryl Cobb was accompanied to the cage by UFC welterweight Tyron Woodley and long time coach and mentor Jermaine Andre. A confident and athletic Cobb cruised through the first round luring Omaha, Nebraska's Marcos Marquez into a striking contest defending all three takedown attempts.

The second round looked to be more of the same, before Marquez finally got the fight to the ground where he looked to submit Cobb with an active ground game.

In the third Marquez picked up steam and attempted several submissions after immediately grounding the athletic Cobb. Cobb was eventually able to reset the fight, and traded kicks with Marquez before the fight ended and went to the judges.

Marquez improved to 6-3 with a very close unanimous decision victory over Cobb with two of the three judges scoring the fight 29-28.

The "Carmel Nightmare" Malcolm Smith took his win streak to three in a row with a victory over Matt Dukes in the evening's co-main event. Smith looked for submissions at every chance showing off a well-rounded ground game. The athletic grappler from Hahn MMA nearly worked everything from kneebars to armbars, but couldn't get one to stick, until late in the first a nasty elbow from Smith changed the tide of the fight.

With Dukes in control of Smith's back, Smith connected with an elbow to the temple. Smith capitalized on a dazed and confused Dukes and unleashed a nasty ground and pound before Dukes gave up his back and allowed Smith to finish with a RNC.

Twenty-one year old Tyler Claussen evened his pro record to 1-1 with an impressive victory over Cory Barreiro. Claussen's stand-up was too much for Johnson City's Barreiro who absorbed quite a bit of punishment before Claussen was able to finish with a TKO at 3:46 in the first.

Kain Royer went immediately to his wrestling in a middleweight match-up with Bo Smith. From the bell Royer looked for the takedown. Royer worked a deep kimura that Smith was able to fight through effectively but gave up position in the process.

Submission ace Lance Declue was not able to match the efforts of his Hahn teammate Malcolm Smith. Declue looked to be in control of the fight with Shane Shomidie until a stoppage in the action saw the fight do a 180. Working from the clench, Declue caught Shomidie with a low knee that sent Shomidie to the canvas in obvious pain. After the break it was all Shomidie who came out aggressively, finishing Declue with a minute and a half left in the first.

Nikki Smith from the War Room lead off the pro portion of the card with a very tough Christianna Daniels. Daniels seemed to be getting the upper hand before Smith was able to lock on a rear naked choke with only 7 seconds left in the first round.

Legendary fight photographer Bob Barton was honored in a small ceremony prior to the pro card. Barton a longtime photographer for Shamrock has decided to trade his perch for the sandy beaches of Florida.

In his final trip to the cage as an amateur, Bunker Hill's Aaron Highfill gave us what we have come to expect from the young welterweight: big punches, and tenacious ground and pound. In the first it was all Highfill who smothered his opponent from the top working out of his opponent's half guard. The big punch came early in the second when Highfill connected with a big right that dropped opponent JJ Tirpak leading to a Highfill TKO victory. In post fight interviews, Highfill announced his plans to turn pro in September, and hopes to stay busy until then with K1 and grappling tournaments.

Borrowing from the LA Kings and New York Rangers who battled for the Stanley Cup earlier in the day, Kyle Datillo and Jobe Washington brought a hockey-style brawl to the cage on Saturday night. Datillo and Washington engaged early with big swings connecting more often that not. The action continued for three full of wild action where the fight looked on the verge of stoppage several times throughout the contest. In the end it was Datillo who would get the nod 29-28 from the judges at cageside.

Tyler Van Trece looked sharp and controlled most of the action against Kris Craig. The majority of this fight was spent with fighters working for control on the ground. Late in the third Van Trece won the battle and submitted Craig with a rear naked choke late in the third and final round.

Jason Huncovsky hit a rear naked choke two and a half minutes into the first after an exciting, physical battle between two light heavyweights. Dan Moriarty cruised to a decision victory over Aaron Harvey dominating the fight on the ground for three full rounds.

Rachel Stockham from Hahn MMA took out a late replacement in a very one-side affair. Stockham chased her opponent around the cage in a full on assault of punches before referee Mike England stopped the bout.

Sam Rice started the night off with a vicious KO of his opponent Jase Finley. Rice celebrated with patriotic pants much to the delight of River city crowd.

Shamrock FC returns to River City on September 13th.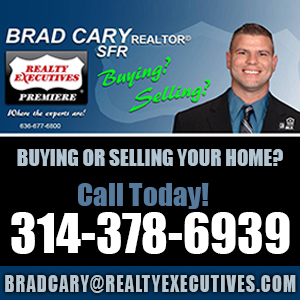 Nemesis Fighting Alliance
| Sat, October 5th
Casa Loma Ballroom, St. Louis, MO
Shamrock FC: 323
| Sat, October 12th
Ameristar Casino, Kansas City, MO
Shamrock FC: 324
| Fri, November 1st
River City Casino, St. Louis, MO

Tweets about "KnuckleJunkies OR @knucklejunkies"