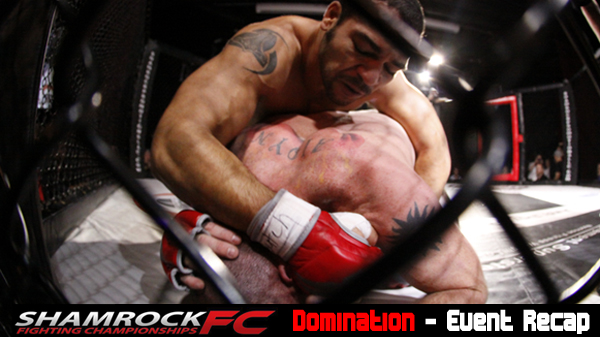 Shamrock FC: Domination - recap
Kevin Engel and Vincent Eazelle lived up to the title of Saturday's Shamrock Fighting Championships: Domination. The seasoned scrappers won convincingly and in Eazelle's case, spectacularly, at Lumiere Place.

Engel improved to 3-0 with a methodical and precise victory over Travis Sveum in the main event.

Once Engel found his range against the unorthodox approach of Sveum, the end was near and a finish certain. A short uppercut sent Svuem tumbling to the floor, and Engel finished from there with a bevy of knees and strikes to the turtled-up Sveum for the first round TKO.

"I kept my distance and hit him with a couple of hard jabs," Engel said. "I hit him with something and he covered up and ducked. I hit him with a good uppercut and he went down. I thought the ref would stop it, but he didn't. I didn't want to waste too much energy so I got up and kneed him a couple of times. I kind of got caught up and he tried a knee bar but I stuffed that. I was anticipating on him taking me down. I've been lucky my last few fights in that they have stood up with me and played into my game."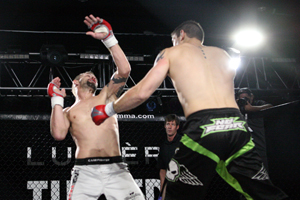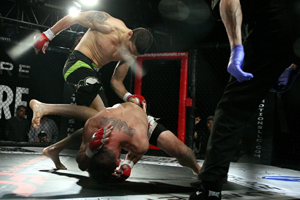 See Jimmy Range's full event gallery here.

Eazelle gave Malcom Smith, of Hahn MMA, a rude welcome to the pro ranks.

Eazelle, a 31-year-old who improved to 3-1, caught a Smith (0-1) body kick and then simply exploded, landing a vicious left that knocked Smith out before he reached the floor just 16 seconds into the fight.

"I was trying to set him up with my jab," Eazelle said. "I saw him skipping on that left leg setting up that kick. I countered with a right kick to his ribs just to set him off. Through the exchange I was ready to get punched, ready to take some pain. I saw that right kick coming. I took it, I zero-pressured out, I gripped it tight and just threw that left hand with everything I could and down he went."

Danny Andrews handed Rickey Bolin (2-1) his first loss as a pro.

Andrews was working a guillotine early in the fight but was planted on his back. Andrews(3-2) then pulled off a nice sweep and took Bolin's back. Andrews methodically worked a rear naked choke and got the tap at 3:07 in the first round.

Josh Weston led off the pro card with a win over Willie Rose. Weston caught an early kick and landed in Rose's guard. Rose controlled the head until Weston slipped free and started landing punches. Rose soon turtled up and Weston rained down more punches from the side and referee Mike England called the fight at the 4 minute, 59 second mark.

On the undercard, Curtis Eller took the Shamrock amateur welterweight title from Anthony Livingston with a first-round submission via arm bar.

Aaron Highfill looked impressive with a first round TKO of Jake Buehler in just over 90 seconds.

Making his MMA debut, Coren Riley won by a first-round TKO over Jase Finley.

21st Century MMA's Rebecca Gullet displayed precise and powerful striking in her second round TKO over Britt Wilson in one of the most entertaining fights on the undercard and of the evening.

Dustin Lampros, also making his MMA debut, won via guillotine over Kyle Pallone in the first round. Mack Mankowich and Bob Hinchcliffe each earned unanimous decision wins to start the night out.

Photos courtesy of Jimmy Range Photography.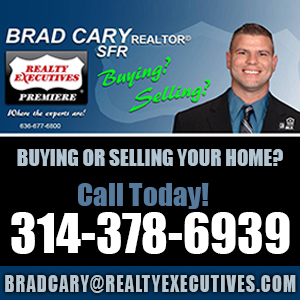 Shamrock FC: 317
| Sat, April 6th
Ameristar Casino, Kasnas City, MO
Nemesis Fighting Alliance
| Sat, April 13th
Casa Loma Ballroom, St. Louis, MO
Shamrock FC 318
| Fri, May 10th
River City Casino, St. Louis, MO
Shamrock FC 319
| Sat, June 8th
Ameristar Casino, Kansas City, MO

Tweets about "KnuckleJunkies OR @knucklejunkies"