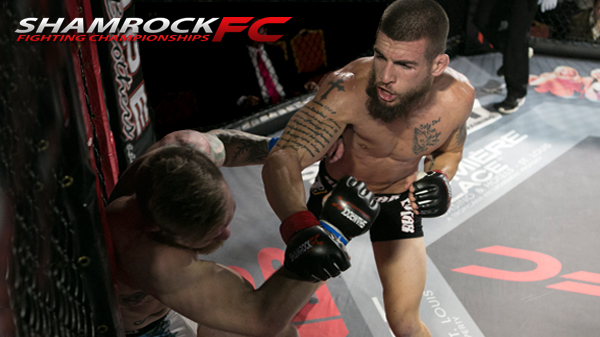 Shamrock FC: Force - Recap
Keith Smetana relished his role as spoiler.

Smetana faced Lucas Lopes in the main event of Shamrock Fighting Championships: Force at a sold out Lumiere Casino on Saturday.

Lopes, out of the nearby Hit Squad O'Fallon, had the fans and experience on his side but it wasn't enough against the heavy-handed Smetana, fighting out of Indiana.

Lopes delivered a sharp right and a big knee early but when Smetana connected with a punch of his own, Lopes was sent to the mat. Eyeing the opportunity, Smetana pounced and sank in a rear naked choke to get the victory just minutes into the first round. The bout was a contender eliminator fight for the SFC middleweight title shot, the winner of which receives a contract with Bellator.

Look for interviews with Smetana and other winners from Shamrock FC: Force on Monday.

Garrett Gross and Colton Creason squared off in a electric co-main event bout

In the first round, Creason executed two nice trips early on. After the second one, he took Gross' back and had him in trouble. Gross did a nice job defending a rear naked choke as Creason spent the bulk of the round on Gross' back.

Gross landed a crisp right to start the second. But another trip by Creason led to him mounting Gross with 4:25 left in the round. Once back on the feet, Creason tried another inside trip but ended up worse for the wear with Gross getting mount. Gross landed nice ground and pound from half guard and pressed Creason into the cage. Gross continued to pepper and mix in knees to close the round.

Gross' boxing would prove to be the difference maker. The American Top Team product landed a big uppercut led to a TKO finish just 23 seconds into the third round.

In other main card action, James Blair won via unanimous decision over Fazlo Mulabitinovic.

Clay Mitchell made an impressive pro debut. Mitchell faced South East Missouri's Bo Smith and took care of business early.

When the action pressed Smith against the cage, Mitchell climbed on the back of Smith and put in a rear naked choke. Smith tried to slam Mitchell off but Mitchell wasn't giving up, earning the submission at just 1:03 in the first round.

Eric Crittendon weathered an early storm by light heavyweight Tom Baker. Baker had Crittendon on his back for the bulk of the first round and from the onset of the second. But once the fight got back on its feet, Crittendon took advantaged of a gassed Baker. Crittendon landed a kick and punch, then pressed Baker against the fence. Baker went for a half-hearted takedown and Crittendon spun free, took his back and got the rear naked choke victory with 3:45 in the second round.

In the feature bout of the main card, CMMA's Jordan Dowdy faced a game Stacy Bacon who stepped in for an injured Brandon Karcher.

Dowdy threw kicks aplenty to the body early in the first. After a scramble, Dowdy ended up in Bacon's guard where he landed some ground and pound.

Dowdy had a massive slam to start the second round. Bacon did land a nice right and had Dowdy against the cage. But Dowdy secured his second takedown of the round before Bacon ended things with a nice punch coming off the fence.

Dowdy secured an early takedown in the third. The pair traded shots while in Bacon's guard but Dowdy would not relinquish dominant position for the entire three minutes.

The unanimous decision win earned Dowdy the SFC welterweight title and capped off his amateur career.

Jamese Taylor came in throwing heat. The Modern Combat Systems product was too much fighter for Demterius Cannon to handle. After a dominating first 3 minutes, Taylor started the second round with a wicked right hand and chased Cannon to the floor. Taylor let Cannon back to his feet, Cannon landed a takedown and Taylor then went
for a triangle. When that didn't take, Taylor rolled Cannon to his back and landed multiple punches before earning the TKO win at 1:40 in the second round.

Mark Chappell was just a little too explosive and had too much cage savvy for Kevin Schmidt in their bantamweight bout. Chappell trudged through the opening round before latching on to a kimura at 1:23 left in the second round to get the submission.

Fan favorite Jason Christeson made an impressive MMA debut. Drawing the loudest ovations of the night, Christeson put together three rounds of smothering ground work to earn a 30-27 unanimous decision over Jerome Young. Christeson took Young down at the start of each of the rounds. From there, he landed random ground and pound and was never in danger.

Shapen Jordan came out throwing volume in the first round of his welterweight bout with Montrel James. Jordan threw punches in bunches throughout the round and James mixed up his strikes, including connecting on a nice right before the bell. The second round was all James as he landed some heavy kicks which led to an eventual takedown. James got mount, smothered Jordan, and landed some effective ground and pound toward the end of the round. In the third, the action slowed considerably and Jordan ended the round in mount. In the end, it was James who came away with a split decision victory.

Derick Clardy was steady and effective from the onset against Edrick Dilliard. Clardy pressed the action from the onset and landed multiple combinations. Clardy's experience showed as he smelt blood in the water. Clardy continued to press Dillard, eventually pinning him against the fence and earned a first round TKO at 2:35 in the first round.

In a contest of MMA debuts, Delante Blanks got a second round guillotine submission over Justin Baker

A young fighter to keep an eye on, Issac Purnell, landed one of the biggest strikes of the night. Purnell took on Brandon Santana, who took the fight on a day's notice. After a high-volume first round, Purnell landed a devastating kick to the body that made Santana crumple like an accordion. Purnell swarmed in and got the TKO win.

Dee Barron from Hahn MMA got the night started with a second-round guillotine submission of Brandon Runyon.

Photo courtesy of Jimmy Range Photography.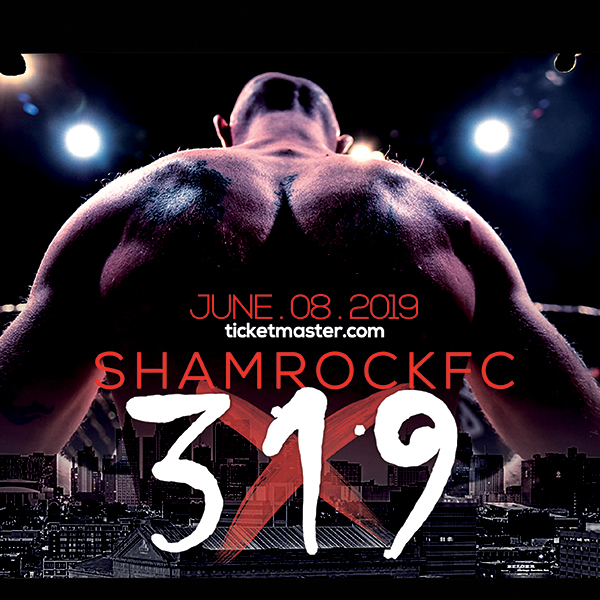 Shamrock FC: 317
| Sat, April 6th
Ameristar Casino, Kasnas City, MO
Nemesis Fighting Alliance
| Sat, April 13th
Casa Loma Ballroom, St. Louis, MO
Shamrock FC 318
| Fri, May 10th
River City Casino, St. Louis, MO
Shamrock FC 319
| Sat, June 8th
Ameristar Casino, Kansas City, MO

Tweets about "KnuckleJunkies OR @knucklejunkies"