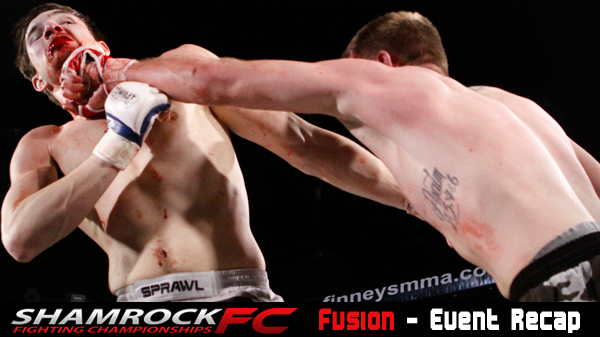 Shamrock FC: Fusion - Event Recap
Dan McGlasson surfed dangerous waters Saturday night and came away with his hand raised.

In the main event of Shamrock FC: Fusion at the Lumiere Casino, McGlasson was patient and effective on the ground against Brazilian Jiu-Jitsu black belt Lucas Lopes. Once back on his feet, McGlasson caught lightening in a bottle and ended up with the first-round TKO victory.

Lopes scored a big takedown early in the fight but McGlasson eventually transitioned out of harm's way. McGlasson took Lopes' back and sank a hook in, but Lopes turned that into an advantage, as he worked a submission attempt on McGlasson's ankle. The Iowan squirmed free and attempted a darce choke before the fight got back to its feet. Lopes landed a solid left and followed with a strong knee that sent McGlasson down. McGlasson ate some knees, scrambled back to his feet and landed a left that looked to nearly knock Lopes out on his feet. McGlasson came forward landing punches, including a knee that ended the fight.

To hear from McGlasson some of the other winners from Fusion, be sure to check back Monday.

Decorated amateur Ken Porter made his pro debut against Zach Harvey at flyweight. Porter was fully in charge, snapping away punches, showcasing his speed, and he had Harvey in bad shape for the entire first round. At one point Harvey was turtled up against the cage but landed a big, desperation right that sent Porter wobbling backwards. The fight then went to the ground and Harvey sank in a tight guillotine to get the tap at the 4:50 left in the first round.

Granite City's Nick Dionenda won in the first round over Brian Mason via TKO. Dionenda got the early takedown and eventually went to work on Mason who verbally tapped due to strikes.

For the SFC amateur welterweight title, Aaron Highfill controlled the fight from the beginning against Curtis Eller and landed a nice left hand to end the fight in the first round.

Damian Newman won his third fight of 2012 with a first-round TKO of Jacob Trilgleth. Newman was patient and deliberate before exploding for the finish, raining down heavy strikes and finishing the fight with 2:39 left in the first.

Dustin Fischer and Gojiko Milutinovic put together a frenzied performance. Fischer's left hand sent Milutinovic to the floor early in the first round. But Milutinovic kept coming and wouldn't go away. Milutinovic's crisp jab kept Fischer at bay but Fischer likely secured that round.

The exchanges were even and violent in the second round as both fighters showed tremendous resolve and both had significant damage. Despite all of the makings for a wild third round, Milutinovic's lip was so severely cut that the fight was called after the second round.

Twenty-first Century MMA's Rebecca Gullet survived an early arm bar scare from Briannah Conestar and followed suit with an array of punches to win by TKO in the first.

Ryan Dennis defeated Stacy Bacon due to disqualification. Bacon was in control for most of the fight but too many shots to the back of Dennis' head led to the DQ.

Sharpen Jordan landed a big uppercut in the second round that led to a finish of Herbert Morgan.

Making their MMA debuts, Carlos Santana and Joaquin Buckley were both impressive in picking up victories.