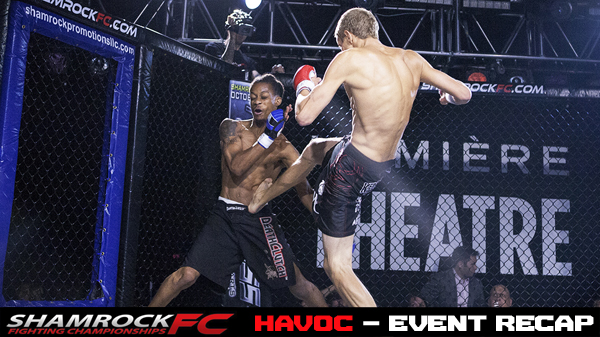 Shamrock FC: Havoc - Event Recap
Ken Porter finished quickly in the main event and sent the crowd home early on Saturday night.

Porter who was originally scheduled to face Josh Epps, found out about an hour before weigh ins that Epps had dropped out of the fight citing personal reasons. With less than 12 hours before bell time, Zach Harvey stepped in to save the main event.

Harvey and Porter are very familiar, each having notched a win at the cost of the other. Porter's first and only professional loss was to Harvey back in March at "Fusion."

Porter having the advantage of a full training camp was simply too much for Harvey, swarming his opponent and eventually winning via TKO. Porter representing Finney's MMA spent some time in Miami training with the Blackzillians and now improves to 4-1 as a professional.

The world's tallest bantamweight, Trevor Ward, kept his undefeated streaking alive. Ward now 3-0 as a professional was able to use his superior range to keep Malshon Ball off balance. Ward, training out of Warrior Concepts in Springfield, IL, peppered his opponent with kicks that eventually sent Ball to the canvas. Ward wins at 1:04 in the first.

Finney's MMA wrestling coach, Ryan Sutton wasted little time in his clash with Chris Hancock. Sutton closed the distance quickly, landing several leg kicks that encouraged Hancock to shoot. Sutton seized the opportunity and slapped on a standing guillotine forcing his opponent to tap. The win improves Sutton to 2-3. After the fight Sutton thanked his teammates and management for sticking with him through tough times.

The Aaron Highfill buzz continues to grow. The young welterweight out of Finney's Hit Squad and Next Level MMA came out ready to throw down with Tyler Claussen, and throw down he did. Highfill worked out of the clench for most of the first round before getting enough space to land the big shot. The win improves Highfill to 11-1, and while a pro debut seems almost imminent, Highfill says he has a lot more amateur boxing to do first.

"Skeletor" Branden Nehls claimed another victim. Nehls overwhelmed Andrew Prato and got the rear naked choke 36 seconds into round one. Nehls from the SouthSide Fight Club has looked impressive in his wins, but needs tougher opponents.

Ben Chesser took the "KO Kid" Matt Murphy into deep waters and found out that he's a better swimmer. Chesser and Murphy battled to the night's only decision with Chesser taking home the victory 30-27 on all three judge's cards.

Kain Royer now training at the Academy of Courage used his wrestling to smother Zachary Burcham and in the process he pulled off the submission of the night. Royer won via "paper cutter" from the side mount a minute into round two.

Jeffer Rittenhouse won via guillotine. Jason Hunchovsky won his heavyweight match-up using leg kicks to setup the eventual TKO. Eric Covert from 21st Century Martial Arts won in his MMA debut.

Gymnast Shaun Scott continues to impress. His raw athleticism helped him out of a bad position early, and his wrestling kept the pressure on opponent Luke Cantrall. Scott was able to get the rear naked choke midway through round two, and celebrated the victory with his signature, post-fight back-flip.

The smallest fighter on the card threw the biggest punch as Kris Craig turned off the lights with an epic KO, only seconds into round one.

Joe Fitzpatrick from Finney's Hit Squad started things off with a TKO victory over Brandon Carter in Carter's MMA debut.

Shamrock FC returns October 12th with Relentless. Andrew Sanchez, Kevin Engel, and Robert Washington are a few of the advertised names on the card.