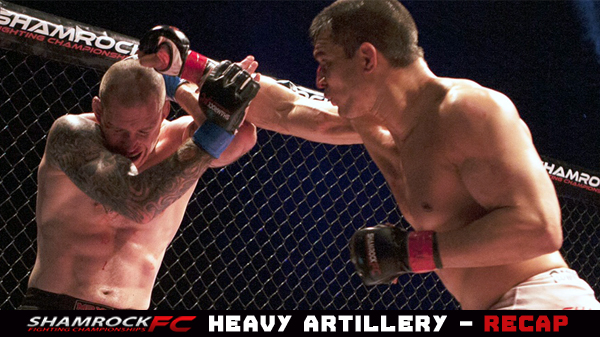 Shamrock FC: Heavy Artillery - Recap
Fans of Bobby Voelker would like at least one Saturday night where they are not on the edge of their seats. Then again, that wouldn't be a Bobby Voelker fight.

In Saturday's Shamrock Fighting Championships: Heavy Artillery main event, Kansas City's favorite MMA son once again raised the roar of the home faithful at the Ameristar .

Voelker finished Justin Guthrie at 3:09 in the third round to win his second straight.

And it was classic Voelker; throwing and landing heavy punches, blood streaming down his own face, stalking down his opponent.

"My fans hate it because I make it so suspenseful," Voelker said. "They're like, dude, you're giving us gray hair. But this why they love watching me because I get in here and do it like this."

Guthrie, from Colorado, had his best showing in the first round.

Voelker started with bruising punches as the crowd was chanting his name louder as each one landed. Voelker continued to cut off the ring and push Guthrie to the defensive. But Guthrie landed a late takedown, made his way to mount and landed some big shots that cut Voelker open.

The second round started with Voelker again pressing the action and throwing heat. Guthrie would score a late takedown but couldn't do much with it.

"I jammed my thumb pretty good on his thick head," Voelker said. "I felt I had him finished a few times and I didn't complete the finish because I was expecting that desperation shot so I stepped back and off to the side."

Guthrie absorbed a head kick and was taken down to start the third round. Voelker remained heavy on top and showed his veterans poise, landing power punches before referee Mike England called a stop.

"I thought, possibly, he got the first round. Second round was mine," Voelker said. "I knew I was wining but I knew all he had to do was get me against the cage and get me down and he could win that round. So I said, let's do it first. I rushed it, I pushed it, got takedown, stayed on top and finished it from there. I knew he was way more gassed than me and if I was getting on top he wasn't getting back up."

Voelker was pleasantly surprised that Guthrie was content to keep things on the feet for so long.

"I thought he was going to shoot a lot more," Voelker said. "I expected a desperation shot and he wanted to stand. Awesome. That is what I would want. He was tough as nails. A great performer, a great fight and I was able to pull it off in the end. It was getting down to the nity gritty and I pulled it out again."

Voelker, who had an nice run with Strikeforce (4-1) and eventually the UFC, landed with Shamrock after losing four straight in the UFC. He rebounded with a brutal first round KO of Cedric Marks last September, improves to 26-12.

"I need get three or four good wins," Voelker said. "That's number two. So every fight is so important to me. They are all going to take everything from me. I need to give it my all and that's what I'm doing."

Leading into the co-main event, there were sound bits aplenty coming from Texas' Marcus Sursa leading into his bout with Kelvin Tiller. A video of Sursa talking trash non-stop during the weigh-ins circulated through social media late Friday. But it was Tiller who let his skills do the talking.

Backed by tree-trunk splitting leg kicks, Tiller whacked away at the Texan before eventually getting a second round submission victory.

"He's the first guy to ever make it personal for me," Tiller said. "Everybody else we just shake hands, we fight, we get it over with. He's the only guy I wanted to hurt really and I accomplished that. Where I come from you don't let anyone disrespect you. If a man disrespects you, you handle it."

Tiller landed a leg kick early in the first round when Sursa attempted a Superman punch. Sursa worked a guillotine on a Tiller takedown attempt but it didn't last as Tiller popped free, stayed on top and worked a choke of his own. Once the action returned to the feet, Tiller chipped away with his boxing before ending the round in dominant position on the ground.

Tiller greeted Sursa with four leg kicks to begin the second round and Sursa was on shaky ground.

"That's what I'm good at," he said. "I know my leg kick are devastating to anyone I fight so I just let it flow."

Tiller then landed a head kick and took Sursa down. He worked his way to Sursa's back before patiently sinking in the finishing rear naked choke. It was Sursa's (15-9) fifth loss by submission. Tiller improved to 7-1.

The Tiller-Sursa bout was to be for the SFC light heavyweight title and a Bellator contract. Tiller failed to make weight and is in a bit of a quandary being still under contract with the World Series of Fighting.

"I'm already 3-0 in Bellator with two finishes," Tiller said. "I'm trying to get out of the contract. But I'm 24, I'm young and it will work out for itself."

Grant Dawson was slithery and smooth on the ground as he defeated Adam Stickley in the first round with a rear naked choke.

Flyweight Dustin "Cool Breeze" Kramer defeated Marshon Ball when England called a stop to it before the start of the second round. Kramer threw up two arm bar attempts early in the first round and did some damage with elbows to the midsection near the end of round one.

Flyweight Bill Benz swarmed from the start against Zach Mead to kickstart the main card. Once one the ground, Benz spun, took Mead's back and got the TKO finish at the 2:43 in the first round.

Zach Gerullius silenced fan-favorite Kevin Woltkamp to win the SFC amateur heavyweight title.

"I had a feeling. I have been working so hard for this fight at this point in my life," Gerullias said. "It's so nice to have one of these belts. Every fight I have I just hope to do my best, go in there with what I've learned and it means the world to me."

The 6-foot-6 Gerullius used his reach and athleticism to keep the 5-10 Woltkamp at bay. Woltkamp pushed Gerullius to the fence on a couple of occasions but once there, couldn't manufacture any offense.

With Gerullius likely up two rounds to zero, when Woltkamp threw Gerullius to the ground the crowd erupted. But the shift in momentum was brief and Gerullius squirted free and landed some nice hammerfists.

"He got me down finally and I was like, I gotta get out of this heap of man meat," Gerullius said.

The two would trade dominant positions on the ground before Gerullius tied up any chance of Woltkamp stealing the fight.

LJ Hermreck looked like a promising prospect. Hermreck worked long and hard for a submission against Nate Guillot before finally getting the tap at 2:27 in the first round. This was Hermeck third fight for SFC and improved to 9-3.

"He was a last-minute opponent, we were a little bit bigger so we just wanted to work on our jiu-jitsu like we do at our school. The knockouts are always there but I love submissions," Hermreck, out of Kansas, said. "I love the environment here. It's amazing. I fought in Wichita, fought in bars, outside car dealerships, it's great to fight in a nice place like this."

In other prelim action, Yessie Ramirez won via submission over Nora Hamilton. Roland Harris won by unanimous decision over Kiley Hansen. Monique Woltkamp earned a TKO in the second round over Mariah Adame. Jacob Ewing needed just 52 seconds to defeat Ryan Isbell by TKO. Rebecca Revelle kicked the evening off with a TKO win over Sam Allen.

Shamrock FC returns to the Ameristar Casino in Kansas City on May 29.

Photo courtesy of Jimmy Range Photography.