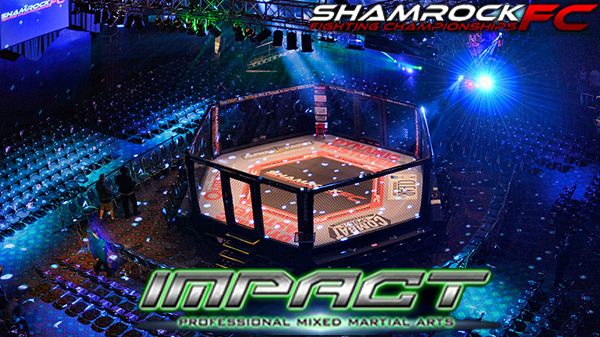 Shamrock FC: Impact - Event Preview
On Saturday, Shamrock FC will cross the state once again and take up residence in the Ameristar Casino in Kansas City. KC is quickly becoming a second home to Shamrock as the fight company has three more events scheduled for 2014 in addition to their shows in St. Louis.

The Ameristar Casino (pictured) is an incredible venue for fights and is no stranger to to MMA as several of the original Invicta cards were held there.

Strikeforce and Bellator vet Rudy Bears will headline a solid pro/am card that has a distinct Kansas City flavor.

Bears has been competing in MMA as a pro since 2007, and in his seven years in the sport he's fought a who's-who of athletes including twice squaring off with UFC welterweight Zach Cummings as well as Tyron Woodley, Jason High, and Paul Daley.

Bears will face Zak Bucia in the main event. Like Bears, Bucia has fought on several Strikeforce undercards. Bucia has won five of his last six bouts and has several submissions victories to his credit. Now fighting out of Lawerence, Kan., Bucia fought most of his career in San Francisco.

In the co-main event, Owen Evinger will trade leather with Brandon Phillips. Evinger (8-4) fromOdessa, Mo. will need to knock off the ring rust having been inactive since January of last year. Evinger brings a wealth of experience to the cage, and smothering wrestling that has left many opponents bewildered.

Phillips (2-0) out of Kansas, is a star on the rise, and recently turned pro after an impressive 14-2 record as an amateur. The majority of Phillips' wins have by way of submission and is capable of stopping the fight at any moment should Evinger take the fight to the ground. This is a big step up in competition for the young prospect as he tries to tame a crafty vet.

Jett Jones will be the first good test for undefeated for middleweight Cody Sherwood. Sherwood submitted Mario Munoz two weeks ago by armbar to improve his record to 2-0.

Travis Sveum is looking to get back into the cage after suffering a devastating pelvis injury last summer when he fell 60 -eet out a tree. Sveum was slated to take on Ultimate Fighter vet Adam Cella last June until the injury removed him from the card.

Sveum will face unbeaten prospect Derek Williams who actually holds a win over Travis's brother Jeff in his pro debut. Williams will look to go 2-0 against the Sveum brothers, and 4-0 overall. All of William's fights have ended in the first round.

US Marine and black belt in the art of Pancrase, Enrique Watson will also be on the card. Watson fights out of Combat Xtreme MMA Academy in St. Roberts and will be facing off with Elijah Lindstedt in a very interesting light heavyweight affair.

Pancrase is taken from the ancient Greek term "pankration" and was the precursor to MMA in the first Olympics.

Cody Coleman will take on Jordan Hernadez, and Nick Radtka vs Shane Hutchinson rounds out the pro main card.

One the amateur side, one to watch is Codi Peppard who was 9-0 before he tasted his first defeat over a month ago. Peppard will be hungry to right the ship and will take on Dustin Kramer who has won two -n-a row including a TKO over Tony Parker at the last Shamrock FC at Ameristar.

Here is the full card:

Rudy Bears vs Zak Bucia - Main Event
Owen Evinger vs Brandon Phillips
Jett Jones vs Cody Sherwood
Travis Sveum vs Derek Williams
Enqrique Watson vs Elijah Lindstedt
Cody Coleman vs Jordan Hernandez
Nick Radtka vs Shane Hutchinson

Dustin Kramer vs Codi Peppard
Austin Evans vs Eric Davis
Anthony Garrett vs Leviticus Roberson
Matt Mahon vs Galen Livingston
Trevor Johnson vs Jeremy Clay
Will Johnson vs Jorge Rodriguez

Shamrock FC: Impact
Saturday, July 26th
Ameristar Casino, Kansas City, MO

Image courtesy of Shamrock FC.