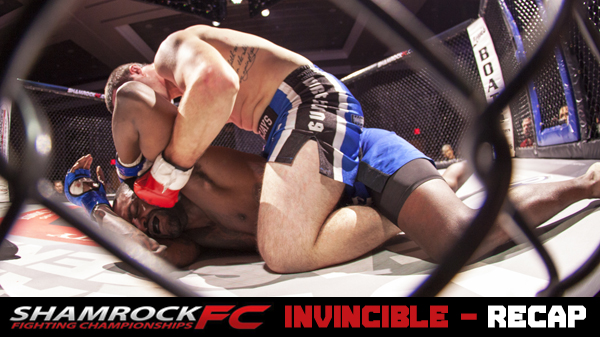 Shamrock FC: Invincible - Event Recap
Ken Porter was too quick and too effective with his takedowns Saturday in the main event of Shamrock FC: Invincible at the River City Casino.

Porter, a flyweight out of Finney's MMA, tallied eight takedowns in earning a unanimous decision victory over Kansas City's Jacob Akin.

"The Sensation" took Akin down twice early in the first round and though Akin did a solid job of tying Porter up with submission attempts, once the fight got back on the feet, Porter landed his third takedown of the round. Porter peppered Akin with shots from the guard to finish out the first five minutes.

Akin did a nice job of cutting off the ring and tried to work his jab to start the second, but Porter planted Akin three more times throughout the round. On his final takedown, Akin again went for an armbar but, again, it didn't take. Porter was able to smother Akin on the canvas and proceeded to pepper Akin with numerous elbows to close it out.

With victory five minutes away, Porter's footwork kept Akin at a distance. He would take Akin down two more times during the round. As the fight came to an end, both fighters were visibly spent, Akin pawed away but it was too little, too late.

"I felt that I could have done more," Porter said. "Cardio played a big factor but I did what I had to and went for the win in the third round. I should have been in better shape and I promise to work twice as hard next time."

For interviews with Porter and other winners from Shamrock FC: Invincible, check back on Monday.

Middleweights Luke Nelson and Kain Royer made their pro debuts and it was Nelson, out of Tyron Woodley's ATT Evolution, who walked away with his arm raised.

Nelson fended off a bullish takedown attempt by Royer and got a quick mount. From there, Royer gave up his back and Nelson went to work, landing a handful of hard strikes to earn the TKO in just over a minute.

"I was able to drop some heavy punches and heavy elbows," Nelson said.

Joel Blair knocked the dust off his gloves and stepped in as a last minute replacement to face Jake Buehler. Blair hadn't fought since August of 2011 and agreed to fight Buehler late Friday night and the decision paid off.

Buehler put together an impressive first round with a strong takedown to start off the fight. Buehler then landed an effective right hook and a kick to the body before ending the round with another takedown.

In the second round, Blair took Buehler's back but when the fight got back on its feet, Buehler sent Blair to the canvas with a hard right. Blair popped right back and controlled what was left of a very close round.

Blair landed some nice knees while in the clinch to start the third round and had Buehler pinned against the cage early on. Buehler came back with another takedown but Blair worked a triangle for a long stretch of the closing minutes of the fight and came away with a unanimous 29-28 decision victory.

"I was honored to have the chance just to fight tonight," Blair said. "There was a lot of rust I needed to break off. (Buehler) was a really big test for me and I knew I had to do something in the second and third rounds."

Amateurs Tyler Claussen and Fred Moore kicked off the main card (pictured). Moore worked a couple of submission attempts early in the fight that Claussen was able to fight through. Claussen was able to land some decent ground and pound from Moore's half-guard to close out the first.

In the second, Claussen was quick to tie Moore up and when it got to the ground, Claussen took his back. Smelling blood in the water, Claussen pounded away and eventually got the TKO victory.

In preliminary action, TJ Casey won with a second round TKO over Brandon Downs. Alex Strobbe was a late replacement and was too strong for Susie Wyatt and garnered a unanimous decision victory.

Denver Sells, out of the Smith Pit, took it to Shaun Scott, landing a bevy of knees to the midsection in the first round before slapping on a rear naked choke in the second to get the submission win.

Jordan Dowdy made quick work of JJ Tirtak in earning a first-round submission win. Dowdy came out firing leg kicks before he was able to get the fight to the canvas where he simply overwhelmed his opponent slapping on a rear naked choke.

Jason Huncovsky forced Zach Burcham to tap out due to strikes in the first round after Burcham worked a heel hook early. Once Huncovsky was free from danger he pounded out Burcham for the victory.

The War Room's Wendy Julian looked impressive in her bout with Michelle Pearce. Julian stunned her opponent with a vicious teep kick to the liver then landed a devastating right hand to floor Pearce. Julian would go on to win by TKO in the first round.

Dustin Hiesse won by unanimous decision over Cee Riley using strong wrestling to control the fight. Vi Nguyen's rear naked choke picked up a submission victory over Andrew Prato.

Wally Eiskant TKO'd Kris Craig in the second round and Jobe Washington won by split decision over Micah Washington to start the night's activities.

Shamrock FC will be back in action on Jan. 18 at Lumiere Casino.