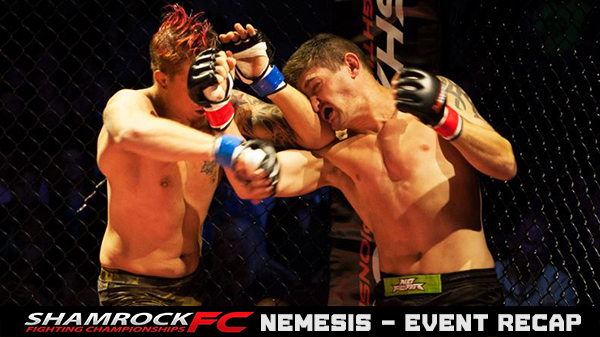 Shamrock FC: Nemesis - Event Recap
The unpredictability of the sport was at the forefront Saturday as Shamrock Fighting Championships: Nemesis returned to the River City Casino.

It was a fight card that took the brunt of some last-minute drop-outs, but recovered nicely with an eight-fight lineup that delivered a handful of different storylines.

From Kevin Engel's first submission victory to Aaron Highfill's stunning loss and both surrounded by a pair of dandy pro debuts, Nemesis reaffirmed that anything can happen once cage door shuts.

Engel was making his first return to the cage since December, 2012 in the main event. After his original opponent, James Warfield, withdrew late in the week due to an accident within the family, Engel was given Anthony Lemon, who was originally slated to face Mike Brazzle.

Lemon took the fight immediately to Engel and secured an early takedown. Engel, a fine boxer with 30 pro fights, 20 wins, 16 by KO, showed he has been learning from Ezra Lenon, the top-flight BJJ instructor available for Finney fighters. Engel slapped on a triangle and earned the first submission win of his career midway through the first round. The 34-year-old Engel proved there is plenty left in the tank as he improved to 4-0 with all four victories coming via finish.

Look for video interviews with Engel and others on Monday.

Considered one of the region's top amateur's, Highfill's pro debut was eagerly anticipated. But Bryant West sucked the air out of the room in the welterweight bout when he connected with a switch kick that flash KO'd Highfill. The referee stopped the bout at just 5 seconds into the first round.

Lightweight Ian Butler took a while to warm up against Corey Barriero. While Butler was strong on top early, Barriero was able to limit the damage but Butler finally pounced on an opportunity, securing a belly-down armbar submission in the first round. Barriero's arm was visibly damaged after the fight.

Joaquin Buckley's performance may been the most impressive of the night.

Buckley, another highly-touted prospect, made his pro debut at welterweight. Facing a much heavier and more experienced Wes Sullivan, Buckley defended a fast start from Sullivan, settled into a quick groove and started to peck away. Sullivan's takedown attempt was thwarted and Buckley made him pay with hammerfists. Buckley eventually took his back and pounded out the TKO with 3:46 in the first round.

On the all-amateur undercard, Shaun Scott earned a hard-fought 29-28 unanimous decision over Wayne Phillips.

Jacob Longwell won with a standing rear naked choke in the third round over John Mattingly.

Dustin Lee came out crisp and clean in his bout with Eric Williams, but it was Williams who snagged an arm and earned a victory via kimura in the first round.

In just her second fight, Rachel Stockham, out of Hahn's MMA, showcased toughness and technique in her third round TKO win over Melissa Shepard. The pair put on one of the most exciting performances of the night with Stockham's precision leading her to victory.

Next up for SFC is Oct. 18 at the Lumiere Place Casino for SFC: Shockwave and the return of Adam Cella.

Photo coutesy of Jimmy Range Photography.