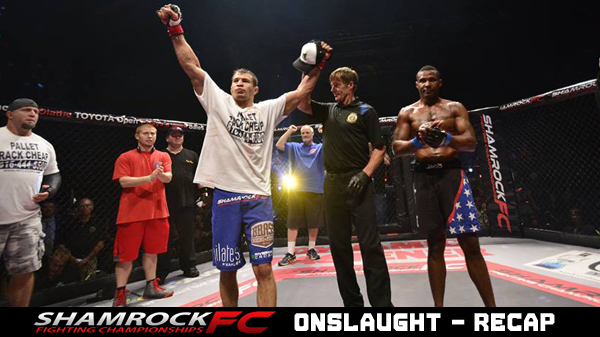 Shamrock FC: Onslaught - Recap
Last night Shamrock FC presented Onslaught at the beautiful Ameristar casino in Kansas City Missouri. Through out the night the crowd and energy level grew in anticipation of the main event with local fighter Bobby Voelker.

Knock outs and submissions abounded in a fast paced and entertaining preliminary card with no fights left up to judges decision.

The main event was wild and the crowd was thunderous for KC local Bobby Voelker. Voelker with the crowd decidedly in his corner looked focused and intent. Cedric Marks weathered the muay thai knees thrown by Voelker. Three minutes into the first round Marks cut Voelker on the head drawing a steady stream of blood down his face. With his face covered in his own blood Voelker rushed Marks pounded out the TKO victory at 3:32 of the first round.

Voelker improves to 25-12 and snaps a four fight losing streak.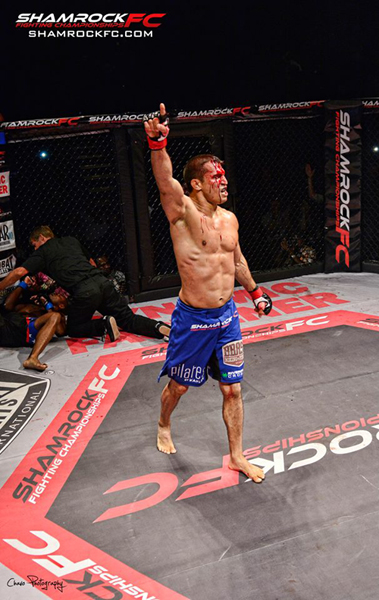 The Main card was packed with great matches with razor thin split decisions and skillful knock outs. Of particular interest to the Saint Louis fight community will be the Williams vs Pulley match. St. Louis's rising star Hugh Pulley traveled to KC for quick one rounder. Pulley caught Williams with a hook right on the button and it was lights out.

Pulley improves to 4-0 as a professional.

The fight of the night honor goes to Akin vs Joplin. This fight earns a R-rating for language, offensive gestures, and bad attitudes even before you consider the violence they unleashed on each other. All of this added up to a supremely entertaining match. Joplin came swing hay makers and spinning back fists. Akin eluded much of this with superior footwork and head movement. Joplin did score points with ground control but it wasn't enough as Akin won the split decision for damage inflicted.

A highlight of the prelims was Woltkamp vs DePriest. When DePriest decided to forgo the prefight glove touch, Woltkamp decided to touch DePriest many times in his 23 second TKO.

Shamrock FC returns to Kansas City on Saturday, November 22nd.

Professional main card
Bobby Voelker DEF Cedric Marks - TKO 3:32 1st
Wayman Carter DEF Brian Imes - Split Decision
Jacob Akin DEF William Joplin - Split Decision
Hugh Pulley DEF Chad Williams - TKO 1:18 1st
Horacio Escobar DEF Blayze Rodgers - TKO 3:06 1st
Dustin Kramer DEF Jordan Hernandez - Triangle 4:29 1st

Amateur under-card
Anthony Lyoa DEF LJ Hermerec - Arm bar 1:04 1st
James Brittelli DEF Will Johnson - Triangle choke 2:52 1st
Kevin Woltkamp DEF Troy Depriest - TKO 0:23 1st
Devin Webber DEF Israel Ortiz - Rear Naked Choke 1:07 1st
Matt Mahon DEF John Littlejohn - TKO End of 2nd
Jamese Taylor DEF Dejaun Harper - TKO 2:18 2nd

Photos courtesy of Jerry Chavez - Chavez Photography.