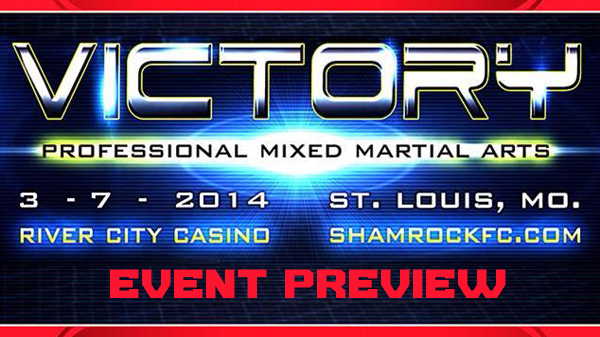 Shamrock FC: Victory - Event Preview
For its third trip to the picturesque River City Casino a show-stopper of a main event will be awaiting fight fans.

Shamrock Fighting Championships announced Tuesday that Adam Cella will face Lucas Gwaltney in the marquee bout of SFC: Victory.

"This has fireworks written all over it," SFC president Jesse Finney said. "Have you ever seen a boring Lucas Gwaltney fight? Have you ever seen a boring Adam Cella fight? Lucas definitely comes to bang and he gets the crowd going."

Cella, out of Finney's MMA, made a name locally with a 4-0 start to his career. He then built a national brand with his season-long stint on "The Ultimate Fighter." After his loss to Tor Troeng at UFC on Fuel TV 9 in Sweden, the talented striker rebounded with a vicious KO of Justin DeMoney at SFC: Uprising. An injury put him on the shelf for the latter part of 2013. Cella was originally going to face Jesse Sanders (23-6) but an injury pulled Sanders off the card."

Gwaltney, a no-holds-barred striker with seven TKO/KO victories, is the owner of over 30 pro fights and has fought a plethora of quality names including; the UFC's Michael Johnson and Abel Trujillo and Bellator's Pat Curran. He may be most well-known for his fight with Trujillo. He has fought many St. Louis-area fighters like defeating Jimmy Donahue and losing a split-decision to Rob Washington.

Gwaltney has fought recently at lightweight but will face Cella at 170-pounds.

Also on the main card, Hahn's MMA's Malcom Smith looks to notch his second win in a row when he faces Jake Constant. Smith is coming off a 2013 St. Louis MMA Fight of the Year nominee bout with Shaine Moffitt

SFC veteran Tyler Claussen will face Cory Hauter in his pro debut.

Fresh off his pro debut victory in January, Modern Combat System's Scott Futrell will step in against Smith's teammate at Hahn's, Jake Buehler. These two were scheduled to fight in December but an illness kept Futrell off the card. This should be a good stylistic matchup as Futrell is an accurate, athletic striker while Buehler has a nice combination of grit and power.

In a battle of Bo's, Bo Smith and Bo Kunz will kickstart the main card. Both of these fighters are known for their fondness to stand in the pocket and trade.

"Top to bottom, this is the most exciting card Rob Donaker has put together," Finney said.

There is also a chance that local standout Rob Washington, out of Finney's MMA, will also be on the card.

"We were going to match up Robert against Alex White at Rumble Time but they turned it down," Finney said.

The undercard is dotted with plenty of local talent as well:
Brandon Nehls vs TJ Casey
Auhston Dickinson vs Cort Wahle
Suzie Wyatt vs Shawna Tyler
Ryan Dennis vs Mark Kirkland
Jason Huncovsky vs Zack Gerullis
Ryan Jones vs Dan Uhlenbrock
Marissa Smith vs Melissa Smith
Tyler Madding vs Dillon Dalton
Armin Dubinovic vs Mike Pulley

Tickets to Shamrock FC: Victory can be purchased at Ticketmaster

For more on Victory, be sure to check back at knucklejunkies.com.