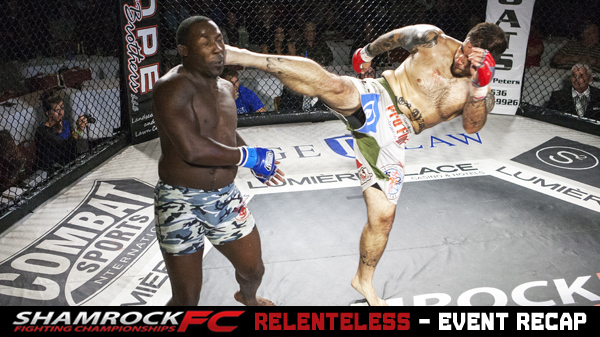 Shamrock FC: Relentless - Event Recap
You name it, he threw it.

Punches, kicks, elbows, and knees, they came by the barrel full Saturday night from Luigi Fioravanti in the main event of Shamrock FC: Relentless at the Lumiere Casino.

Fioravanti chopped, chopped, and chopped away, and even survived some legit threats, before getting a TKO win over Josh Thorpe in the third round for his 24th career victory.

"He backed out of the fight a couple of days ago and I'm glad he came back," Fioravanti said. "I didn't give the performance I wanted. I wanted a first round KO. I'm going to have to look at the mistakes and adjust. He was a little unorthodox. He's known for throwing a lot of spinning stuff and I was being cautious."

Thorpe threw everything he had in the first half of the first round and often found what he was looking for. But once the fight (which was at a catch weight of 189-pounds) settled, Fioravanti eventually scored a trip takedown and took Thorpe's back. When Fioravanti emerged from the roll, a nice cut on his forehead from a Thorpe elbow appeared and was streaming blood. Fioravanti ended the round with a sign of what was to come, elbows, kicks, and knees while Thorpe was in defense mode against the cage.

Fioravanti let his legs do the work to start the second. He landed solid kicks to the leg, head, back to the leg followed by a short elbow. Thorpe slipped in a takedown and Fioravanti worked a sound butterfly guard and neutralized the attack before referee Mike England got the fight back to their feet. Fioravanti stuffed a tired takedown attempt, took Thorpe's back and landed some elbows and punches to close the second round.

By the third round there was little in Thorpe's tank but at the same time Fioravanti couldn't get off clean. As Thorpe leaned against the cage, Fioravanti wore him down to the floor, took his back, finished with strikes

The anticipated fight between Robert Washington and Charon Spain was over in a hurry.

Spain scored a slip/trip takedown but Washington soon got it back on their feet and followed with a big slam. Washington ended up in side control and had Spain pinned against the cage. Washington landed several rights. Spain turtled up and remained there until the fight was stopped at the 2:28 mark. Spain vehemently protested either the stoppage, that a knee was thrown to his face while down, or both. The win stopped a two-fight skid for Washington.

"It was a good fight. I was trying to push the pace," Washington said. "It was good to get a win streak going. I did what needed to be done. The longer the fight went the more confident he would get so I wanted to break him down in the first round."

SFC returns to St. Louis at River City Casino, where they are promoting fights involving Kevin Engle, Andrew Sanchez, and Adam Cella.

Welterweights Kyle Walker and Bo Smith got right to it in their bout. Both were feverishly throwing punches from the onset., Smith got the fight to the floor briefly, working a guillotine, but once it got back to their feet, Walker opened a cut on Smith and finished the fight with a knee for TKO just 1:16 into the first. Bad news for Walker though, it appears he broke his hand in the fight.

Marc Godeker improved his record to 2-1.. The Finney light heavyweight submitted Dennis Reed, who boasts over 120 pro bouts, in the first round. Reed started off the fight by landing three kicks but Godeker pushed Reed against the cage and eventually scored a takedown ended up in side control. He eventually got the tap via arm bar.

The undercard featured four fighters making their MMA debuts and UFC welterweight Tyron Woodley had three young fighters out of his gym, ATT Evolution, on it

In the final fight of the undercard, a dominant second and third rounds from Bob Hinchcliffe led to a unanimous decision victory over Granite City's John McLaughlin in a 135-pound fight.

Lightweight Brandon Downs won by guillotine choke over Auhston Dickerson.

At bantamweight, James Larson looked impressive in running his record to 3-0 with a nice submission via triangle over Kris Craig.

Wrestling standout David Evans, out of ATT Evolution, made his cage debut with a first-round victory by rear naked choke over Jobe Washington.

Chaokia MMA's David Hicks won a split decision over Finney's Edrick Dillard. Tommy Kusick won his MMA debut with a unanimous decision over Robert Lee. Daniel Jefferson won by KO over Jason Alecia and Luke Nelson won by KO just seconds into his bout with Zach Burcham.