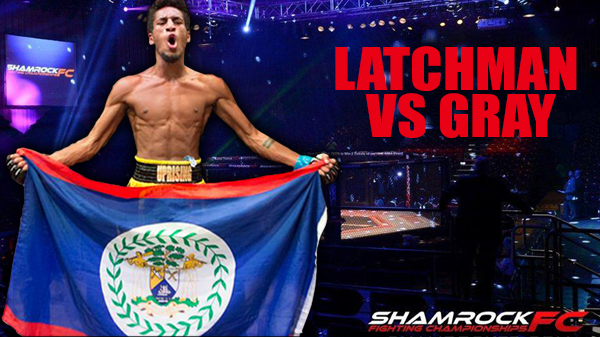 Shamrock FC: Retaliation - Preview
Shamrock FC continues its "March Madness" with a second Pro/AM in as many weeks when it return to it's home away from home at the Ameristar Casino in Kansas City.

Just one week removed from a blockbuster show in St. Louis, Shamrock FC returns with a solid offering of some of Kansas City's best young talent.

In the main event the red hot Kendrick Latchman looks to notch his fifth win in a row when he faces RFA-vet Kevin Gray in a battle of two up and coming flyweights.

Latchman (5-1) has torn through the competition recently upsetting Trevor Ward in December after falling behind in the fight, Latchman battled back and scored a third round TKO after landing some nasty shots to the body. Latchman is relentless with his strikes and just as elusive, tiring out his opponents with great technical footwork and speed.

Since losing his pro debut against Matt Manzanares, Gray (6-2) has won five out of six only losing to Brian Hall on the Legacy FC vs RFA show last May. Gray is a submission machine having racked up 4 tap outs in just 8 pro fights.

If Latchman can stay out of Gray's submission game, and avoid the takedown he should be able to wear down Gray. The longer the fight goes the better it favors the speedy Latchman. Gray will be the toughest fighter Latchman has ever faced and has experience on his side.

Coming off his first professional win, ATT HD's Marques Jackson returns to the Shamrock cage to face Gery Westphal. Jackson's last fight was a quick one when he came out of the gate and swarmed his opponent earning the first round rear naked choke victory.

The "people's champ" Aaron Poston will take on Shane Hutchison. Poston has famously taken up the cause for needy cases, donating the entirety of his fight winnings, this fight will be no different. Poston will be fighting for 1 year old Blake Cazier, who was recently diagnosed with Lukemia. For more information on Poston's efforts or to support his cause check out the Fight for Blake event page on Facebook.

Johnnie Roades is on a three fight win streak, something he hopes to continue when he faces Sharky Slyster. That will be no easy task as Slyter is a fighter who has yet to taste defeat in MMA. Slyster tore through the amateur competition before turning pro last December with a first round KO of Shane Hutchison.

Heavyweights Kevin woltkamp and Chris Beal will battle, and kicking off the card is Codi Peppard and Dillon Tolbert.

A full amateur card will be announced soon, and the entire event can be seen on PPV via the Shamrock FC website.

Main Card
Kendrick Latchman vs Kevin Gray
Marques Jackson vs Gery Westphal
Aaron Poston vs Shane Hutchison
Kevin Woltkamp vs Chris Beal
Sharky Slyter vs Johnnie Roades
Codi Peppard vs Dillon Tolbert

Preliminaries
Devin Webber vs Garrett Wells
John Behner vs Frank Manion
Matt Roper vs Caleb Arnold
Matt Morgan vs Joe Canfield
Anthony Goldfields vs James Wolverton
Bruce Stolz vs Brandon Cottrell
Brandon Santana vs Joe O'Dell
Gary Guthrie vs Robbie Lopez
Travis Sumler vs Zach Burcham
Andrew Floyd vs Jesse Keezer

Card subject to change, and additional fights to be added.

Shamrock FC: Retaliation
Saturday, March 19th
Ameristar Casino, Kansas City, MO

Latchman photo courtesy of Jimmy Range Photography. Ameristar photo courtesy of Jerry Chavez Photogrpahy.