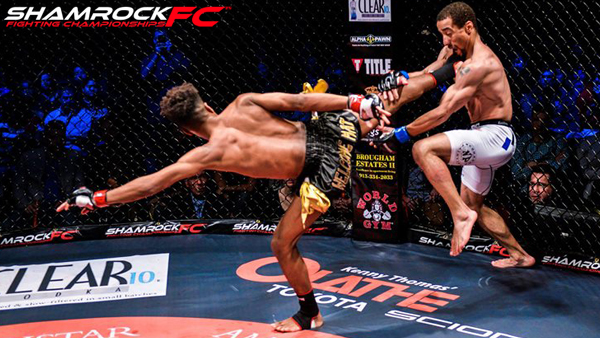 Shamrock FC: Retaliation - Recap
On Saturday, Shamrock FC brought "retaliation" to the Ameristar Casino in Kansas City, Missouri. The night saw multiple razor thin fights that were sent to the judges, crazy comeback KO's for an exciting night of fights.

The Main Event saw Kendrick Latchman taking on the RFA-vet Kevin Gray. The bout saw a lot of flying bodies with Latchman starting the fight with high kicks and Gray slamming Latchman to the mat multiple time throughout the first.

Latchman lowered his kicks in the second round wearing down the leg of Gray. Later in the second Latchman had a tight triangle that Gray narrowly escaped. Gray came out blazing in the third round with a flying knee that lead to a takedown. Latchman scored with strikes and submission attempts and Gray scored with strong wrestling throws and strikes. Gray earned the unanimous decision ending Latchman's win streak at five.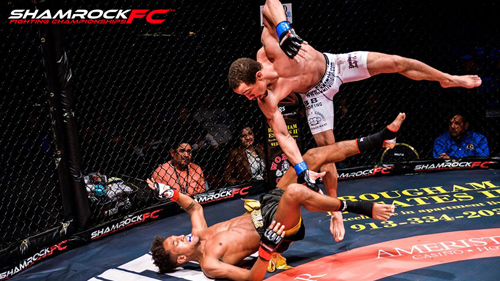 "That first round was crazy," Shamrock FC President Jesse Finney said. "The commentators all disagreed, we had a split decision among ourselves. I thought Latchman did a little more damage, but Gray was the aggressor. I don't think you could have gone wrong picking either one of those guys in the main event."

Topeka's Gary Westphal looked dead in the water after the end of the first round with Marques Jackson. Jackson landed a barrage of unanswered punches on Westphal who was backed up against the cage. Not willing to quit, Westphal fought back in the second jumping into a standing guard on Jackson and latching on a guillotine in the process. Westphal picks up the victory and his first win as a pro.

The "People's Champ" Aaron Poston continued his personal crusade of raising money for charities. The smooth ground work by Poston lead to a dominate position with Poston finishing Hutchison with an arm triangle from an awkward position. Poston's cause this fight was 1 year old Blake Cazier, who was recently diagnosed with Leukemia.

"We love him for what he does." Finney said. "Aaron Poston looked good, he impressed me tonight."

For more information on Poston's efforts or to support his cause check out the Fight for Blake event page on Facebook.

Popular local fighter Kevin Woltkamp came out blasting, but a punch from Cape Girardeau's Chris Beal stunned the Woltkamp forcing him to the ground where he was unable to properly defend himself awarding Beal the victory by TKO two and a half minutes into the first.

"Things happen, when you're fighting another 265 pound man, when you get hit you never know." Finney said. "That can happen to anyone at 265 pound. It just takes one shot at that weight class."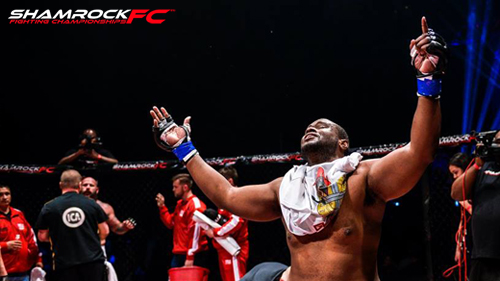 In the Slyter/Roades bout Slyter secured multiple takedowns and scored points with a smothering ground game, but Roades was very active as well from his back attacking with multiple submissions attempts. Roades was dropped early with a nasty punch from Slyter right out of the gate, but the resilient Roades in his trademark red mohawk, fought back and took the fight to the score cards. The split decision in favor for Roades drew a collective gasp from the crowd. In the end came down to the opinion of the judges and they felt Roades dealt more damage and was more active in the last two rounds awarding him a razor thin decision.

"Roades is our type of guy." Finney said. "Roades fought his heart out. Slyter is an explosive wrestler, and he fought hard as well. These are the type of guys we want to have back. That was the fight of the night, I felt. The judges had their hands full tonight. It was one of those decisions, I'm not real sure which way it goes. There were some really close fights tonight "

Dillon Tolbert and Codi Peppard kicked off the pro portion of the card, and it was all Tolbert in this one. The scrappy fighter from Howard's ATA in Jeff City swarmed his opponent and never took his foot off the gas ending the fight just short of the three minute mark in the first round.

Webber and Wells was the highlight of the preliminary fights. The match was back and forth from beginning to the end with surprising escapes and reversal from both fighters. Wells had some slick submission attempts, but Webber's wrestling was just too much as he earned the unanimous decision but both have gained valuable experience as they progress toward the pros.

"That fight with Webber and Wells, that was one of the best amateur fights I've seen in years." Finney said. "Those two, I told Wells this, you will learn more from that going into the pros than you just beating somebody. He went out there and really tested himself."

The night started with a couple of quick stoppages but the enthusiasm of the sell out crowd quickly returned with a comeback KO by Anthony Goldfield. James Wolverton had Goldfield in trouble early and it looked like a quick end but Goldfield was able to weather the storm to land a blistering punch for a KO victory.

Shamrock FC returns to Ameristar Kansas City on May 28th.

"Bobby Brents our heavyweight champion will fight Shane Grant out of Grudge Training Center," Finney said. "Five rounds and boy, two heavyweights who like to throw. Neither of them like to wrestle too much, they like to throw bombs."



Full Results:
Kevin Gray DEF Kendrick Latchman Unanimous Decision
Gery Westphal DEF Marques Jackson Standing Guillotine 0:52 2nd
Aaron Poston DEF Shane Hutchison Arm Triangle choke 1.43 1st
Chris Beal DEF Kevin Woltkamp KO 2:40 1st
Johnnie Roades DEF Sharky Slyter Split Decision
Dillon Tolbert DEF Codi Peppard TKO 2:38 1st
Devin Webber DEF Garrett Wells Unanimous Decision
Frank Manion DEF John Behner TKO
Caleb Arnold DEF Matt Roper Unanimous Decision
Joe Canfield DEF Matt Morgan Rear Naked Choke 1:46 3rd
Anthony Goldfields DEF James Wolverton KO 1:10 1st
Brandon Santana DEF Zach Burcham Ref Stoppage 2:44 1st
Travis Sumler DEF DeLong Guillotine 0:22 1st
Andrew Floyd DEF Jesse Keezer TKO Doctor Stoppage 1:05 1st

Photo courtesy of Jerry Chavez Photography