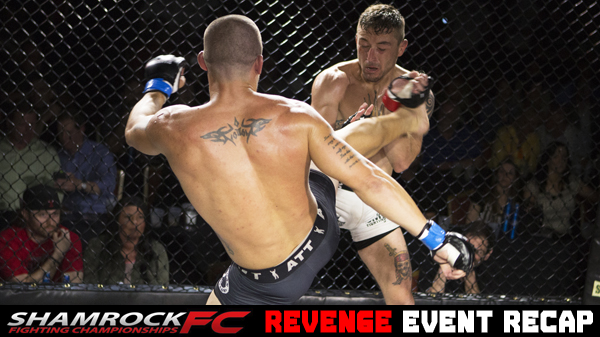 Shamrock FC: Revenge - Event Recap
With a thunderous uppercut, Garrett Gross caused a chilling conclusion.

Gross ended a main event bout with veteran Sal Woods seconds into the third round of Saturday's Shamrock FC: Revenge at the Lumiere Place Casino.

After two rounds that were likely split, Gross quickly cut off the cage, pressured Woods near the fence and ended his combination with the finishing blow. Woods was out before even reaching the floor. Once the fight was called, medical staff rushed to Woods' side, who complained of trouble breathing, and was eventually taken out of the cage on a stretcher.

The first round went as planned for Woods (9-14). Gross came aggressively out of the gate but Woods picked up an early takedown and instantly transitioned to side control. From there, Woods was both strong and smothering, controlling nearly the whole round in dominant position.

Gross (5-4) picked up steam in the second. Coming out the better on a scramble in the middle of the cage, the Southern Illinois native who now calls Florida home, worked up to some nasty ground and pound. He dropped plenty of elbows that not only scored but did damage. Smelling a finish as the round came to close, Gross went for it but the wily Woods, out of Granite City's CMMA, staved off defeat if only for a moment.

The fight was set to be at lightweight but Woods came in eight pounds over. Gross and Woods fought in 2012 with Woods winning by submission in the first round.

It's never easy for Joel Blair.

For the third time since December, Blair went three hard rounds under the Shamrock banner.

Blair and talented newcomer Luke Nelson were bloody and bruised welterweights at the end of the co-main event. It was Blair who came out on the winnings side of a 29-28, 28-29, 29-28 split decision.

Blair (2-1) came out in the first round and quickly tied up Nelson, a skilled striker from ATT Evolution. Blair landed multiple knees to the thigh before securing the first takedown. Blair was offensive from half guard and once Nelson was able to get the fight back standing, the Sullivan, Ill., product scored with some nice dirty boxing.

It was more of the same for Blair to start the second round before Nelson started doing major damage with short elbows while pinned against the fence. Nelson eventually opened Blair up over his eye.

Nelson went back to the elbows early in the third round and even landed a nice elbow over the top while spinning out of the clinch. But Blair continued to press on, pushing the action on Nelson and pulled out the narrow victory.

Also on the main card, Finney's Hit Squad's Ryan Sutton (3-3) won his second straight fight when the light heavyweight made quick work of Eric Critterndon with an arm triangle submission win early in the first round.

Rebecca Ruth made a ferocious pro debut, blitzing Crystal Stevens, throwing punches like pistons, as a major body shot gave Ruth a TKO win 18 seconds into the fight.

John McLaughlin, out of Granite City's CMMA, submitted Wil Alfaro late in the first round. After some good back and forth early in a well-matched fight, McLaughlin secured a nice kimura to get the win.

On the undercard, Joaquin Buckley, out of Finney's MMA, did little wrong and left no doubt in his three-round unanimous decision win over Kyle Kurtz. Buckley out-pointed Kurtz on all levels in the welterweight bout.

Dustin Fisher, out of Finney's, was composed and controlling of JJ Tirpak. Fisher took down and somethered Tirpak for all of the first round and in the second, Fisher culminated another nice round of work with an arm bar finish.
Kris Craig showcased his vast boxing skills to land an eventual first round submission victory over Tommy Kusick.

In other action, Sammie Wilborn came back and won by TKO over Brad Hagedorn. Joe Roye won in the second round via rear naked choke over Edrick Dillard.

Sebastian Grant scored a nice TKO victory in the third round over Auhston Dickerson. Joe Kelson won by KO over Jacob Longwell and Issac Ournell won in his MMA debut over Bud Sedlock.

Shamrock FC returns June 6th to River City Casino.