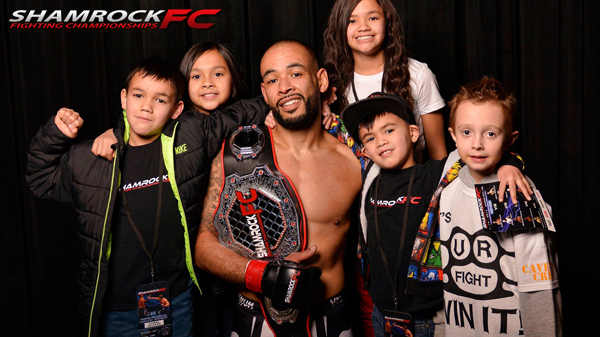 Shamrock FC: Shock - Recap
Shamrock FC came out firing in 2015 with their first event of the year at the Ameristar event center in Kansas City. They look to have a blistering schedule of 26 shows in 2015 both Kansas City and Saint Louis.

This full schedule also brings a unique opportunity with Bellator contracts up for grabs to any SFC title holder.

"The plan is to bring some Bellator shows to Kansas City and St. Louis," Shamrock FC President Finney said. "If people come out and support it, we'll have some more. That's the long term plan for Shamrock and Bellator working together. We're the only company in the world that can hand out a contract straight to Bellator. We look for big things."

Shamrock has a busy 2015 planned in both markets, and with Bellator events being announced in the next few weeks, this year could be a great one for fight fans, and local fighers.

"We have 12 shows in St. Louis, and the goal eventually is 12 shows in Kansas City or another market." Finney said. "With our charity events, this year we're going to have over 26 shows. The plan next year is to do close to 30 shows."

The Main event saw a showdown between KC legend Rudy Bears and the powerful wrestler from St. Louis, Josh Weston in a bout that put a satisfying, movie ending cap on the evening.

In the first round Bears looked relaxed as he defended Weston's takedowns well, but was caught late with Weston taking the first round narrowly.

The second round saw Weston continuing to push the pace. Bears stayed elusive looking to counter, with the crowd chanting "Rudy Rudy" (Sean Astin would have been proud). Bears surprised himself with his take downs of Weston and was finally able to put into practice what he had been preaching: "grab something, keep it, and finish it".

"The first round was definitely going Rudy's way until Josh dropped him." Finney said. "Josh hits hard, and Rudy has been hit by Pual Daley and some of the best strikers out there. I think Josh snuck that round out. Josh as usual was pushing the pace, and Rudy caught him. I don't think Josh ever recovered."

Bears was able to finish with a rear naked choke at 1:42 of the 2nd round.

With the win, Bears not only wins the SFC 170 Title but also a contract with Bellator MMA. As Shamrock FC president Jesse Finney said it was tough to watch two friends fight but was happy to see Bears win and move on to Bellator. This chance to add more highlights to "Bad News" Rudy Bears long MMA career is good news for such a likable fighter.

"I'm happy Rudy is moving on and we're helping in advancing his career." Finney said. "He gets the Bellator contract lets hope they're going to put him on TV for the first fight and he goes out there and makes $25,000."

In the co-main event, Jacob Akin and Kevin Croom brought a few surprises to "Shock".

The match was furious from start to finish. Croom was able to slip out of the first arm bar but couldn't escape the second. Akin wrenched and put maximum pressure on the arm bar with the crowd anticipating the end of the match. Croom refused to tap saying "my arm's ganna heal, my record's not".

The "Hard Hitting Hillybilly" from Columbia Missouri stood up with Akin still attached to the hyper-extended arm and slammed Akin down knocking him out.

Another shock for the audience came when it was announced that Croom had missed weight for the match. This meant that he did not receive the 135 title and also missed the opportunity for the Bellator contract.

After the fight he addressed the crowd and took responsibility for missing weight and apologized. Looking forward Croom said he would have to evaluate whether a move up in weight class is in order. All in all, the controversy and spectacular effort put forth by Akin and Croom built the excitement in the room for the final match of the evening.

"He missed weight by 2.3 pounds. He came back 2 hours later and didn't make it, he was still over 1 pound." Finney said. "I decided it's not for the title, and not for the contract. That's a slippery slope if you start bending the rules. If you're going to fight for the title you're going to be 135.0 not 135.2. I'm not going to start bending the rules, because if you start bending them now, it's a slippery slope. "

As far as the Shamrock bantamweight belt is concerned, it will be up for grabs again at a future event.

"Jacob Akin had a great performance tonight." Finney said. "Long term, Jacob has a big career ahead of him. Kevin Croom made a career mistake tonight. This is a chance to walk straight into Bellator. They like him, and he's an exciting kid, but one pound? That's one snicker bars he shouldn't have eaten. Hopefully he learns from that. Hopefully he comes back and proves he can fight at 135 before he fights for a title again."

Full results
Rudy Bears def Josh Weston -- RNC 1:42 2nd
Kevin Croom def Jacob Akin -- KO 2:13 1st
Bernard Thomas def Josh McCracken -- Arm Triangle 4:48 1st
Haracio Escobar def Steve Brown -- RNC 3:11 1st

Demtrius Wilson def Seteve Barbee -- Unanimous Decision
Jorge Figueiras def Jake Ryals -- Unanimous Decision
Trevor Johnson def LJ Hemereck -- TKO 2:41 2nd
Brandon Santana def Aaron Wages -- RNC 1:04 1st

Shamrock FC returns to Kansas City on March 7th.

Photo courtesy of Jerry Chavez Photography.