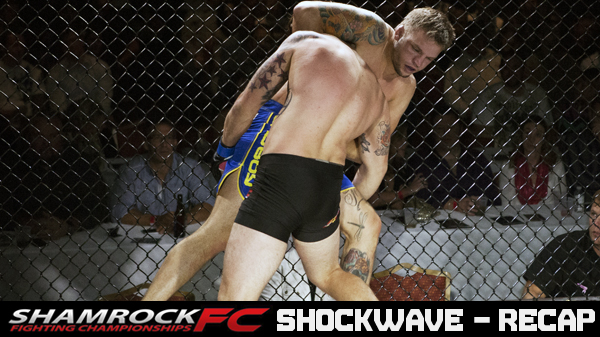 Shamrock FC: Shockwave - Recap
A healthy, motivated, and well-prepared Adam Cella is no joke.

Anthony Lemon took the main event bout of Saturday's Shamrock Fighting Championships: Shockwave against Cella on short notice and the result wasn't, dare we say, shocking.

Cella jumped his record to 6-2 as he got Lemon to tap to a standing guillotine in under two minutes.

Lemon came out of the gate charging and Cella greeted him with a short and stiff two-punch combo that stopped the Tennessee-product in his tracks. After a quick scramble, the fight reached the floor with Lemon on top. Cella worked a nice sweep and took command while Lemon clinged on in quarter guard. After Cella landed a shot or two, the fight worked its way back to the feet. Lemon went for a takedown but the veteran Cella (he of the The Ultimate Fighter 17 appearance) cinched up the choke and got the tap.

It has been an interesting 10-month run for Cella, out of Finney's MMA. In March he was on the losing end of one of the most talked about fights in St. Louis MMA lore against Lucas Gwaltney. With Shamrock FC's burgeoning relationship with Bellator getting ready to lift off in 2015, a path to that organization seems an option. In the post-fight video interview, Cella hinted at news to come on the horizon.

Speaking of chokes, in the co-main event and only other pro fight on the docket, Tyler Claussen choked out Willie Rose in 1:59 seconds. Following a quick flurry to greet round one, Rose charged in and Claussen sank in a guillotine. Claussen never relinquished and when referee Mike England checked, Rose was completely out.

Claussen improves to 2-1. After the fight, announcer Tony Bionodo announced that this was the end of the line for Rose who would be hanging up the gloves.

It was a night of close matches as five of the nine fights went to decision

Leading off the main card was an amateur bout between Jobe Washington and Bob Hinchcliffe. Hinchcliffe, out of Springfield, IL, showcased a solid all-around game in winning an unanimous decision. Hinchcliffe was in mount for long stretches during all three rounds and his suffocating ground game was more than enough to get the win.

In one of the top fights of the night, Scott Ettling's wrestling and grit was just enough to earn a split decision over Fred Freeman. In the decisive third round, Ettling secured an early takedown, stayed heavy on top and transitioned to mount. Ettling was landing strikes when Freeman triggered a scrambled. Ettling ended up with Freeman's arm but could not get the tap.

Hahn MMA's TJ Casey earned an unanimous decision win over Reggie Evans. Evans was penalized two points for grabbing the fence in the first round. In a wild and wooly three rounds, Casey took Evans' back in the second round and in the third, held off a late push by Evans.

Joe Estrada and Gaston Marabotto put together as good of a sound, clinical, and competitive fight that this writer normally doesn't find in the amateur ranks. Following a torrid first round and more methodical second, Marabotto landed two kicks to the midsection to start the third that wobbled Estrada. Marabotto looked to gain top control but Estrada turned the tides and was in mount with minute to go. A desperation arm triangle by Estrada didn't take and Marabotto ended up claiming a split decision victory.

In other action, Kris Craig won an unanimous decision over Justin Maramba, Mario Hudgens won via TKO over Joe Fitzpatrick and Zach Gerullius won via TKO when a leg injury forced Derek Yocum out of action.

Shamrock FC returns to the Lumiere Casino on November 15th with pro boxing and pro kickboxing.