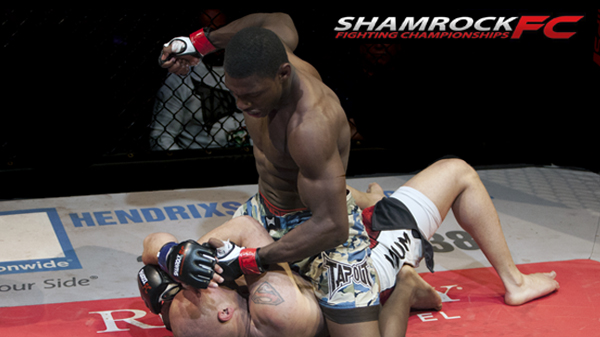 Shamrock FC: Showdown - Recap
Stick-to-itiveness and persistence will lead to better things.

On a night Shamrock Fighting Championships cranked up the production level at the River City Casino and showcased both its first television broadcast and live stream event, good old-fashioned grit and determination led to finishes in three marquee match ups at "Showdown" on Saturday night.

Joaquin Buckley, Eric Irvin, and Jordan Howard had to chip away at their opponents but all came away with their hands raised.

Buckley, one of the regions fastest rising prospects, stepped into the main event slot in just his third pro fight where he met 19-fight veteran Kalel Robinson.

Buckley hit Robinson with an array of strikes throughout the first round. Aside from a head kick early on in the round, Robinson mostly absorbed for five minutes. Buckley landed a flying knee and peppered Robinson with punches throughout, putting Robinson on the defensive Buckley even got to mount toward the end of the round but could not put Robinson away.

In the second round, Buckley was patient and showed poise as he wore Robinson to the ground. Once in dominant position, Buckley steadily landed punched and Robinson couldn't defend as the fight was called at the 4:01 mark in the second round.

Stay tuned to Knuckle Junkies for post-fight interview with Buckley and several of the main card winners.

Eric Irvin won his fourth straight and 6-of-7 when he slugged away at Alabama's Josh Thorpe. With Thorpe coming in 10-pounds over for their lightweight bout, it took a few extra swings of the axe before Irvin was able to chop him down.

The two kept each other tied up for the early onset of round one before Irvin secured his first takedown. Irvin (9-3) worked his way to Thorpe's back where he was able to land punches. Once the fight returned to the feet, the pair boxed briefly before Irvin pulled off a nice trip to get Thorpe to the floor. Irvin worked from side control, setting up a crucifix and all the while sliding in short elbows and punches to close the round.

Thorpe turtled up early in the second round as Irvin went to work with knees and elbows to the midsection. But Thorpe was able to muster up just enough defense to slow the barrage to keep the fight from being stopped. Irvin again broke Thorpe down, this time put him in a body triangle. Irvin landed hard shots to the ribs that freed up the neck and from there he got the tap with a rear naked choke at 4:13 mark of the second round.

Malcom Smith and CJay Hunter put on two rounds of excitement.

Smith led off the first round with a left front kick that sent Hunter back. Smith was looking clean and comfortable on his feet early on. Hunter got the fight to the floor briefly before things returned back up. Hunter did a good job pressing Smith against the fence and while in the clinch landed a handful of knees. Hunter got the fight to the floor and Smith soon proved unsubmitable. Hunter first locked up a belly-down arm bar which he held for some time. Hunter then transitioned nicely to at triangle but Smith showed formidable resolve, shaking off the submission and ending up in side control.

Hunter dominated the second round from bell-to-bell. Though at a much-slowed pace, Hunter got Smith down and landed some significant knees. Hunter had his way, maneuvering to rear naked choke attempt that once again Smith shook off. But Hunter kept the offense rolling as Smith turtled up and 'The Goundshark" landed elbows and punches to the body and head. Smith had to be helped to his stool at the end of the second.

A sloppy spill to the floor led to Smith in Hunter's half guard and that's pretty much where the fight stayed for the next four minutes. Hunter was able to control Smith's posture and Smith couldn't pass his guard.

When the judges cards came in, Hunter was a 29-28, 28-29, 29-28 winner.

With a Bellator contract up for grabs and taking the fight on short notice, Deandrew Jones had nothing to lose.

Jones came out guns blazing against the favored Jordan Howard. Jones landed four nice shots from the onset and sent Howard into retreat mode.

Howard was able to slow the storm in the clinch. Once it got to the floor, Jones tried an armbar attempt. Howard muscle up and slammed Jones to the mat. Jones turtled up and Howard slugged away for the first round finish.

Montoyia Swilling landed a sharp front kick to start his lightweight bout with Demagio Smith. But Smith recovered nicely to earn top control. On a scramble, Smith landed a sharp right that sent Swilling backward. Smith spun to the back eventually muscled Swilling to the ground and patiently locked in the rear naked choke for the first round victory.

Welcome back Steve Rustemeyer.

When we last saw Rustemeyer he had suffered a broken jaw in a Cage Championships show in April, 2012. With nearly three years away from action, Rustemeyer made everyone take notice an impressive TKO over Nick Pohlman. Rustemeyer landed a heavy shot early and then swarmed from there on, getting the quick stoppage in the first round.

In the featured bout of the undercard, Garrett Wells patched together three rounds of sound grappling to get a unanimous decision win over Derek Clardy.

Rashad Lovelace looked impressive wining via triangle over Zach Burcham at 1:41 in the first round.

Aushton Dickerson cinched up a nice standing guillotine to tap Al Guzman in the first round.

Susie Wyatt earned a quick TKO against Royal Schirmer, who took the fight on short notice, in the first round.

Cort Romeous needed just 33 seconds to TKO Cody Nauke to kick off the show.

Shamrock FC returns to the Lumiere Casino on April 18 with Velocity.

Photo courtesy of Jimmy Range Photography.