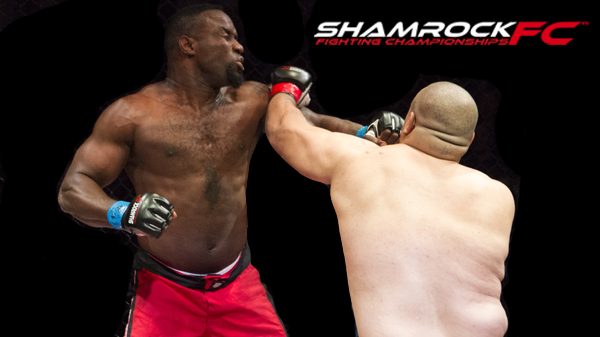 Shamrock FC: Ultimate - Recap
It has been a banner 2015 for Shamrock FC, putting on over 25 shows, establishing a stranglehold in both St. Louis and Kansas City, and helping to bring Bellator to town twice in six months.

On Saturday at the River City Casino, the promotion showcased its wealth of talent on the roster with SFC: Ultimate it's final act of the calendar year.

The night featured a pro heavyweight title fight as the main course. Two ammy straps were also part of the menu as the crowd feasted on wicked submissions, toe-straightening finishes, and a wheel kick KO that folks will tell their grandkids about.

In the main event, Bobby Brents picked up the TKO win over Fred Brown.

In the first round, Brown kept things close against the veteran. Brents pressed Brown against the fence and eventually scored a takedown. From there he landed heavy knees to secure the round in his favor.

After a wild exchange in the second round, Brown's shoulder appeared to have fallen out of place rendering him helpless to defend, the seasoned Brents wasted no time swarmed in for the victory. Brents (16-4) snatched up the Shamrock FC Heavyweight belt with the stoppage. As part of a cross-promotional deal, Shamrock FC champions are front lined into Bellator after a successful title defense.

Exclusive video interviews with Brents and several of SFC: Ultimate winners, check back on Monday.

What appeared to be a broken foot put an anguishing end to Trevor Ward's night.

In the co-main event, Ward met Kendrick Latchman in a contest between two of the top up-and-coming flyweights in the Midwest.

Ward had early momentum as he used his length and a plethora of kicks to repeatedly score on Latchman.

Latchman solved the range problem towards the end of the first round and continued so repeatedly throughout the rest of the fight, closing ground and landing punches. His boxing kept Ward on the defensive for the better of the second round. Latchman repeatedly sent Ward to the floor and refusing to engage in any groundfare, motioned for Ward to get back up. Late into the third round Ward's foot could no longer bare the brunt as he called an end to things. Latchman won his fourth fight of the year and improved to 5-1.

Dan O'Connor vs Nick McClean had brewed up plenty of animosity in promoting their flyweight bout.

O'Connor was working his game in the first round; throwing up multiple submission attempts off his back. McClean, a big and long 125er, defended well and was patient throughout. McLean started to press in the second round and O'Connor countered with leg kicks, which landed all fight for him. McClean scored a takedown and maneuvered O'Connor near the cage. O'Connor again went to work with his submission game but once McClean got dominate position the punches came down heavy and often, O'Connor was unable to defend properly and the ref was forced to call the fight.

Matt Murphy stepped in on a few hours notice and up a few weight classes to face Yohance Flager. Flager was scheduled to meet Kirk Huff but health reasons kept Huff away from Friday's scale and Murphy, an eight-fight veteran, was there to make the walk. But Flager wouldn't be denied. Sniffing out a finish from the get-go, he improved to 8-7 with a second round submission win.

Flager's second-round slam takedown led to him attacking Murphy's arm, much like he did in the first. At the 4:40 mark, Murphy (4-5) tapped to a shoulder lock. Flager patched together a convincing first round, making multiple submission attempts and controlling action on the ground.

Aaron Highfill got back to business.

Highfill improved to 2-1 with a second round submission of Kevin Brown. Highfill's ground attack flummoxed and frustrated Brown and he got the rear naked choke victory at 3:46 in the second round. Highfill pressed the entire first round, scored two early takedowns added in a power slam and took Brown's back off scramble.

Lee Burns made his pro debut against Marc Godeker. Burns came out and landed two heavy knees that sent Godeker down. That's when Burns connected with a right that popped Godeker's head back and he followed with a barrage of punches for the finish in 29 seconds.

Shaun Scott defended his SFC middleweight title against Sam Tamayo, who took the fight on extremely short notice at a weight class heavier than his normal 170.

The strapping Scott exerted his obvious size and strength difference, retaining his title with a second-round submission.

Tamayo started the second round with a takedown and advanced to side control. Scott soon reversed out of harms way and Tamayo gave up his back. From there, Scott pounded away, freed up space, and finished with a rear naked choke at 1:40.

From the onset of the first, Scott pushed forward and landed knees while pressing Tamayo against cage. Tamayo landed a takedown and Scott flirted with a quick guillotine before Tamayo broke free, landed shots, but a second takedown attempt went south. Scott eventually mounted Tamayo and dropped punches. Tamayo did pull off a nice flurry on the feet to end the first.

What was to be a title fight but neither made weight, Ashley Samples won via TKO over Susie Wyatt at 2:59 in the first round. Samples showcased good takedown defense and pressed Wyatt against the cage. Samples fell into Wyatt's guard, got back up, landed several punches and finally a knee to the midsection that led to the stoppage.

Cortavoius Romerous retained his SFC featherweight title in eye-popping fashion. In what is bound to make the rounds on social media, Romomerous was taking on talented challenger David Evans when he landed a stunning wheel kick to get the KO victory in just 24 seconds.

In other action Steven Coleman won by unanimous decision over Bob Hinchcliffe.

Martell Washington made his MMA debut in electric fashion. Washington needed just eight seconds and a sharp, short uppercut to finish Chris Moore at bantamweight.

Jace Burcham and Ben Brown went toe-to-toe for nearly three rounds before Burcham pounded away for the finish at 2:53 in the third round at featherweight. Brown had his best moments in the first round with Burcham's pressure finally starting to take a hold.

Luis Felipe led off the card with an impressive finish, getting the stop over Todd Mikel at 2:10 in the first round.

Shamrock FC returns January 16th to the Ameristar Casino in Kansas City. Photo courtesy of Jimmy Range Photogrpahy.