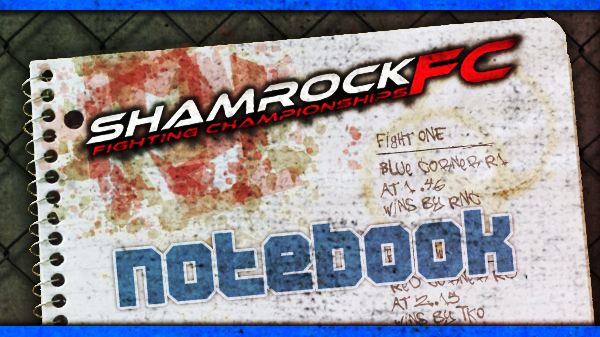 Shamrock FC: Unstoppable - Notebook
Much like its namesake, Saturday's Shamrock Fighting Championships: Unstoppable has seen its docket damaged but there's plenty of meat left on the bone.

SFC was hoping to showcase Kevin Engel against the heavy handed Jesse Sanders (23-6) in the main event with local favorite and wily vet Lucas Lopes starring in the co-main. On the womens side, recent RFA strawweight Becky Ruth was set to make her return to St. Louis.

With those three fights scrapped due either injuries or rescheduled, a local renegade will face a neighboring grinder who doesn't mind letting loose.

Granite City's Ray Grindstaff, a product of Steve Knogl's CMMA, will face the Land of Lincoln's Jake Constant.

Saturday's main event will be at a catchweight of 140. The winner of Grindstaff vs. Constant will fight Jordan Howard for the SFC bantamweight championship sometime during the early portion of the new year. The winner of that fight could see themselves with a Bellator contract in 2015.

Despite losing his first two, "The Gator" (5-3) has won five out of his last six fights with the only loss coming at the hands of UFC flyweight Alp Ozklic.

"I'm feeling pretty confident," Grindstaff said. "I trained my ass off for this. You will find out at the weigh-ins. I'm ready. This is my opportunity and I feel like nothing is stopping me."

Grindstaff, 23, fought four times in 2011 but twice since the fall of 2012. He turned pro at the age of 19.

"As soon as I get in the gym it gets right back to the way it was," Grindstaff said. "It's like riding a bike. But I know in 2015 I'm going to have to stay in the gym to get those big fights. It's all about staying on it."

The 24-year-old Constant is out of the Kennel Fight Club in Springfield, Il. Constant was a teammate of local standout Andrew Sanchez while on the McKendree College wrestling team. Never one to shy away from a good scrap, Constant was worked diligently on becoming dangerous everywhere.

"A big mistake is to underestimate my striking," Constant said. "I have never been contested on my feet. This past year I have done a lot of boxing. More so than wrestling. My jiu-jitsu is starting to open up. I getting a guard game and getting slick."

Constant spends his days working at General Nutrition and much-like his opponent, got into the game young. Saturday will be Constant's (5-6) 12th pro fight.

"I don't think I started too quick I just think I took fights at the wrong time," Constant said. "With wrestling, I was used to competing every weekend. I was oblivious to the damage I was taking working out twice a day every day. I had to pump the breaks."

Constant spent a lot of his amateur career on the "Shamrock circuit," and has witnessed how the MMA scene in Springfield bubbled with momentum and potential but soon recessed.

"As far as the gyms go, it's like a little St. Louis with the way some of them don't cross train or whatever," he said. "There just isn't a good regional promotion. Capital City has some pro show but they are few and far between. After (Mark) Fiore left so did a few others. It's running on half of what it used to have. It's really downgraded in the last year."

Co Main Event: Malcolm Smith vs Joe Perry

Malcolm Smith has been waiting and waiting to remove the taste from his mouth.

Smith last stepped into the cage in July where he lost a unanimous decision to Javon Wright. That loss snapped a three-fight win streak.

"That fight wasn't the normal Malcolm," Smith said. "I basically laid and prayed and that's not really me. He threw a lot knees and got my back one time and that's what pointed me out."

Smith isn't one to belabor the loss. He's more disappointed with the performance than the outcome.

"It was not action packed," he said. "That was a fight I was really wanting and I messed it up. I muscled up the whole time. I would control him but not do anything with it. It wasn't impressive on my part and I could see where the judges thought I should have done more."

Smith admittedly know little about Perry. Perry opened his pro career this year with a submission win over Cody Coleman. He leaves the deconstruction of an opponent in the capable hands of his coach, Kevin Hahn, out of Hahn's MMA in Festus.

"They do the studying, I do the fighting," Smith said.

Smith turns 24 in a few weeks and sits at 3-3 for his pro career.

"I think I am on the right path," Smith said. "I have had trouble in the past with maintaining my weight but now I have it down pat. I'm 3-3 but every loss is a win. I'm only a low-level pro. I have a lot of building to do. I'm still young in this game. I'm learning and only getting better."

Rest of the main card

Demagio Smith has a tough test for his pro debut. Smith will face "The Groundshark" CJ Hunter, out of Modern Combat Systems. Hunter is 1-1 since turning pro earlier this year. Hunter, who put together a solid amateur run, is coming off a TKO win in September at the Capital City Cage Wars.

"This could end quick or go three rounds," SFC matchmaker Rob Donaker said. "If Demagio can keep it on his feet he can pick him apart and have a chance because his BJJ is not there."

Rounding out the main card will be two quality amateur bouts. The skilled and creative Cort Wahle will face Alex Kluge. Kluge is a teammate of Constant's and brings a similar grinder mindset and game. Wahle has been off for a little while but has the nod when it comes to experience and on the feet and submissions.

Fresh off a loss last month, the athletic Shaun Scott will face one of the region's top amateur prospects, Jordan Dowdy.

"Jordan is probably the top 170'er and hold his own at 185," Donaker said. "Both of these guys are real strong and don't stop."

This could be one of Dowdy's last amateur fights as a pro career looms in his future.

Prelims:
Ryan Dennis vs Danny Jackstadt
Jason Huncovsky vs Jacob Longwell
David Evans vs David Kennedy
Jeff Rittenhouse vs Zach Burcham
Rachel Stockham vs Ashley Sample
Paul Mallinkrodt vs Cody Naucke
Aushton Dickinson vs Isaac Purnell

Get tickets to the event here: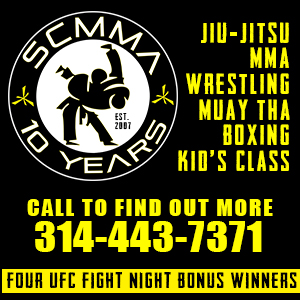 Nemesis Fighting Alliance
| Sat, August 17th
Casa Loma Ballroom, St. Louis, MO
KCFA
| Sat, August 24th
Independence Event Center, Independence, MO
Shamrock FC: 322
| Fri, September 6th
River City Casino, St. Louis, MO
Sub 5
| Sat, September 21st
TBA

Tweets about "KnuckleJunkies OR @knucklejunkies"