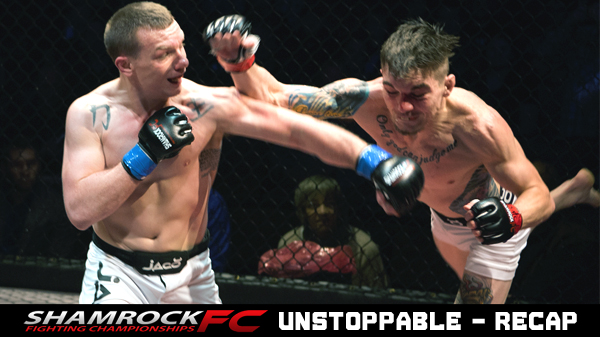 Shamrock FC: Unstoppable - Recap
For its final show of 2014 a collage of rousing finishes were a big part of a heated Shamrock FC: Unstoppable at the River City Casino.

In the main event and a No. 1 contender eliminator bout, Granite City's Ray Grindstaff and Illinois' Jake Constant traded and clawed from the word go.

Constant landed a short left early in the second round and followed with a barrage that Grindstaff wisely tied up. Gindstaff got out of harms way briefly on the ground by Constant started to showcase his wrestling. Constant put on the pressure, he made his way to Grindstaff's back eventually got a rear naked choke victory.

With the two fighters nearly getting into it from the ref's instructions, the first round was filled with high volume. With Constant getting the better of the exchanges, both fighters threw with heavy intentions. Grindstaff started to open up but Constant dropped him with a right. Constant then ducked under a wild punch, took Grindstaff down and got his back. Grindstaff complained of an eye poke and the fight was stopped briefly before the end of the first.

Malcolm Smith had had enough.

After boxing around with Joe Perry in the co-main event, Smith decided to take matters into his own hands. Perry did a nice job slipping punches but Smith was able to land the odd combination. Smith pressed heavy, landed a leg kick and followed up with a solid overhand. Sensing blood in the water, Smith bullied Perry down to the floor and got the TKO victory, 2:14

"I utilized everything instead of one part of my game," Smith said. "It was equal. I used the cage too. When I got the finish it was because I had to do what I had to do to keep him where he was. He backed up and I caught with a couple of good shots. I backed him up against the fence and he gave me the right amount of distance to where I can put my hands on him. He didn't try to grab me all he was doing was guarding. That put him in worse spots and I got him with an uppercut and he just fell down. Once I saw he was hurt I went after it."

After a free a loose feeling out process, Smith tied up Perry and pushed him against the fence. The two traded knees by the dozen. Smith landed a crisp elbow, an overhand right, and then scored a takedown where he briefly got mount. Perry eventually got some space and tried a brief guillotine.

Demagio Smith against CJ Hunter was an anticipated bout on the card as it started the pro portion of the night.

But that wasn't the case.

Nine seconds into it, Hunter clipped Smith, who went airborne to land either a punch or knee. Hunter swarmed and the fight was over like that, TKO victory. Hunter turned pro in March and improved to 2-1.

In a bout that could have been a coin flip, Cort Wahle won a 29-28, 28-29, 29-28 split decision over Alex Kluge.

Wahle and Kluge engaged in ground work for the better part of the third round with Wahle pushing most of the control and aggression, working an crucifix and a late arm attempt.

A much more active starting the second with Kluge pushing Wahle to the fence. Once separated Wahle landed a spin kick to midsection but Kluge followed with a takedown and rear naked choke attempt and Wahle spent the bulk of the round defending it in a round controlled by Kluge.

For the better part of the first round, Wahle and Kluge were a tangled mess on the ground. Kluge got Wahle's back early but an athletic sweep by Wahle changed the tides of a slow first round.

Jordan Dowdy is a tough out even when you spend time training for him. Cody Leas took Saturday's bout against the talented CMMA amateur at 1 p.m Saturday and the end result is what you would have expected. Dowdy whipped a hard-charging Leas to the ground, got side controlled and methodically transitioned to his back. The whole time, he was peppering Leas before systematically sinking in the rear naked choke for a first round submission victory.

Ryan Dennis put on a dynamic performance in his featured bout on the preliminary card against Danny Jackstadt. Dennis nearly ended early things early when he clubbed Dennis with a combination of punches and kicks that sent Jackstandt to the ground. Dennis followed but Jackstadt eventually got the fight back on its feet. Once there, Dennis greeted him with a kick to the body and an overhand right that ended the fight vi 2:58 in round one

Troy Depriest was a late replacement to fight Jason Huncovsky and Depriest came to fight. Depriest landed a handful of wild shots from the bell that sent Huncovsky to the fence. Huncovsky attempted a kick that sent him to the floor. Once he got back to his feet he landed a left hook that sent Depriest down in a heap for the KO win.

Paul Mallinkrodt's boxing and constant pressure was enough to get a win over a game Cody Nauke. Nauke stayed in the pocket and absorbed a handful of shots down the pipe before Mallinkrodt scored a TKO just 1:31 into the fight.

Issac Purnell needed just 15 seconds into round one to defeat Auhston Dickerson. Purnell swarmed from the onset to pick up the impressive TKO.

Due to injury, Zach Burcham won via TKO in the second round over Jeff Rittenhouse. The end came at 1:56 in the second round.

Rachel Stockham and Ashley Samples put together an instant classic to what many cageside were calling one of the best amateur fights of the year.

Samples, who took the fight on short notice, was effective from the jump. She landed heavy kicks to the body and dotted Stockham repeatedly. Samples darted in and out and had Stockham out of rhythm until the closing moments of the first when Stockham ramped up the aggression and landed power shots in the clinch.

Despite being bruised and bloody, Stockham pushed through Samples continued combinations. With nary a takedown attempt between the kickboxers, the two chose to duel it out on the feet. Toward the end of both the second and third rounds, Stockham pushed the pace in what was one of the most exciting fights of the year. It was Samples, who did score a third round takedown, who landed the bulk of the punches and earned a 29-28 unanimous decision victory.

"I was very proud of my performance and hers," Samples said. "She was taking the hits and did not give up. I have to hand it to her. She hit hard but I pride myself on my accuracy and our striking all together."

In a fight that was high on aggression it was Samples that tallied the most damage.

"I really would have liked to have finished her in the first round. I got really excited when I saw blood," Samples said. "There really wasn't too much of a game plan. Just go in there and do what I do best. I didn't know much about the girl. I took the fight Tuesday night of this week and it's two weight classes above what I'm used to fighting. I knew she was 2-0. I was more experienced than she was I just wanted to go in and finish the fight as soon as possible."

David Evans exploded on David Kennedy in the nights opening bout. In a matter of seconds, Evans flatlined Kennedy for the eight second TKO win.

Shamrock FC will officially announcer their full 2015 schedule on Wednesday, December 10th.

Photo courtesy of Jimmy Range Photography.