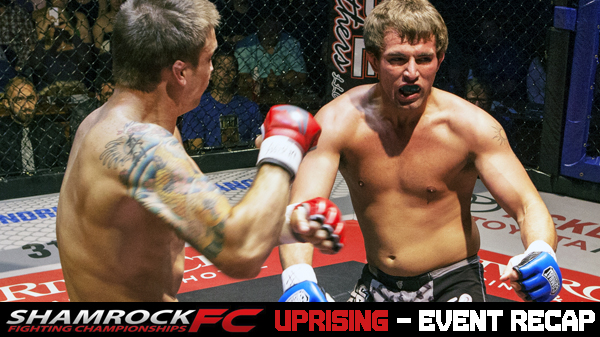 Shamrock FC: Uprising - Event Recap
Shamrock Fighting Championships made a splashing debut at the River City Casino Event Center on Saturday.

While the state of the art sound and visual production of SFC: Uprising turned many of the 1,200-plus heads it was Adam Cella who made jaws drop.

Cella, making his fighting debut at welterweight, flat lined Justin DeMoney in the evening's main event. Cella, an Ultimate Fighter alum who was coming off a loss in his UFC debut, landed a terrific left-right-left combo that sent DeMoney to the canvas. Cella followed with an exclamation point that left DeMoney there for several minutes after the fight.

"The fight was pretty even and I actually thought Cella was losing up until that time," SFC's Jesse Finney said. "You have to give DeMoney some credit for taking the fight on two weeks notice. He came to fight and he came out hard."

The victory improved Cella to 5-1.

With former Strikeforce CEO Scott Coker in the audience along with representatives from multiple television networks, the night - which celebrated SFC's 15 years in the fight game - went off without a hitch.

"I don't know if we can be any happier," Finney said. "With the way the production went and the show went, it was really great fights from the first one, that went all three rounds, to Cella putting him to sleep."

For video interviews with Cella and several of the night's winners, check back on Monday.

In the co-main event, Brian Grinnell defeated Brian Schell at his own game to win in the first round. Grinnell swarmed and then suffocated Schell on the ground. The purple-belt grappler from Oklahoma made a nice transition from a kimura to an armbar to get the first-round tap out.

Josh Weston showed a durable chin and superior wrestling to get an unanimous 30-27 across-the board decision win over Bo Smith.

Weston scored a nice takedown early in the first round and ended up in side control where he landed some nice knees to the body. In the second round, after lots of leaning, Weston got another big takedown and dropped some solid elbows as the round came to a close. In the third, it was more of the same with Weston ending the fight dropping some nice shots while in Smith's guard. During the fight, Smith landed a couple of right hands that shook Weston but other than that, displayed little offense.

Ken Porter got revenge from a loss earlier in the year to Zach Harvey. Porter put together a near-brilliant first round and followed that with a guillotine choke just 54 seconds into the second round to earn the victory.

In a fight that was much closer than judges made it out to be, Joaquin Buckley earned a unanimous decision over Tyler Claussen to earn a SFC amateur belt. Nearly all of the fight was kept on the feet, including plenty of wild exchanges in the first round. Round two featured more of the same, except with a little less action and the 19-year-old Buckley secured the win in the third while Claussen was a tad too cautious in his approach.

On the preliminary card, Brittany Dugas looked impressive in her win in clear fashion over Susie Wyatt taking home a Shamrock FC Women's title.

Other winners of the night included SouthSide Fight Club's Brandon Nehls by rear naked choke in the first round over Tracy Garland.

Rebecca Gullet from 21st Century Martial Arts won by unanimous decision over Sarah Hayes with a happy Benny Voyles in her corner.

Auhston Dickerson won via a vicious guillotine choke over Matt Stasiulaitis in 1:19 in the first round. Vi Nguyen defeated Richard Jones by unanimous decision.

Shaun Scott won via rear naked choke in the second round. The athletic, former gymnast celebrated with a flat-footed backflip after his victory.

"I was extremely pleased," Finney said. "I want to thank my staff; Rob Donaker, Jacob Claffy, Tony Biondo, Rob Colie, a lot of guys that people don't see in the back that makes the show go so smooth."