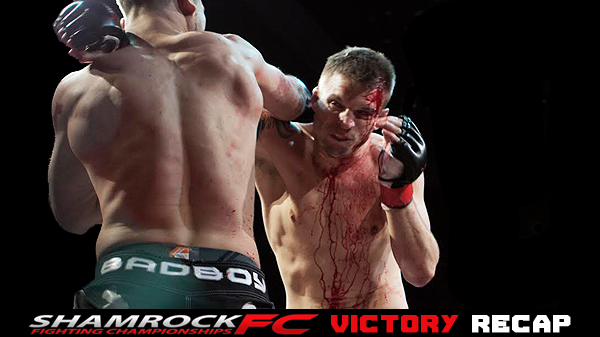 Shamrock FC: Victory - Recap
For their third trip to River City Casino and Hotel, Shamrock FC treated the fans with an instant-classic of a main event and an early candidate for fight of the year..

Shamrock president Jesse Finney was ecstatic by the evening's performances.

"We've been doing fights for almost 16 years, and this was our best event." Finney said. "This was our best event."

Despite a slow start to the night, action picked up midway through the unercard, and gained momentum throughout the evening. By the time Adam Cella and Lucas Gwatleny entered the cage, the fans in attendance were ready for a big finish.

Cella's technical and patient strikes were a stark contrast for the gritty boxing of his opponent. The confident Cella controlled the center of he cage, maneuvering Gwaltney into the fence while picking his shots and landing solidly with kicks to the body. This confidence began to wither when Gwaltney seemed unphased by Cella's offense. Throughout the fight Gwlatney would smile and wave for more punishment. An elbow from the clench would cut Cella open late in the first, and before the night was over, Cella's white shorts would be completely pink.

Cella would begin the second round with a big slam, and would control most of the round from the top, attempting submissions and landing punches when able. Cella fired up the crowd when he unleashed a series of shoulder bumps into the chin of Gwaltney. With a minute left in the second, Gwaltney reversed positions and began to rain down heavy elbows from top. Cella would survive, but looked weary and bloody walking back to his corner.

The three judges in attendance had given the first two rounds to Cella, behind on cards going into the third, Gwaltney would need a stoppage to win the fight.

The third started much like the second with Cella securing a takedown and controlling from the top position. It looked as if Cella would cruise to a victory before Gwlatney would escape forcing a scramble. Gwlatney would end up on top, and forced Cella into a turtle position. Cella had nothing left in the tank, and Gwaltney was able to smother his opponent with punches forcing a stoppage with only seconds remaining in the third and final round.

See all the photos from the event courtesy of Jimmy Range Photography.

Malcolm Smith evened his pro record to 2-2 against Jake Constant from Sprinfield, IL. Smith was in trouble early with Constant landing punches from Smith's guard. Late in the round, Smith would get a second wind, reversing positions and landing a nasty elbow that opened a gash on Constant's forehead. Constant would turtle up to defend, and absorbed several punches before referee John Deuver would stop the fight giving Smith from Hahn MMA a TKO victory in the first.

Tyler Claussen and Cory Hauter are both familiar names for the Shamrock FC promotion and on Saturday they both made their professional debuts. Claussen dominated the first round, looking like he would stop Hauter more than one occasion with nasty ground and pound, but Hauter would survive to see round two.

Hauter came out like a different fight for the second stanza and surprised many in attendance when he was able to take the back of Claussen and finish with a rear naked choke midway through the second.

Scott Futrell and Jake Buehler started things off on the pro card and gave the fans an exciting contest. Early, it looked like Buehler couldn't figure out the range of the lanky Futrell and looked to work the takedown. Futrell showed great hip movement and was able to escape from bad positions every time Buehler would take him down. Futrell peppered Buehler with jabs, and scored points winning all three rounds from the judges in a unanimous decision. MCS's "General" improved to 2-0 as a professional while Buehler from Hahn MMA drops to 1-4 and is much better than his record would suggest. Buehler fought with heart and tenacity, but Futrell's range and athleticism was the difference in this fight.

Branden Nehls from Berger's MMA grinded out a victory over TJ Casey in a three round impromptu grappling session. Casey wasn't able to get his hands going against Nehls who kept him off balance and on his back for most of the fight. Nehls improved to 6-0 and will face Jake Roberts from St. Charles MMA on April 25th.

Marissa Smith from the War Room looked very impressive in her domination of Crystal Stevens. Marissa overwhelmed her opponent who looked badly outmatched in this female bantamweight encounter. Smith improved to 7-0 and is someone to keep an eye on.

JJ Tripak wasted little time getting the submission of Ryan Dennis. Tripak took the back of his opponent early and from there it was a text book finish.

Susie Wyatt continues to show she has plenty of fight left in her as "Mama Beast" looked for submissions early and often before getting a triangle to stick late in the first.

In a battle between two heavyweights, Zach Gerullis looked better than he ever has, and it appeared he had Jason Hunchovsky in terrible shape early, nearly closing his left eye with punches. Late in the third, the taller Gerullis locked on a standing guillotine, and got the tap to even his amateur record at 7-7.

Also in undercard action, Dan Uhlenbrock from the Academy of Courage was victorious with a rear naked choke in the first. Tyler Badding and Armin Dubinovic were also both winners by decisions in the evenings first two contests.

Shamrock FC returns to River City on June 7th, and will setup shop at Lumiere Casino on April 9th.