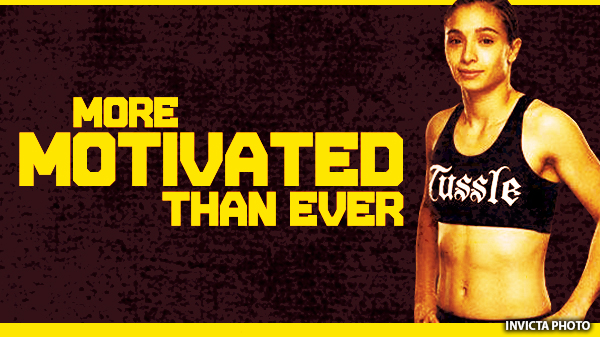 Smashley: More Motivated Than Ever
There are a number of qualities in one's character that more or less define who they are. It typically takes a perfect alignment of the right qualities to make someone want to be a fighter. Moxie, dedication, and confidence would all fall comfortably into this category.

Then there are a completely different set of qualities that one would need to possess in order to be a police officer. Honesty, bravery, and selflessness all come to mind. While some descriptors do overlap into both professions, there are a few that are required to do both. Commitment, strong work ethic, and a disregard for self-preservation are all required for one to be successful at both.

If you have ever had the pleasure of meeting pro MMA fighter and St. Louis County police officer Ashley Cummins, or have seen her fight, you can see all of the aforementioned traits shining through. Cummins initially comes off quiet and borderline standoffish. Once you get through her shy exterior, you notice the passion when she speaks, a child-like smirk, and an undeniable intensity.

Born and raised in St. Louis, the 27-year-old was the middle child in a household that taught her to believe in herself and to never give up and she put these lessons to work on the soccer pitch. The Marquette High School standout proved to have the drive and work ethic to take herself to the next level, earning a spot on the soccer team at University Missouri St. Louis (UMSL). Her aggressive style meant plenty of red cards but it fueled her fire to compete.

Training in Tae Kwon Do growing up, Cummins primarily was only interested in the sparring and wanted little to do with the forms and board breaking. Even then it was apparent that she had no reservations with being aggressive and fighting for the things she wants.

Cummins needed a new outlet for competition after her college athletic career came to an end. This is where MMA came into her life and it was a natural fit. She compiled an 8-0 amateur career, picking up four promotional titles along the way. She went pro, started out 3-0 and eventually settled in at Berger MMA/Fit or Fight.

She was 3-1 record going into her most recent bout, a Jul, 20103 Invicta outing against Emily Kagan. After a very hard fought battle, Cummins came up on the losing end of a very controversial split decision. Losing a fight that she felt she had won, Cummins learned that she needs to do everything she can to not leave the decisions in the hands of the judges.

This Saturday, September 6th, she will get the opportunity to do just that. Cummins will face Alexa Grasso in a 115-pound bout under the Invicta banner.

Grasso, hailing from Mexico, carries a perfect 4-0 record into the bout with three TKO/KO finishes. Typically fighting at 125, she will be making her 115 debut. Grasso's first three bouts have a combined time of just over a minute. This will be her first bout outside of Mexico, and her first for the Invicta organization.

Cummins' resolve is surely being tested for this bout. Coming off of back-to-back losses and facing an undefeated prospect are only part of the pressures facing "Smashley" going into Saturday's contest. Her job always has the potential for danger and at any moment she could be thrown into dangerous situations, but right now, the city of St. Louis is in a serious state of unrest.

At the time of the interview, Cummins had worked 12 hour shifts for 19 consecutive days in an effort to keep the turmoil to a minimum in the city of Ferguson. The city was riddled with violence, looting and riots for weeks. The amount of hours she is working alone would be enough to push some to their breaking point, but when you add in the threat of violence and potential danger she is facing on a daily basis, it's hard to imagine her finding enough time and the motivation to train.

That is not the case at all, Cummins has been in the gym training every day. More motivated than ever to show the world that this is what she is meant to do.

Facing a lot of questions as to whether or not she was going to still, in light of the events, fulfill her commitment to Invicta, Cummins took to social media and posted the following on Facebook. "I am a police officer. We do not back down or quit when times are tough and/or struggle arises. We gear up and take on challenges head first and make sure to come out victorious. I'll see everyone September 6th!"

The well-rounded Cummins believes she has the experience advantage over Grasso, having chalked up more bouts and far more minutes in the cage. She expects to have her hand raised in spectacular fashion.

"I'm going to finish her," Cummins said. "It's not going all three rounds. I don't believe she can stop me..... I won't be broken."

Surrounded by good training partners, Cummins feels she is ready to take on whatever Grasso has to offer. Alexis Stocks has been keeping her on point in the grappling department, while Josh Boyer and numerous others have been giving her round after round of action. Cummins helped spearhead an all-women sparring sessions that take place at varying gyms and offers a host of training partners for one Sunday a month.

While Berger MMA/Fit or Fight is her primary gym, Cummins has been doing strength and conditioning with the gang over at Victory and getting some mat time in with JW Wright's Grappling Concepts, a Gracie BJJ academy.

Cummins will be bringing Steve Berger, Boyer, and Brian Jones along to Kansas City to corner her.

When she can find the time, Cummins is an avid participant in animal rescue. She also plans on keeping MMA training a part of her life even when her fighting career winds down.

"It's good for my career in law enforcement, it keeps me sharp," Cummins said.

This doesn't mean she is looking for her fighting career to come to an end anytime soon.

"The goal is to get to the UFC," Cummins said. "Now that the women's weight classes have expanded, I see it being a real possibility."

With the strength and dedication she has displayed leading up to this bout, it's very reasonable to assume that she every chance in the world to do so.

Invicta FC 8 will take place at Municipal Auditorium in Kansas City, MO. The event will be available on pay-per-view and on UFC Fight Pass. Check your local listings for details.