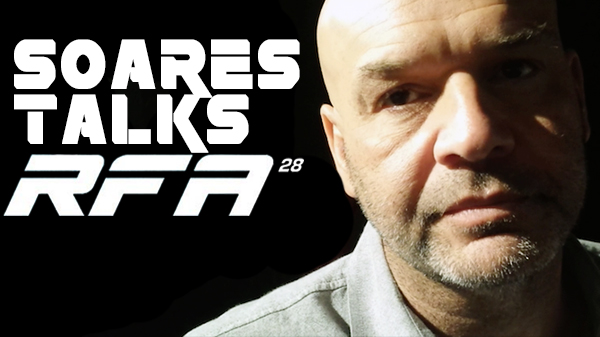 Soares Talks RFA 28 in St. Louis
An unlikely partnership is the thrust behind one of mixed martial arts' most prominent promotions landing in St. Louis in a matter of weeks.

Resurrection Fighting Alliance 28 will be held on Aug. 7 at the Chase Park Plaza and aired nationally and internationally live on AXS-TV.

It was last year in a far off land when the bug for a RFA show in St. Louis was planted. RFA president Ed Soares (who is also the most well-known manager in the sport, handling the reigns for future Hall of Famers Anderson Silva, Lyoto Machida and the Nogueira brothers) was in Brazil for a UFC Fight Night. Also on that card was local standout Jake Collier, who was making his UFC debut. Collier's coach and Cage Championships president Patrick Smith struck up a conversation with Soares (the two became acquaintances during Collier's brief reign as RFA middleweight champ) about the RFA and St. Louis.

"We always looked at this market as potential," Soares said. "But it wasn't until talking with Patrick back in December in Brazil and the fact that he was trying to bring in a big show. We figured, let's do it together, and we started the work. It's great to have a partner here like Patrick."

Smith got his first taste of RFA early in 2014 when he went to corner Andrew Sanchez in Nebraska. He got another taste of the RFA in Minnesota (when Collier won the belt) and from there he was hooked.

"I'm a huge fan of the RFA," Smith said. "These guys get it. They're always looking for the next big talent. They don't catch guys coming down, they catch them when they're going up and that' what I want to be apart of. They're fans first and that makes a difference."

Smith, who is teaming up with Rumble Time Promotions for this event, played a part in putting together the undercard and helping with the local talent that dots the main card. Area fighters Ken Porter, Jimmy Donahue, and Jake Roberts are among those expected on the docket.

The main event will feature Sanchez vs. John Poppie for the vacant middleweight title. Sanchez has fought for the RFA four other times and his boss has been fan for awhile.

"(Sanchez) is a great wrestler who is becoming a complete mixed martial artist," Soares said. "He's good to work with, knows how to market himself, and does what he can to sell tickets."

Sanchez (6-2) fought for the middleweight title last summer but lost via KO to Kevin Casey. After some time away, he came back in June and scored a second round TKO over Clinton Williams.

"He put on a great performance in Denver and is very deserving of another title shot." Soares said.

Poppie is out of Wisconsin and has a 6-1 record with three of those wins coming via submission.

"John is another guy who is a jack of all trades," Soares said. "He's not a master or great at one thing. He's fought on some big shows and has a good record. It's a fight people all over the world will like."

In the co-main event, Porter was originally scheduled to face Geane Herrera in a flyweight contest but will instead take on former RFA titleholder Matt Manzanares, who will make his record-tying seventh appearance for the promotion. The change comes due to Herrera being called up to the UFC for an Aug. 8 bout.

Soares has seen firsthand the type of talent that can come from the St. Louis region. Not only Collier, but Pacific-bred Justin Lawrence was the featherweight champ and Sanchez is the favorite to make it a third.

"The Midwest is talent rich," Soares said. "I don't think there will ever be a problem coming to this region and finding good fights.

"We're not into this to put on a promotion or just sell a bunch of tickets, we put on fights that make sense and lead to something.(RFA) is like the college football of MMA," he continued. "Our roster is always changing, the UFC signed two guys last week. (UFC) looks toward us. Our guys are very competitive and have traditionally done well."