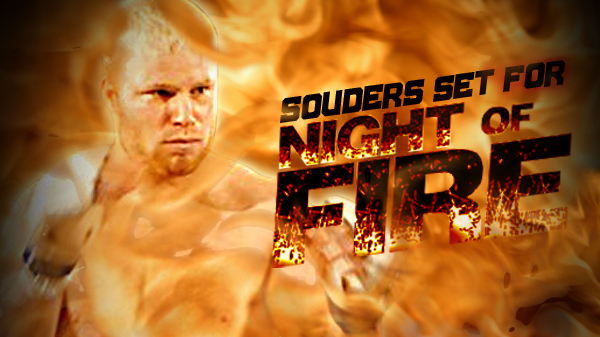 Souders set for Night of Fire
We cut right to the chase and asked Tony Souders, are you the best amateur fighter in the state?

"That is for other people to say so," Souders said. "I don't train like I am. I train like I'm the worst."

Souders is 10-1 and currently ranked No. 2 by the Spire Sanctioning Alliance at both light heavyweight and cruiser-weight.

Souders trails in the rankings to the only fighter he has lost to, St. Charles MMA stallion Brandon Cronin, but Cronin's career outside of the cage has kept him pretty inactive for 2012. In fact he has his bags almost packed, readying for a move to California. That leaves Souders at the top of the food chain.

Souders will be in the main event for Saturday's Nemesis Fighting Alliance: Night of Fire where he will take on Bil Dwyer for the NFA belt. Souders already owns belts for Spire South East Regional, GFL, and Inner Circle.

Dwyer, out of Defiance MMA in Potosi, has been a staple of the Nemesis banner, including last April's main event against Tom Baker. Dwyer has punching power, but Baker was able to neutralize Dwyer's and take it to the ground.

"Bil is known for his hands. I'd like to stand with him and challenge him and see where my standup is at," Souders said. "If things get bad, I can take it to the ground. I'm sure my ground game is better."

Souders, 23 of Hillsboro, steps in at a sturdy 6-foot-1 and cuts from around 225-235 to make light heavyweight.

He spent a bulk of his childhood earning trophies in motor cross and eventually played football and wrestled in high school.

"Having a brother, we used to wrestle and beat each other up for fun," Souders said.
Souders admittedly didn't take MMA very serious at the start.

"It wasn't until after my third fight that I started training," Souders said. "Now I listen to everything that's brought to the table."

Souders started training at Outcast and No Remorse before settling on Berger's Fit or Fight Gym, where he has been for a year.

He started his career racking up seven straight wins before dropping his first loss to Cronin in last year's 205-pound Spire State title.

A bit slow out of the gate, Souders admits that it takes a shot or two to get him going inside the cage.

"When I get punched, that usually wakes me up," Souders said. "It reminds me that this is a fight and I better punch him back. As long as it's not a clean shot, I'm usually OK."

With strength for days, heavy hands and a strong wrestling base, Souders does have work to do as far as his jiu-jitsu.

"I can armbar, do some ankle locks and chokes," he said. "But I still need to work off my back. I want to be able to do things the right way and use technique over of strength."

If Souders blows through Dwyer, what could be left for him, maybe a future as a pro?

"I will have to be in really good shape. That is something I don't want to take lightly," he said. "I have fought most of the good amateurs in the area. It is getting to the point that I am going to have to travel to fight a new face and not the same guys."