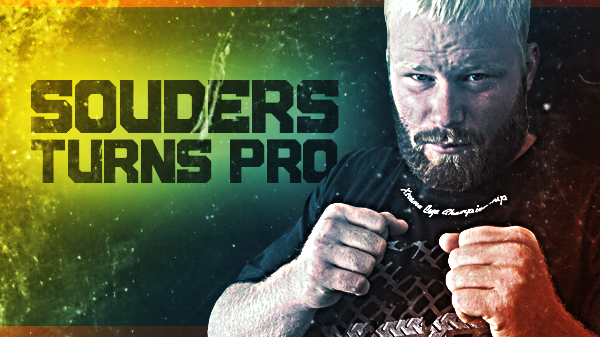 Souders turns pro
For a guy who took his first MMA fight on two's day notice, without any training, Tony Souders racked up a pretty impressive amateur career.

In December of 2011, Souders and Tom Baker put on the best amateur fight of the year. A few months later he ended the undefeated streak of future teammate and training partner, Chris Heatherly. This win set him up to fight for a state title, and while he came out on the losing end of that encounter with Brandon Cronin, he gained a lot of respect from the community.

Now sitting at an impressive 11-1, Souders is taking the next step in his career and will face Ray Clayton in the main event of Saturday's Warrior Weekend.

"Me and (brother) Mike always beat each other up and had fun doing it," Souders said. "So we thought we might as well do it and not get in trouble for it."

Tony's brother Mike also had the start of a promising MMA career before an unfortunate injury forced him onto the shelf. Years of torment from his brother and friends helped prepare Tony for his career as a mixed martial artist.

"He's always been a big strong guy, something I've had to deal with my whole life." Souders said. "With Mikey and his buddies trying to beat me up all my life, I kind of figured out how to not get beat up."

Armed with only his natural toughness and athleticism, Souders jumped head first into the cage.

"My first three fights I didn't do any training at all," Souders said. "After that third fight I won a belt and decided I'm doing all right and should see where it goes."

It was after this third fight that Souders decided to seek out some training, first landing at Outcast with Buddy Lay before moving onto No Remorse with Jason Purdy after Outcast closed its doors. Eventually Souders ended up under the care of Steve Berger. A place he now calls home.

"This has been my favorite spot," Souders said. "I pray to God nothing happens here, this is the best gym in my opinion. The quality of guys here is through the roof. Nick Zona the wrestling coach, Steve Berger with his jits is just unreal."

Around the time Souders made the switch to Berger's MMA, he took a fight Cronin, a jiu-jitsu ace from St. Charles MMA. Souders lost the fight in the 5th round by way of armbar, impressing many who had counted him out in the fight fight.

"That was my first loss, I needed it," Souders said. "That's an important part of an amateur career, to get beat before you take that jump to the pros. You don't know how you're going to do, how you're going to feel. If you're just going to quit or you're going to dig a little deeper and take it to the next level."

The loss from Cronin fueled a refocused Souders who with his improved ground game, has looked completely unstoppable in his last couple of fights. Just ask Bil Dwyer and Zach Gerrulius.

"I didn't like that at all." Souders said. "I'm a real competitive guy. If there's competition in front of me, I don't care what it is, I'm all bout it."

Whereas the loss from Conin was the low point of his amateur career, Souders is quick to point to the win over Heatherly as the high point.

"Sorry Chris, but I'm throwing you under the bus here." Souders said. "That was the fight. I went and watched him the week before. I knew he had an obnoxious record, something ridiculous."

Souders attended a Shamrock FC event to get some intel on Heatherly where he faced Kain Royer. Heatherly defeated Royer with a seven second head kick that became ingrained in local legend.

"That fight with Kain was a pretty quick fight," Souders said. "I was pretty terrified to get in there. I was scared the whole first round. He punched me and punched me. In between rounds I thought, well that wasn't that bad, guess it's time to try and do something. Got lucky and caught him in a guillotine."

Souders' opponent on Saturday is Clayton, someone he is very familiar with. On the same fateful night that Souders took his first MMA loss, Souders' teammate and friend Steve Rustemeyer made his pro debut against Clayton. Early in the first round Rustemeyer suffered a broken jaw, and injury that has kept him out of action to this day. Rustemeyer would go onto lose his professional debut, Souders is determined to keep history from repeating itself.

"Ray's stand-up is pretty good," Souders said. "But I'm going to see how good he is on the ground. Just judging on what I saw in his fight against Rustemeyer. If he fights like that I'm going to feel pretty good about it. I think he's going to have to pull a few new tricks out of his bag to compete with me."

The history with Clayton has only added more motivation.

"Steve's my buddy." Souders said. "It's a sport, whatever, but I'd like to go out there and pull the win off just to tell Steve I did. Show off the hooiser farmboy style."

Souders, a Hillsborough native, will be fighting just down the road in nearby Festus. Look for a very pro-Souders crowd on Saturday night when he takes on Clayton from Fort Leonard Wood as the main event for Hahn's Warrior Weekend.

Check out the Warrior Weekend website for tickets and more information.