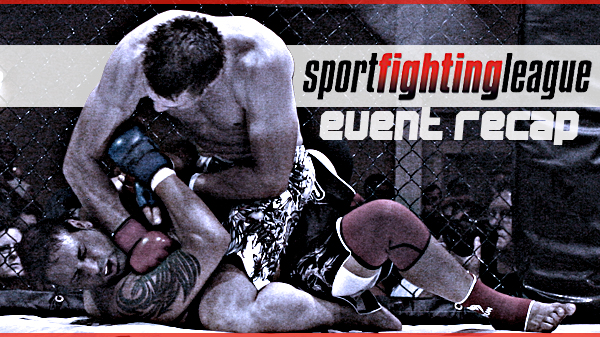 Sport Fighting League: June - Event Recap
Another excellent night of fights at the Heart of St. Charles. This was the final show under the Sport Fighting League banner before Jim Jenkins and crew are absorbed into Rumble Time Promotions.

Jenkins marked the occasion by wearing a Sudden Impact t-shirt, the company he started four years ago that would eventually morph into the SFL.

In the cage it was a fight card of exciting, well-matched fights, and was well received by the courteous and knowledgeable fans.

"It twenty-five or so events here, I don't think we've had one incident other than maybe one drunken fan that was asked to leave," said Jenkins. "In twenty-five shows? That's amazing."

Jenkins is known for making great fights as evidence of last month's Compuzano vs Sampo main event that nearly burned Ameristar Casino to the ground.

"I was really happy with the match making tonight. Its really hard with guys that are new," said Jenkins. "Everyone says I do such a great job with matching, but a big part of it is luck."

CJ Hunter seemed to have solved the mystery of Brandon Knight as he was able to get the better of the powerful wrestler and handed him his second loss. This bout was a rematch from January 2011 in which Knight won with a standing guillotine.

History nearly repeated itself in the first as Knight locked on the guillotine early and refused to let go. After two big slams, and clever positioning, Hunter escaped and worked his own choke before the round ended. Hunter was able to ride out the final two rounds with dominance on the ground and won a unanimous decision from the judges.

"Hunter won, but I don't think anyone really beat each other tonight," said Jenkins. "They decided they want to rubber match at the Casino."

The two each have a win against the other and will settle things once and for all at the Ameristar Casino on July 27th.

In the co-main event, Charles Johnson shocked many in attendance after he snapped the 5-fight winning streak of Berger MMA's Richie Fernow. Johnson chipped away at his opponent standing which sharp leg kicks instigating a takedown, from there he out-maneuvered his opponent. Once he gained mount, he was able to force a ref stoppage with punches.

"I hadn't seen Charles Johnson fight before, I knew he was undefeated, and he did really well," said Jenkins. "I think we're going to put him in against Kenny Neinhaus at the Casino and see how he'll do."

Matt Helm returned to his winning ways with a first round TKO of Kurtis Brown. Helm had a large crowd cheering him on and looked sharp on the ground.

Adrian Bohanan wanted no part of the Jason Alicea's stand-up and quickly took the fight to the ground where he controlled and eventually submitted the popular Alicea.

Devon Thomas and Ben Chesser gave the crowd something to cheer about with an excellent three round fight. Both fighters worked submissions, before Thomas was able to win with a rear naked choke. Chesser nearly had the fight stopped with a slick armbar, but Thomas toughed it out and eventually had his hand raised.

Scott Ettling steps in on short notice to defeat Jeremy Crowder. Ettling is coming off a brutal knockout March at the hands of Travis Draper and didn't seem to be afraid of mixing it up with Crowder.

Jeardon Brown won with an armbar in the second.

Drew Ingrade looked sharp in his return with a split decision win over Charles Bush, Ingrade used his wrestling to keep the fight on the ground scoring points with the judges.

Also victorious were Brian Klench (TKO), and Erlon Zekthl (triangle).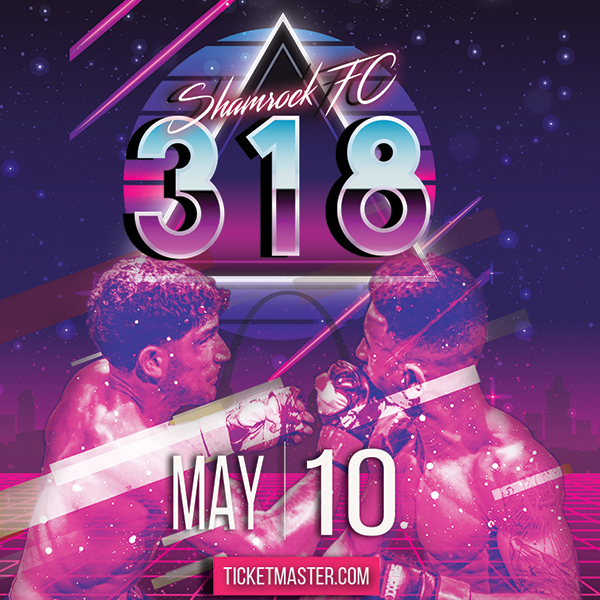 Shamrock FC: 317
| Sat, April 6th
Ameristar Casino, Kasnas City, MO
Nemesis Fighting Alliance
| Sat, April 13th
Casa Loma Ballroom, St. Louis, MO
Shamrock FC 318
| Fri, May 10th
River City Casino, St. Louis, MO
Shamrock FC 319
| Sat, June 8th
Ameristar Casino, Kansas City, MO

Tweets about "KnuckleJunkies OR @knucklejunkies"