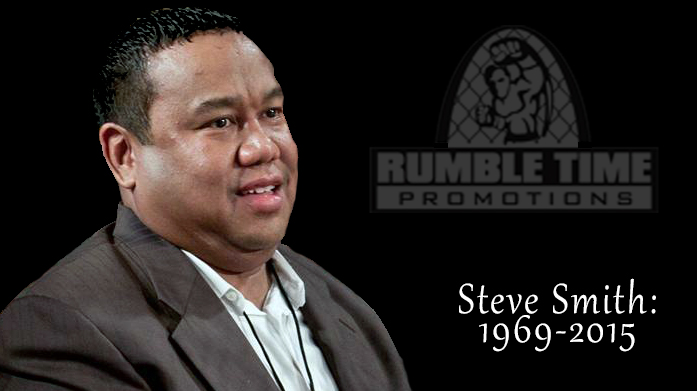 Steve Smith: 1969 - 2015
"Don't cry because it's over. Smile because it happened."
-Dr. Seuss

The life of Steve Smith will be honored this Saturday. The St. Louis combat sports community lost one of its anchors with the passing of Smith, CEO of Rumble Time Promotions.

Smith was just 46-years-old when the toll of two strokes over a two-week period became too much. Smith leaves behind his fiancee Francesca and his three daughters, Brianna, Sophia and Olivia.

Celebrate the Life of Steve Smith will be held Saturday from noon to 4 p.m at the HOME inside the Ameristar Casino and coincides with Friday's Rumble Time Pro-Am.

The above quote from Dr. Seuss is the theme of the commemoration and appropriately so. Smith certainly crammed his 46 years with as many smiles as he could fit and his own broad grin was always a gracious site.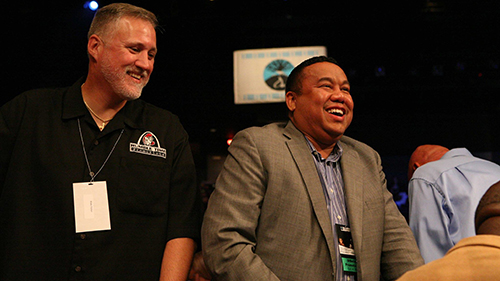 Blake Fischer and Smith became friends in the bedroom-fort-building-days if not sooner.

"I think we even went to preschool together," Fischer said.

Two North County kids from two different parishes, Fischer and Smith rode shotgun to each others lives through school, college and into multiple businesses. As adults, the two often lived in the same communities and raised their families together. Fischer, a veteran attorney, was counsel and confidant through Smith's successful forays into, among others, owning gas stations, ATM machines, restaurants, and of course, a fight promotion.

"When you hear the word entrepreneur you often think it's another word for unemployed except that it just sounds good," Fischer said. "But Steve truly was involved in just about every thing. There was always a couple of things going at the same time."

In 2005, Smith along with Steve Holley and Jack Martorelli formed Rumble Time Promotions. Fischer and Smith would spend nights watching live and VHS tapes of boxing and the promotion made immediate inroads into the sport. He began with local shows in hotel ballrooms, but his hard work through the years developed both his fighters and his promotion into major players, putting on shows carried by ESPN and Showtime and in venues nationwide such as the Scottrade Center, Foxwoods Resort, and the Playboy Mansion.

Smith changed fighter's lives.

Deandre Latimore began boxing at the age of eight at the 12th and Park Recreation Center on the south side of St. Louis. Born and raised in one of St. Louis' toughest housing projects. Latimore fought numerous times for Rumble Time, including winning the WBC USNBC and WBF Intercontinental Light Middleweight titles in 2007. Latimore went on to challenge fellow St. Louisan Cory Spinks for the vacant IBF junior middleweight title, losing the bout via split decision in an exciting hometown event that was broadcast live on Showtime. Smith promoted other St. Louis fighters, including lightweight Dannie Williams and cruiserweight Ryan Coyne. Recently, Willie Nelson and Stephon Young are two Rumble Time boxers who are climbing the national ranks.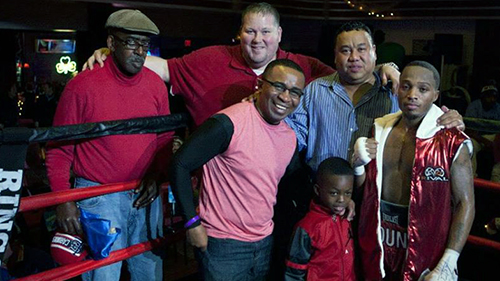 Young, 27, is a St. Louis native who is 14-0-2, 13 of those with Smith and Rumble Time. Young fought to a draw in June against Antonio Nieves (13-0-1) on the televised undercard of Andre Ward vs Paul Smith. Young was bedside just a day before Smith passed. He spoke of the relationship he and Smith forged and the late-night phone conversations (an on-going theme when talking with friends of Smith) on subjects far and away from the boxing ring.

"When I found out he died it hurt me," Young said. "He was a great man. Because of Steve, he put me in the right fights and in the right place for my career. I fought twice on national TV because of Steve. It was like, 'now what do I do?' He played such a big part of my life. He's the one that helped get me this far. What's next? With Steve, the trust was there."

But Young has vowed to not let the loss harbor the mission.

"I have to use this as motivation," Young said. "I'm still going to make it to the top but I'm going to do it for my family, myself, and Steve."

With the onset and growth in popularity of mixed martial arts, Smith and Rumble Time aptly ventured into that market as well.

Rumble Time was a significant player in the careers of some of St. Louis' finest. Current UFC fighters Alex White and Jake Collier both fought for Rumble Time as did UFC vets Josh Sampo, Chris Heatherly, and Alp Ozkilic. Regional stars like Hugh Pulley, Dan O'Connor, Eric Irvin, and Zach Freeman have triumphed under the Rumble Time banner. Up-and-coming standouts like Jake Roberts (5-0), Adam Osmoe (3-0), and Travis Draper (3-1) have built the beginnings of their careers on the Rumble Time platform. Recently, Smith and Rumble Time teamed with Cage Championships to help bring the RFA to St. Louis in August and broadcast to a world-wide television audience.

Ken Porter (9-2) has fought steadily for Rumble Time for over the last year. Porter is a standout flyweight but also professionally boxed for Smith at Rumble Time. He was slated to fight Kendrick Latchman in the main event for Friday's Rage until a cut above his eye has scrapped the fight.

"Steve was a role model," Porter said. "I could ask him any thing. Early in my career I didn't have the right guidance until I met Steve. He helped me mature, gave me a better understanding and helped me learn the game. Rumble Time is family. His family is my family."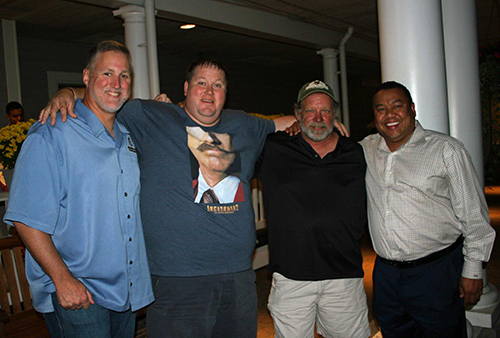 Rumble Time will move on but there will be no mistaking the void.

"It will certainly feel different with Steve not here," Fischer said. "Eventually, we will move past the mourning and into a new beginning. There are a lot of people here who want to be certain that Rumble Time lives on. We want to do his legacy proud and show that his creation meant something."

Celebrate the life of Steve Smith will be held from noon to 4PM Saturday at HOME at the Ameristar Casino. Contributions can be made for a New Beginnings for Steve's three daughters at: https://www.youcaring.com/daughters-of-steven-s-smith-447597

Photos by Sara Levin, Bob Barton, and Jimmy Range