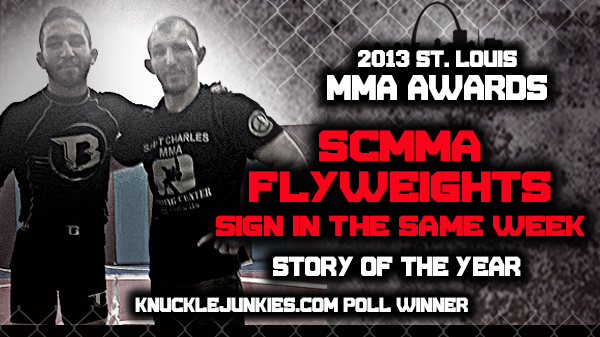 Story of the Year: SCMMA Flyweights Sign in the Same Week
The rumbling you hear in the distance. Its low and constant and it never tires.

It pounds and plods and posts at will and ad nauseum.

Its the keyboard warriors, the forum trolls, the bloggers and shit talkers. They are joined with the preened and polished, the driven and talented with vast followings and a sea of eyes at the end of their fingertips and microphones.

St. Charles MMA flyweights Josh Sampo and Alp Ozkilic are joined at the hip right now. With both having not just successful, but impressive, UFC debuts to close the year and then quick turnaround bouts announced in a division that is new and exciting and movement up the ladder is ripe for the taking the spotlight is starting to brighten.

So it was more than apropos that within a 24-hour window in November, Sampo and Ozkilic signed multi-fight contracts with the UFC.

KJ readers must have seen the beauty in the coincidence as they voted the Sampo/Ozkilic UFC signings as the 2013 Story of the Year.

For their coach, St. Charles MMAs Mike Rogers (who coach/cornered UFC welterweight Tyron Woodley for his first seven pro fights and was there when a 22-year-old Lance Benoist pulled off a UFC "Fight of the Night" performance in his 2011 debut) the moment was compelling.

Rogers gives a tour of what was voted the best narrative of the calendar year:

"It was exciting and really nerve racking at the same time because Sampo was taking a fight on such short notice and the day after he signed, Alp got the call. It seemed like it was a week later but it was the day after. It was a lot of pressure going on there; who am I going to get to train with these guys? Talk to their striking coaches and try to get everybody together and it was a lot of work in a short period of time.

What should you actually do in 10 days to get ready for a fight? He wasnt really training hard and Sampo puts in 70-hour weeks at his regular job. So he was working 70 hours a week, and training for that fight, and trying to cut 25-pounds in eight days. It was hectic trying to get everything done together. With Sampo, (Ryan Benoit) was just like fighting Alp, just not as good as Alp. His striking was similar and they are both wrestlers but his jiu-jitsu wasnt as good as Alps, I dont think. Alps fighter (Darren Uyenoyama) had a lot of experience plus his striking was like nothing any of our guys did. The guy was a karate style and keeps his distance and a world-class jiu-jitsu player. It made it a lot more to think about.

I thought it would come. It seemed like forever that it didn'tt come. People were making comments, they should get different managers and this and that. The reality is that it isn'tt their managers fault. They straight up told me that they weren't going to sign Sampo before (Will) Campuzano because of the loss even though (Sampo) was beating his ass the whole time, he did lose to him. Alp would have been signed except he had some other things that were going on there and working against him. Their timetables were what they were. If the UFC wants you theyll sign you. If they dont, they wont. They dont care who your manager is.

They have the ability to train better and harder now and actually take care of their coaches. They each have two striking coaches and they both have me and training partners and they get to take care of them now because they have gear and some money. Now theyre making more money and they dont have to do their side jobs. Alp doesnt have to get up at 5 in the morning and come with me and roof like he was doing."