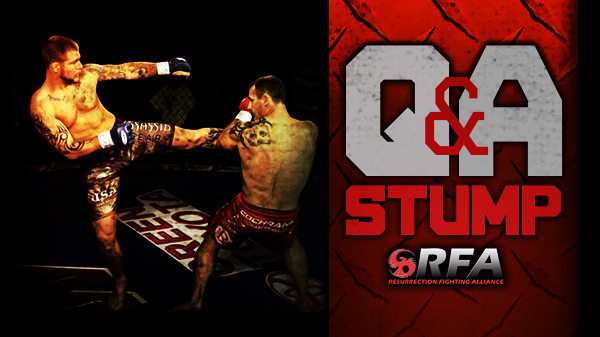 Stump Q&A
Chris Heatherly has always searched out the marquee fight.

On Friday night "Stump" continues that quest when he makes his Resurrection Fighting Alliance debut live on AXS-TV at the Pershing Center in Lincoln, Nebraska.

Heatherly (7-1) faces RFA fan favorite Chidi "Chidi Bang Bang" Njokuani (10-4 with 8 KOs) in a welterweight showdown.

Heatherly recently inked a multi-fight deal with the organization and Njokuani returns to the 170-pound division after time at middleweight including his last RFA appearance.

Heatherly, out of Berger's MMA/Fit or Fight, turned a corner in his pro career after a 49-second submission of Sal Woods in Nov. 2012. What followed was a four-fight 2013 beginning with a unanimous decision win over Gert Kocani. He travelled to Canada in August where he suffered his only loss, coming at the hands of renowned UFC prospect Alex Garcia. It looked as though Heatherly was going to fight either Kevin Engle or Josh Weston in September but instead got a last-minute replacement in Josh Tulley, who Heatherly beat by decision. But he is coming off probably the finest performance of his career when he submitted Dakota Cochrane in the first round of the main event of October's Warriors for Heroes.

Cochrane, ironically, headlines Friday's RFA 13 when he faces The Ultimate Fighter 8 champion Efrain Escudero.

Heatherly and Njokuani are the evening's feature bout and like the entire main card, Pershing Center in Lincoln, Nebraska. The entire main card will be televised live and nationwide on AXS TV at 10 p.m. ET / 7 p.m. PT.

You're coming off a victory over a guy who is in the main event of your next fight, kinda weird?
CH: "It's pretty cool. Dakota is getting back to his regular weight (155). I think it would be neat he if he got the win over a veteran like Escudero. It would really make my stock look better."

Have you watched your fight with Cochrane?
CH: "I've watched it. I was still rushing things a little on my feet. I could have just been antsy and looking to explode. I'm still learning to be patient and not force the takedown or combination."

How was your road trip to Texas?
CH: I was at Machado BJJ. Marc Botindari, my wrestling coach throughout my whole career, got transferred to Texas for work and he helped get me in down there. We did three-a-days Thursday through Sunday. I felt like I was 90-year-old when I left."

I saw that photo of you in a gi.
CH: "I compete no-gi as a purple belt for Steve (Berger) so it was a little weird walking around in a gi with a white belt. The first thing was just how much slower everything is and it's much more of a chess match. I'm not used to anyone grabbing my collar so I was so worried all the time about getting choked. I bet my forearms grew twice their size while I was down there. I was all defense, no offense. But after awhile I felt really good and held my own. I learned a lot of things that will help me with my own game."

Friday is your first fight for a new organization and your first time on national TV.
CH: "The RFA has become a hotbed. I think they have had six of their main event winner's sign with the UFC. It gives you a good outlook for the future. It's a great opportunity to put on a show."

What is it going to take to get your arm raised?
CH: "I am going to have to get into his face right from the first bell. I'm going to have to grind it out and stay tight. But also fight inside and out, if that makes any sense. The guy has an 80-inch reach so clench work will be key. I'm just going to be a grinder and do what I do from bell to bell."

Is it safe to say that you have never faced a striker of this caliber?
"He's probably the best striker I have faced. He has had extensive Muay Thai training from the best there is. I have watched tons of videos and the dude is really legit. But MMA and Muay Thai are two different worlds. I think I move well on my feet and that will keep me out of trouble. I will be able to mix things up more than he will. I know all he has is to try to knock me out."

You've been pretty quiet on social media leading up this.
CH: "This is by far the most focused I have been for a fight. It's not that I didn't put my time in for previous two it's just been different this time. I'm walking around the lightest I've been. I spent time doing strength and conditioning, which I never really did before. This is a big fight and I've spent the time to get the victory. The only thing to stop me is me."

Photo courtesy of Jimmy Range Photography.