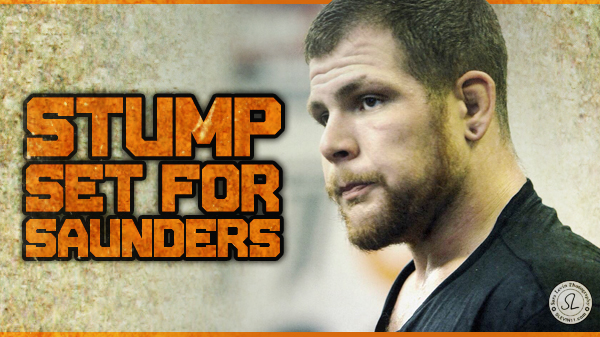 Stump Set For Saunders
Chris Heatherly has listened to the talk.

He's heard the murmurs and read the posts.

Word of mouth travels, especially when it's smack, and at this stage in his career he could give two you-know-whats.

"I've seen it all over; how did this guy get a shot?" Heatherly said. "I'm an underdog, I'm undersized, I'm this, I'm that."

Come Saturday one thing's for sure for this 26-year-old Cahokia native, he will be a UFC welterweight.

Heatherly (8-1-1) out of Fit or Fight/Berger's MMA will make his UFC debut against Ben Saunders (16-6-2) at UFC Fight Night 49 in Tulsa, OK. The bout will be on the undercard and can be watched on Fox Sports 2.

There is no question that Heatherly has a full plate waiting for him. Saunders is no star-struck, up-and-comer.

Following a spot on "The Ultimate Fighter," Saunders stepped into the UFC in December 2007 and won three straight before losing to Mike Swick at UFC 99. Saunders came back from the Swick loss to KO Marcus Davis. What followed was back-to-back losses to Jon Fitch and Dennis Hallman and he was given his walking papers in 2010. Saunders ponied up with Bellator in early 2011 and went 7-3. He signed with Titan FC this summer and was set to fight for the vacant Titan FC title this very weekend until the UFC came knocking again.

Saunders is as rangy as it comes in the 170-pound division. At 6-foot-3, he brings a 77-inch reach into the cage with him. Heatherly, aptly nicknamed "Stump", stands 5 foot 8.

"He's a straight forward, down the pipe striker with some real solid knees in the clinch," Heatherly said. "I don't think he's the best striker I've fought. I don't think he's the best wrestler I've fought. But when it comes to grit and heart, he's definitely the toughest I will ever have fought. Strength-wise, I feel I'm right with him. I may be a couple of miles away in height but when I put him on his back, that height won't matter."

To prep for Saunders, Heatherly flipped through phone and called on some favors.

Jake Collier, who will make his RFA debut in a main event bout this fall, and RFA veteran Andrew Sanchez were around and well as local stalwart Eric Irvin. Help also came from the guys at Modern Combat Systems in the form of Scott Futrell and Jamese Taylor.

"Jake Collier is as nasty and tenacious as they come and Sanchez gave me some great BJJ work," Heatherly said. "Futrell is 6-4 with an 82-inch reach. I brought in the best fighters that has (Saunder's) skillset I could find. St. Louis really showed its support. I made a few phone calls and guys were getting off work early, showing up before I even got to the gym, and letting me know as I walked in that today was going to be hell. I have soaked so much in. I just know the opportunity is going to be there to finish the fight."

Heatherly may be the newcomer but competition is something he has never shied away from. In fact, he's been the opposite, chasing after the best that he can find.

Heatherly racked up nearly 30 amateur fights before going pro three years ago. He jumped out to a 5-0 start and midway through that run, had a revelation.

"This sport just takes too much," Heatherly said. "I told myself and my coach, Steve Berger, if I don't make it to the UFC by the time I reach 27, I was going to hang it up. I knew I needed to put in the work but I felt that I could make it."

Heatherly suffered his only defeat to now-UFC welterweight Alex Garcia in August, 2013. After that, he won a unanimous decision over last-minute replacement Josh Tulley, submitted Dakota Cochrane in the first round, and made his RFA debut against Chidi Njokuani in March of this year. An illegal elbow by Njokuani to the spine sent Heatherly to canvas and out of the cage on a stretcher as the bout was ruled a no-contest. He came back for the RFA in July with a submission win over Josh Cavan in the second round.

The Cavan fight was Heatherly's first in the high altitude of Colorado. Heatherly dominated the first round but things got a little slippery in the second.

"I went to jab-kick and when I put my kick down it felt like someone sat on my lungs," Heatherly said.

Cavan went to work and got off some solid shots as Heatherly was backed to the cage. Trouble was in the air but suddenly, the oxygen came back.

"I landed a level-change flying knee, he went for the takedown and then it was, welcome to my world," Heatherly said.

Heatherly got the guillotine choke at the 3:20 mark of the round, his fourth submission win of his career.

Heatherly stuck around St. Louis for about a week after the Cavan fight before heading to Clearwater Beach, FL, for a vacation. It was there where he got the offer any fighter worth his weight is looking for.

"I was having a good time, getting ready to sit down for lunch with a gyro and my manager called," Heatherly said. "He said, 'you better put down that gyro."

Heatherly was given only two weeks notice for Saunders but his new embrace of a healthier lifestyle means he can be on weight when the opportunity arises

"The weight cuts are easier," he said "I feel great. I feel 100-percent in the cage. I couldn't be happier with my training. If I perform, I don't see me losing this fight."

Heatherly now joins the ranks of Tyron Woodley, Lance Benoist, Josh Sampo, Alp Ozkilic, and Alex White, all current UFC fighters with strong ties to the St. Louis region.

"I've overcome the adversary of if I belong," Heatherly said. "I'm not satisfied with just getting the call. If you don't want to be a world champion, you're in the sport for the wrong reason. I didn't get into this to get rich or to sign autographs at Denny's."

That first step begins Saturday.