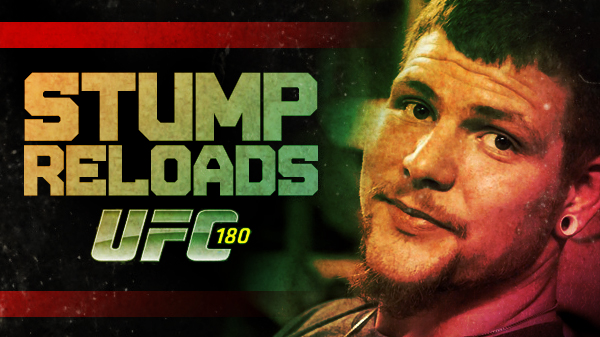 Stump reloads
To borrow from Yogi Berra, it's deja vu all over again for Chris Heatherly

In August, 2013, Heatherly crossed into Canada (after a few twists and turns due to passport issues) to fight in the hometown of a red hot prospect.

In that trip, he lost to Alex Garcia, who went on to the UFC and is now 12-2.

On Saturday, Heatherly (8-2) points his campus the opposite direction as he heads to Mexico to be apart of the historic UFC 181.

There he will face fellow welterweight Augusto "Doger" Montano, who is, according the Fightland, one of Mexico's most important MMA prospects. This will be Montano's UFC debut.

Heatherly made his UFC debut just three months ago when he took a short-notice fight against Ben Saunders. Heatherly went from a beach side vacation to the UFC octagon in less than two weeks. Saunders got the win over Heatherly and did so with panache, racking up the first-ever omoplata submission

We caught Heatherly for a few minutes where he talked about his UFC debut and this week's fight.

KJ: This is kinda like Canada all over again.

CH: "The good thing is that I've been in the water like that once and I'm ready to go back. I have the UFC jitters out of the way and I think it's a great fight for me. Not that I was going around telling everyone that Ben Saunders was going to be a rough fight but a week's notice is kinda hard to prepare for a guy like that. They gave me four-and-a-half this time, it's not super long, but it's enough to prepare myself and go our and get a win."

KJ:I didn't realize how popular Ben Saunders was and then when the message boards and social media lit up over not only the win but the omoplata. What was it like being on the opposite end of that?

CH: "Saunders had a hard rode back and they gave him a good opportunity to get him a win in the UFC with me. I can say that I made history being the first-ever omoplata and now on the first-ever UFC card in Mexico. They've given me the opportunity to make some history again by going into Mexico and beating a Mexican fighter."

KJ: In the Saunders fight, what was do different about it than any other experience you've had?

CH: "You do a lot more. A lot more paperwork, camera work. I felt really good about the fight. I came out and landed a good kick and overhand right to takedown. Then once I got on the ground I caught myself freezing up. I stayed low in his guard which is not what I usually do and put myself in real bad position for the rubber guard, which I didn't prepare for. Before the fight I look over and I see Eddie Bravo in his corner and that doesn't boost my morale knowing that he put in a 10-week camp with Eddie Bravo training for his Titan fight. I should have kept the fight standing. I thought he was really dangerous in the clinch but outside of the clinch I thought I was right there with him."

KJ: So just freezing for a moment or two can really cost you?

CH: "That's the difference from fighting in the RFA and fighting in the UFC. You can make a small mistake in the RFA and comeback and win the fight. You make a small mistake like that in the UFC and you're going to get finished or get knocked out or end up losing the fight.

KJ: Montano is a finisher.

CH: "He's 13-1, eight wins by knockout, five by submission. He's well-rounded and likes to bang, which I think is going to play into my favor. He's about 6-foot-2 and I think that's going to work out good for me. He's going to have a lot of stuff on his back. He's going to be carrying the backpack seeing as how he's fighting in his home town and he's the top prospect and name in Mexico."

KJ: And you have the passport thing figured out this time?

CH: "I'm not going to be going by boat or swimming or anything. I have the passport now and we're going to fly straight from St. Louis to Mexico City and go out there and put in work."

UFC 180 will take place in Mexico City and will be headlined by Fabricio Werdum vs Mark Hunt for the interim heavyweight championship.

It's unclear where the Heatherly/Montano match-up will be on the bout. The main event will be on pay-per-view, Fox Sports 1 will begin viewing the undercard at 7 pm CST and the early prelims can be viewed on Fight Pass beginning at 5 pm CST.

Photo courtesy of Sara Levin Photography.