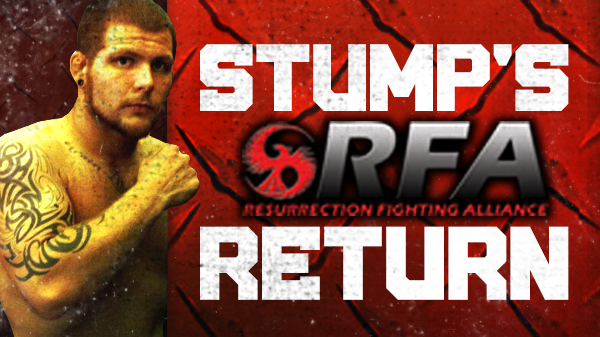 Stump's RFA Return
Facebook and Twitter.

For many fighters it is the lifeblood in helping build a name and chart a career. An all-in-one stop for growing and keeping in touch with the fan base, promoting and looking for fights, and just good ol fashioned networking.

Chris Heatherly hasn't been in the Witness Protection Program nor has the talented welterweight become a Howard Hughes-type recluse. But a once highly-active and playful Facebook account has been removed and there was nary a Tweet from the end of February until late last month.

Social media has changed the landscape and Heatherly needed a break from it. Like Keyser Soze; poof, he was gone

The product of Cahokia, Heatherly is not only a 7-1 pro fighter with deserved aspirations but also a business owner, husband, and father. The concentration needed to juggle such responsibilities to their fullest needed blinders not trance-like flipping through a phone to see who 'liked' what or who shit talked whom.

"I was noticing little things that I let slide," Heatherly said. "I was getting caught up in who said what about other fighters, checking every 10 minutes. I needed to come back to reality."

Heatherly's coach, Steve Berger, a veteran of the UFC's early days, understood where he was coming from.

"He got frustrated with it," Berger said. "I actually told him, hey, you have to pump yourself out but he decided to ignore what I told him. I think he had some people pestering him on there so he cut it down. But hey, I was born in the 70s, it's no big deal to me."

'Stump' certainly has updatable-worthy happenings going on in his life.

Heatherly returns to the RFA main card on Friday at RFA 16 outside of Denver and airing live on AXS-TV beginning at 9 p.m.

He will face local product and upstart Josh Cavan. Cavan (9-3) is riding a four-fight win streak, albeit against opponents with a combined record of 18-28.

While Cavan might not have the flash of a big name or dossier - he did fight Bellator's Joe Riggs and was KO'd in the first round – his strengths are two significant intangibles.

By all accounts, the former hockey player is a tireless workout horse. He teams that with significant power and willingness to be coached up.

"He looks to be extremely in shape and a jack of all trades and master of none," Berger said. "I think the best thing he's got going for him is that he has a lot of heart. He just keeps fighting, fighting, and fighting but I don't think he can match (our) technique. I think he relies a lot on his power and I think he's going to be really shocked when tied up with Stump and realizes Stump is way more powerful than he looks."

This is Carvan's RFA debut. Heatherly has grown accustomed to fights of this nature. His only loss came in August, 2013 in Canada against Alex Garcia, who has went 2-0 in UFC as of late. Heatherly was booed everywhere he went that night over the border, even when peeping his head out from the locker room to watch some prelims.

After two wins on St. Louis soil, including a finish of Dakota Cochrane in October, 2013, Heatherly made his RFA debut in March against Chidi Njokani. Njokani is a reputable striker but Heatherly didn't shy away from trading. Heatherly landed leg kicks and had two significant submission attempts before Njokani, while pressed against the fence, landed an illegal elbow that sent Heatherly to the floor. The fight was stopped, Njokani was warned and Heatherly eventually left on a stretcher, his team bitter and chafed over the bout being ruled a no contest. To a person, Team Stump not only believes that Heatherly was dominating the fight but the elbow was thrown intentionally after Heatherly broke Njokani.

"You throw an illegal elbow to an illegal area and they call it a no contest," Berger said. "He should have been DQ'd. If you went to the score cards he was totally down and Chidi did back flips trying to get away from the rematch."

Friday will be ample opportunity to put the Njokani fight way back in the rear-view mirror.

"He's going to pack the joint and I'm going to get booed but I live for these moments," Heatherly said.

Just don't expect to hear about it on Facebook.