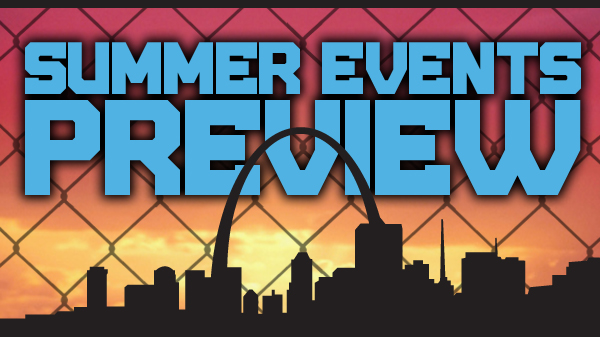 Summer Events Preview
It's the summer blockbuster movie season, films like Iron Man 3 and Star Trek will be drawing large crowds to the theater. Fans of the cage have their own blockbusters to look forward to with a series of high profile fights with great local amateur and pro cards to light up the summer months.

Get out the calendar and black sharpie, because here are few summer scraps that you should know about:

Woodley vs Shields - June 15th: St. Louis' own Iron Man, Tyron Woodley, has the biggest fight of the summer. The ATT welterweight will face Jake Shields at UFC 161. Woodley (11-1) put all other 170-pounders on notice when he turned out the lights of Jay Hieron in February. The 36-second KO of Hieron was coming off Woodley's only loss of his career. Shields is known for his overbearing ground game and will be an interesting match-up for Woodley who's tough as they come.

Baker vs Souders 2 - May 18th: If you're like sequels, this is the one to see. The two light-heavies treated fans to one of the best amateur fights in recent memory taking home a Spire Fight of the Year award. Many promoters have tried to make this fight happen since their first encounter in December 2011. It's fitting that this fight will take place in the same venue as the original scrap. Look for it to headline XCC 50.

Flick vs Ozkilic - May 31st: The Turkish Delight returns to action for Texas-based Legacy Fighting Championships The bout will be part of the televised main card on AXS TV. Flick recently had a 6-fight win streak snapped when he lost to Legacy's top flyweight Will Campuzano. You would be hard pressed to find someone who trains harder than Ozkilic, part of the reason the coaching staff at St. Charles MMA believe he could be a world champion. The high profile fight on AXSTV will be Ozkilic's first performance on a national stage.

Freeman vs Lindsey - June 7th Fans of the Altar Boy will get their next fix when the undefeated St. Charles MMA pro travels to Fort Riley, Kansas. Freeman and Lindsey will compete on the televised main card on AXS TV for Titan FC. Freeman does not have an easy opponent in "The Librarian" Lindsey who will be fighting on home turf. Lindsey recently KO's Marcio Navarro at Victory Fighting Championships.

Cage Championships / Proving Grounds - June 1st: One night, two events, this will be Sophie's Choice for locals.

Proving Grounds will continue their 2013 Grand Prix with matches between Joe Roye vs Montuelle Prater and Demarco Montgomery vs Justin Lankford. That makes for two great match-ups of some of the top amateur lightweights in St. Louis. South Broadway Athletic Club is a historic venue and a great place to see fights.

Cage Champs will return on the same night and from what's being said, will be headlined by the new Spire Heavyweight State Champion Jason "Shrek" Ostrowski. Shrek is a legit heavyweight and has yet to taste defeat. One opponent being talked about is "The Rooster" Mike Wright, another legit heavyweight who looked very impressive in his last outing for Nemesis Fighting Alliance.

Shamrock FC - 15th Anniversary Show - June 15th: Shamrock FC has turned up the dial in 2013 and by the time 15th of June rolls around, they will have already hosted five professional MMA events. They are saying this show will be their biggest ever. Casting has already begun and it looks like they have their leading man. Announced last week, Adam Cella, fresh off a UFC fight in Sweden, will headline the card. Cella is undefeated as a pro when he fights in Missouri. Also on the card will be Shamrock favorites like Kevin Engel, Brian Schell, Susie Wyatt, among others. This will be the first event at the new River City Casino Events Center, a modern, 1400-seat venue with stadium seating. Quite possibly the place to see fights in all of St. Louis.

Journey to the Top 2 - June 22nd: The year's second pro card by St. Louis' best matchmaker has local fight fans buzzing. Jim Jenkin has put together a main event between Chris "Stump" Heatherly and 9-time UFC vet Luigi Fiorvanti. The winner will be the new MMASF US Welterweight Champion with international fights on the horizon. Eric Irvin will be in the co-main. Also on the card is Jimmy Donahue vs Sal Woods in a dream match for hardcore fans. The amateur portion of the card will feature two of the area's top amateurs, hands down. Charles Johnson (12-0) will take on Fierce Taylor. Kyle Walker, Jake Buhler, Yohance Flager, Adame Dunnavant, and Dan O'Connor are also on the card.

Fight Hard - July 20th: The "big show" returns to the Family Arena in July. While it has been hinted that this event will be an all-amateur card, if you're a fan of the big budget productions, this is the show for you. Like a Michael Bay movie, Fight Hard goes big and draws the big crowds.

Grab some popcorn and get ready, its going to be a fun summer of fights!