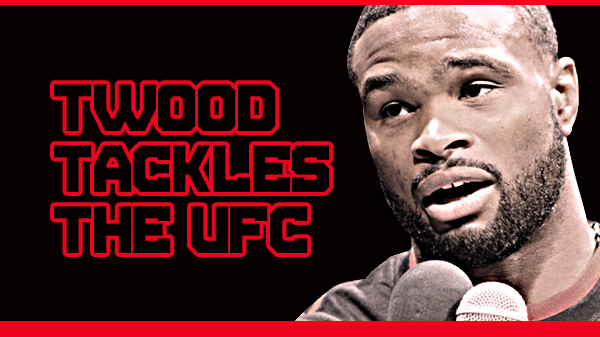 T-Wood tackles the UFC
Don't get him wrong. Tyron Woodley is grateful, appreciative even, about his UFC debut Saturday.

But forgive the St. Louis welterweight if he isn't cracking open champagne bottles and throwing confetti around over his first trip into the Octagon. For Woodley, making the crossover into the UFC is all part of a grander plan, a plan that includes being the top 170-pounder in the world.

But first things first.

At UFC 156 in Las Vegas, Woodley (10-1) will take on veteran Jay Hieron (23-6). Woodley picked up the fight at the very start of 2013 when he stepped in for an injured Erick Silva. The fight will air live on FX, two fights before the pay-per-view card

"There really is no, 'Hey, alright. I finally made it,'" Woodley said. "It's just another fight. The only thing different are the logos on the canvas."

The matchup showcases two of the top welterweight crossovers from Strikeforce (Woodley) and the 36-year-old Heiron from Bellator.

Heiron is a well-worn traveler of the highways and byways of the MMA landscape. You name an organization worth its weight and he has strapped in for them. Heiron has lost two of his last three fights and is coming off a unanimous decision loss in October to Jake Ellenberger.

"This is a career fight for Jay," Woodley said. "He will be like a wounded animal."

Heiron did throw the fight's first jab, albeit through Twitter when he advised Woodley to "leave the blanket @ home."

On an article posted of UFC.com, Heiron had this to say about Woodley: "With Tyron, he's a different style – he a wrestler. He takes guys down and does a lot of laying on them. I'm prepared for that too. I think one of my best attributes is that I'm one of the hardest guys to hold down, so that's not really an issue. First he has to get me there, and that's hard to do. I wrestled my whole life, so wrestling is my foundation too. I think I bring more well roundedness to the game, but it's another fight."

Woodley shed some of his lay-and-pray critics with a banger of a fight with Nate Marquardt. The two fought in July for the then-vacant Strikeforce welterweight belt. In the end, Marquardt finished Woodley with a knockout, but Woodley proved he had finishing power when he put Marquardt to the canvas two times early in the fight.

The loss was Woodley's first of his career but it reminded him and others that he can produce fireworks at any given moment. He would once again like to open the whole grab bag on Saturday.

"Show (Heiron) one thing and give him another," he said. "I think he's really underestimates my power. After he feels it, he may try to take me down."

One of the better wrestlers in the 170-pound division, Woodley was a two-time All-American wrestler at the University of Missouri. He rattled off 10-straight wins to begin his career. His gym, ATT Evolution, just completed its first year of operation in St. Louis. Woodley has witnessed two of his former Mizzou teammates, Michael Chandler and Ben Askren, the Bellator lightweight and welterweight champions pull off impressive victories just weeks apart. Woodley was the first Tiger to make a major dent in MMA.

"I always love to see them do well," he said. "I always feel like a big brother to them and I like how they have raised the bar."

He has been behind the scenes of the UFC for some time now; working a corner and/or as a trainer. But finally Woodley takes his first step onto the sport's biggest stage as a fighter.

It is the first step in a surefire arduous trek towards the top of the UFC welterweight dog pile.

"There are no light switches to the top," Woodley said. "GSP, Carlos Condit, Johnny Hendrix, they all fought and earned their way to the top. You have to knock off name-guys to get there."