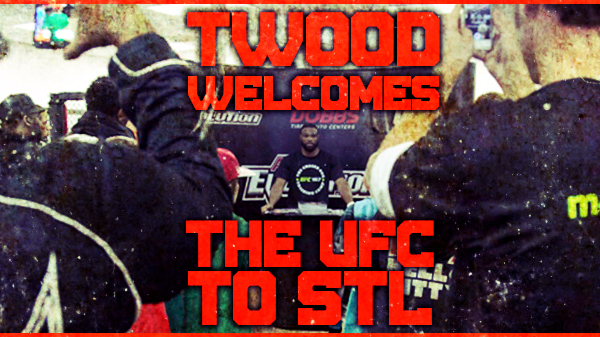 TWood welcomes the UFC to STL
On Tuesday, MMA fans dropped what they were doing or maybe told a white lie.

The UFC was in town as part of its "20 Days to UFC 167," promotional tour that is recognizing the UFC's 20th anniversary and UFC 167 card. There was no better place for the organization to saddle up during the midday than ATT Evolution in Rock Hill, home of welterweight Tyron Woodley. Woodley will have the biggest fight of his career next weekend at UFC 167 when faces veteran Josh Koscheck, and is the first St. Louis fighter to reach main card status during the modern era of the sport.

Fight fans of all ages lined up for a photo, autograph, and to ask Woodley a wide-range of questions.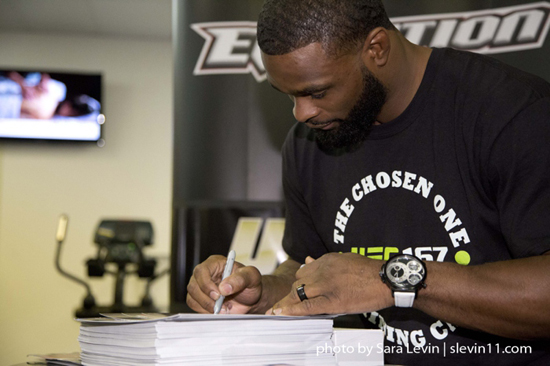 "People are playing hooky from school, taking off work, taking long breaks," Woodley said. "I think that it shows that St. Louis - as a spectator - wants a UFC here. They want to show that they can come and rally up. They want to show that they can support. Sometimes we worry that we don't know our market very well but it shows that we have a support group here. It was a great showing."

UFC public relations official David Lockett liked what he saw.

"We know that St. Louis is home to some great fight fans and home to welterweight star Tyron Woodley," Lockett said. "It was important for us to come here, meet the fans and media, and celebrate our 20th Anniversary. It's definitely a market we're interested in bringing a live event to soon."

Woodley started the day out at Rams' Park and ended it making the rounds on radio stations.

In preparing for Koscheck, Woodley hit the West Coast for stops at Reign Training Center and Freddie Roach's Wild Card Boxing. But the bulk of his time was spent in Rock Hill at his home base, ATT Evolution.

"I brought a few people in but this market is so ridiculous I don't even want to say who," Woodley said. "I don't want people to get all butt-hurt. For me, it's about getting that look and guys who can replicate. I had Andrew Sanchez in and some guys from Finney's. My doors have always been open the guys who have been in here training know that. My goal is to get St. Louis where it should be at. I took a more active role in the beginning but now I'm doing it for my career. Whatever I can do for my own career, hopefully that brings the city up as well."

UFC 167 is set for November 16 in Las Vegas. The event his highlighted by the welterweight title defense of Georges St. Pierre vs. Johny Hendricks. It's a big night for the welterweight division as Rory MacDonald is set to face Robbie Lawler.