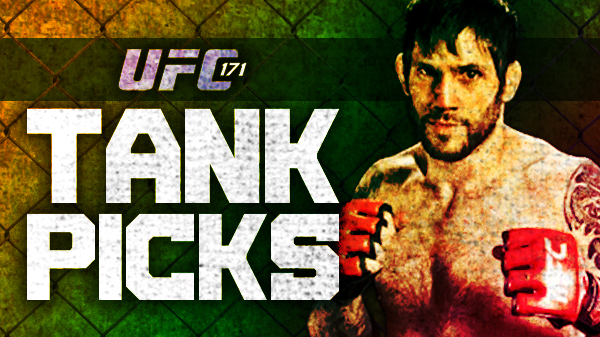 Tank Picks: UFC 171
By
Debo
| Knuckle Junkies
In preparation for UFC 171, I sat down with a 9-time UFC vet to pick his brain on all of the main card match-ups. In addition to being a long time fan of the sport, Luigi has fought all over the world including Japan. Of particular note, Luigi has trained with both Lawler and Woodley as a former member of American Top Team in Coconut Creek, FL. Fioravanti is currently an MMA instructor at Finney's MMA and actively seeking pro fights.

Here are the Italian Tank's picks for UFC 171:

Nikita Krylov vs Ovince St Preux

St Preux comes in shape, and is a big 205er. HE has big show experience with KO power. This is good contrast against the full contact style of Krylov who has good head kicks and a Sambo background. Winner: St. Preux


Hector Lombard vs Jake Shields

Hector is a super fast Cuban fighter, good all around arsenal and his strength allows him to find range inside. Shields is better on the ground, In the end Hector Lombard is just too strong. Winner: Lombard


Myles Jury vs Diego Sanchez

Sanchez has black belt level skill on the ground plus the experience. He's also a very smart fighter who has fought many high level of fighters. Jury is a good young talented fighter. Winner: Sanchez


Tyron Woodley vs Carlos Condit

Woodley has all the required skills and tools. Great boxing talent, trains hard but he must go forward find his range, be careful of kicks inside by Condit. Condit always in great shape, hits hard looks for kicks. Winner: Woodley


John Hendricks vs Robbie Lawler - UFC Championship

Both guys hit hard but Hendricks is the superior wrestler. He's strong short and thick with a walk around weight of the only 220 pounds. Winner: Hendricks

UFC 171 is on Pay Per View Saturday March 15th starting at 9PM. Post your picks in the comment section of this article. Whoever has the most correct picks will win a Round 5 UFC action figure.