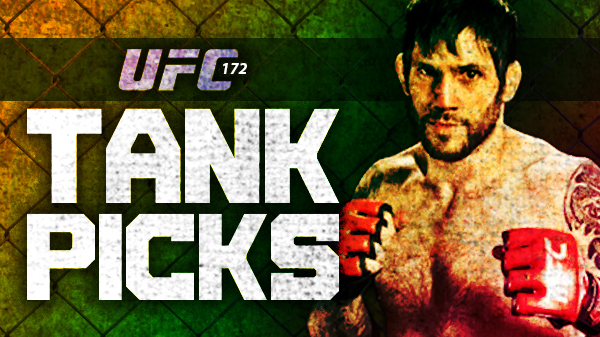 Tank Picks: UFC 172
By
Debo
| Knuckle Junkies
In preparation for UFC 172, I sat down with a 9-time UFC vet to pick his brain on all of the main card match-ups. In addition to being a long time fan of the sport, Luigi has fought all over the world including Japan. Of particular note, Luigi has trained with American Top Team in Coconut Creek, FL. Fioravanti is currently an MMA instructor at Finney's MMA and actively seeking pro fights.

Here are the Italian Tank's picks for UFC 172:

Joseph Benavidez vs. Timothy Elliot

Tim Elliott comes into this fight after dropping a unanimous decision to Ali Bagautinov in November. Joseph Benavidez comes into the fight looking to rebound after he was knockout in his last fight against Demetrious Johnson. I like the wrestling and Jiu Jitsu of Benavidez. Winner: Joseph Benavidez


Andre Fili vs. Max Holloway

Andre "Touchy" Fili is 13-1 with 10 finishes. His only loss was due to a knee injury against Derrick Burnsed in 2010. Max Holloway 22 comes in with an 8-3 record and is a confident fighter with a very slick standup game. The Tank was not familiar with either fighter enough to comment so he put it on Debo. Winner: Andre "Touchy" Fili


Yancy Medeiros vs. Jim Miller

Jim Miller has some of the best ground game and tactics I have seen. Yancy Medeiros was a late replacement for injured Bobby Green. Mederiros is athletic and has some tricks in his bag. His number one asset is his standup game. This is his biggest UFC fight to date for Medeiros against a superior wrestler. Winner: Jim Miller


Tim Boetsch vs. Luke Rockhold

The "Barbarian" Tim Boetsch is big and strong. He likes to come forward and has power in both hands. Rockhold is always moving and spinning. He trains out of a very high level gym in American Kickboxing Academy. A former Strikeforce champion Rockhold has excellent cardio. The key is he can't overlook the Barbarian. Winner: Luke Rockhold


Phil Davis vs. Anthony Johnson

Anthony Johnson returns to the UFC on a six fight win streak outside the UFC. I fought him in 2009 and he hits very hard. One of the few fighters that has punching and kicking power. Phil Davis is a good fighter decent hands and a good wrestler. Winner: Johnson


Jon Jones vs. Glover Teixeira

How do you go against Jon Jones? He has taking on every possible challenge and is still on top. Plus he has defeated top contenders in each title defense. Winner: Jones

UFC 172 is on Pay Per View Saturday, April 26th starting at 9PM. Post your picks in the comment section of this article. Whoever has the most correct picks will win a Round 5 UFC action figure.