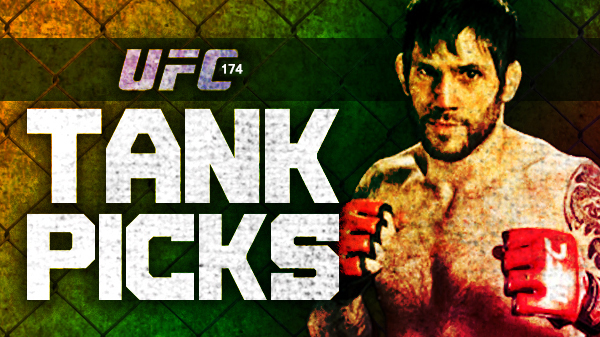 Tank Picks: UFC 174
For the 16th time, the UFC travels north of the border as UFC 174 is set for Saturday in Vancouver. The card is highlighted by the flyweight title fight of Demetrius Johnson vs. Ali Bagautinov. St. Louis' Tyron Woodley is in the co-main event where he will face Rory MacDonald.

We caught up with nine-time UFC get his take on all of the main card match-ups. In addition to being a long time fan of the sport, Luigi Fioravanti has fought all over the world including Japan. Fioravanti (24-11) is currently an MMA instructor at Finney's MMA and will compete in an 8-man tournament at Battlegrounds MMA 5 in Oklahoma on June 27.


Ovince Saint Preux vs. Ryan Jimmo

Both are tough guys but I think Jimmo is more well-rounded. Both are experienced but Jimmo has really been putting guys away recently. Winner: Jimmo


Andrei Arlovski vs. Brendan Schaub

I really used to like Arlovski back in the day. Neither has shown that they can take a good hard punch. Schaub has improved more and more on the ground. As long as he doesn't stay in the pocket and moves around, he has a chance to win. But I think Arlovski's boxing will be the difference. Winner: Arlovski


Ryan Bader vs. Rafael Cavalcante

Bader has been kinda gun shy and Cavalcante punches hard and is aggressive. But because of his wrestling, Bader is tough to beat. Winner: Bader


Rory MacDonald vs. Tyron Woodley

If Tyron pushes the pace and gets in face he could win with either his wrestling or KO power. MacDonald is always in good shape and has a big reach, stays outside and uses his jab. If Rory can make this a long, drawn-out fight, that works in his favor because it has been shown that Twood gets tired in the later rounds Winner: Woodley


Demetrious Johnson vs. Ali Bagautinov

Demeterious is pound-for-pound one of the top two or three in the world and I just don't see anyone beating him. I don't think Bagautinov can pose a threat. I don't see how he can out-wrestle or out-strike him. Mighty Mouse in five rounds, no problem. Winner: Johnson

UFC 174 is on Pay Per View Saturday, June 14th starting at 9PM.