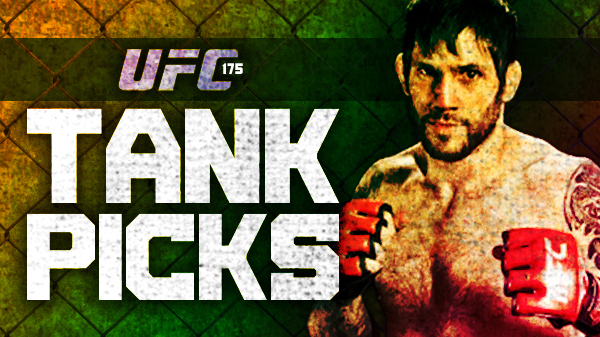 Tank Picks: UFC 175
By
Debo
| Knuckle Junkies
The UFC heads west for this holiday weekend as UFC 175 is set for Saturday in Las Vegas. The card is highlighted by the middleweight title fight between current title holder Chris Weidman (11-0) vs. Lyoto Machida "The Dragon" (21-4). The co-main event will feature Ronda Rousey (9-0) as she takes on Alexis Davis (16-5).

We caught up with nine-time UFC vet to get his take on all of the main card match-ups. In addition to being a long time fan of the sport, Luigi Fioravanti has fought all over the world including Japan. Fioravanti (24-11) is currently an MMA instructor at Finney's MMA and will compete in an 8-man tournament at Battlegrounds MMA 5 in Oklahoma in October.


Chris Weidman vs. Lyoto Machida

Both guys are tough and don't mind being on the inside. Weidman is very athletic and has some good submission skills. I think it is very important for Machida to keep good distance and use his experience to his advantage. Winner: Machida


Ronda Rousey vs. Alexis Davis

I have to go with Ronda Rousey here at this point in time I think she is competing at a different level then the competition. Winner: Rousey


Stefan Struve vs. Matt Mitrione

Again both are big strong guys and I would not recommend standing and trading
punches. I believe Stefan Struve is the more well rounded fighter and with 35
professional bouts. He will be more comfortable in the cage and win the fight
Winner: Struve


Uriah Hall vs. Thiago Santos

Hall has all the tools including a reach advantage. I think Hall is an awesome fighter with something to fight for in this match up. I look for Hall to take this fight by TKO. Hall has won seven of his nine wins by knockout Winner: Hall


Marcus Brimage vs. Russell Doane

Marcus Brimage trains at American Top Team. I have spent a little time with him and I know he is a tough fighter. He has that combination of strength and explosive speed. Brimage has a tough chin and can take a punch. Winner: Brimage

UFC 175 is on Pay Per View Saturday, July 5th starting at 9PM. Watch for free at St. Louis Ballpark Village. Find out more here.