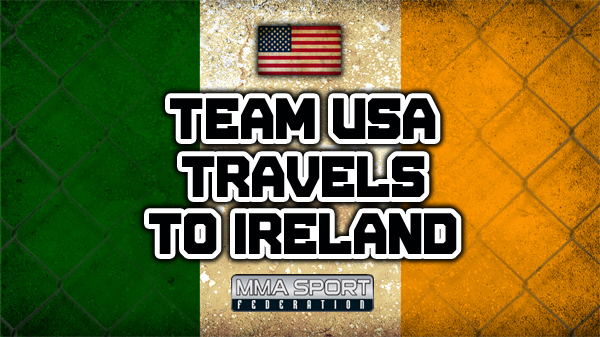 Team USA Travels to Ireland
In the month the Irish people celebrate their patron saint St. Patrick, Team USA will be traveling to Dublin and going to battle on hostile ground.

Head coach Joe Worden, as part of the MMA Sport Federation, will be leading a squad of local amateurs into the cage against Team Ireland. Team USA and Team Ireland will renew a bitter rivalry in the nation's capital of Ireland on March 2nd. The two teams have battled on a handful of occasions with neither team getting the clear edge.

"They're a legit squad. Anytime we fight Ireland, we usually split it," Worden said. "They always have tough, tough guys Ireland and Australia have the toughest guys."

Worden and assistant coach Scott Ward have selected four amateurs from Missouri and Illinois to compete including local lightweight Justin Lankford of Berger's MMA.

Worden has coached against Lankford (5-1) on several occasions, including the recent NFA main even with Worden's top amateur Shaine Moffitt back in September. Worden's familiarity of Lankford's toughness helped get him selected to represent St. Louis and Team USA.

"I'm familiar with him from his fight with Shaine," Worden said. "Did great against Shaine, and he was really excited to go."

The 30-year old Lankford's budding MMA career started off red-hot, winning five out of his first six fights. His only loss was to Moffitt.

"I'm really excited for this opportunity to fight overseas, it's a big step for me and I'm glad Joe allowed me to be part of the team on this one," Lankford said. "Everyday I get a little more excited, but I don't think it's its going to hit me until we are boarding that plane."

Lankford admits representing Team USA comes with added pressure, but isn't going to let it get to him. Normally a featherweight, will be competing in Dublin one division higher at 155-pounds. He will be joined by three amateurs from the Southern Illinois school Warrior Concepts home of assistant coach Ward.

In 2013 Team USA will be opening up its roster spots allowing for more athletes to get the opportunity for international fight experience.

"We're trying to open it up and expand the opportunities," Worden said. "We're getting other gyms involved, we'll be going out west to get some guys from Grindhouse."

Worden admits that it's sometimes a challenge finding the right athlete to bring with limitations from the host country on certain match-ups.

"The other countries give strict parameters such as number of fights, weight," Worden said. "So it is somewhat difficult to find the right guys to bring."

The last time Team USA and Ireland competed against one another was in 2011 in Chicago on St Patrick's Day and the two teams split the results.

In addition to the planned trip to Ireland, MMASF plans on sending Team USA to Bogota in May, Peru in July, and Elsavador sometime in the Summer. An additional trip to Mexico is planned for September 17th.

Worden's other team Destruction MMA out of Farmington Missouri had a great 2012 going a combined 31-10 for the year. It was a year that also saw the pro-debut of highly touted amateur Alex White, and an undefeated streak of fights for Destruction's other pro Eric Irvin.

Irvin (5-3) started 2013 with a very high profile fight against UFC-vet Charlie Breneman in Pennsylvania. Irvin fought tough against the former Pros vs Joes winner, but eventually lost via submission in the second round.

"We were holding our own until the second round," Worden said. "Got overzealous and got caught in a scramble."

White continued his amateur unbeaten streak of 15-0 with four professional victories with wins over Javon Wright, Mark Ngyuen, Greg Wilson, and Charron Spain. White will be competing on April 5th for the Cage Fighting Events promotion, with a world title opportunity looming in May. Not much can be revealed about White's May booking, but it will be an incredible opportunity for the young pro.

Other highlights included a breakout year for Moffitt. Moffitt went 3-0, won the Missouri State BJJ tournament, finished second in the golden gloves, and competed in two main events for the Nemesis Fighting Alliance where he won the NFA featherweight title. Moffitt won Spire's award for Most Improved Amateur in 2012. Bantamweight Luke Fulk went 2-0 and won the NFA bantamweight title. Light heavyweight Tom Baker rebounded off of his fighter of the year performance in 2011 and defeated Bil Dwyer in in the June Nemesis main event.

The thirty-six-year old Worden was inducted into the US Martial Arts Hall of Fame last summer and 2013 marks his sixth year coaching Destruction MMA.

If all of these responsibilities weren't enough, Worden will be also helping to launch MMA Programs at a major fitness club franchise in Bogota, Columbia.

Worden became a bit of a celebrity on a recent MMASF trip to Columbia back in October.

"People don't have tattoos down there. People were intrigued. You couldn't walk down the street without someone handling you a baby and saying hey take a picture. Nobody here would give a 220-pound tattooed, man a baby."