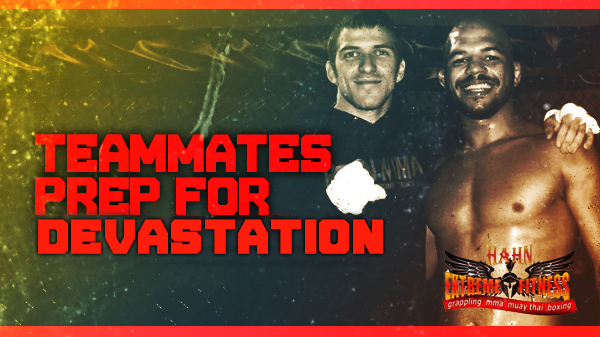 Teammates Prepare for Devastation
There is electricity buzzing through a gym when a fighter has a bout right around the corner; just a different feel altogether. Other fighters, in full gear, gathered around the cage watching the warrior prepare for battle. They bark out orders in an effort to help polish and fine-tune. There is a sense of urgency that is magnified far beyond its normal threshold.

Now imagine this energy doubled.

Both of the fighters putting in rounds inside that cage are preparing for fights; fights that happen to be on the same night, in the same venue, for the same promotion. There is one element of this equation that isn't remotely close to being the same though.
The fighters.

On Saturday, June 7th Hahn MMA training partners Lance DeClue and Malcolm Smith will take to the cage at River City Casino for Shamrock FC: Devastation. DeClue and Smith share a desire to bring home a win,, but their roads to get here, their motivations, and their inspirations are nearly polar opposites.

As high school athletes, both played football and wrestled. Both contribute their athleticism, work ethic and grittiness to these athletic disciplines. But, it's the sports that they don't have in common that they claim are the most responsible for where they are today in the sport of MMA.

While DeClue says that baseball's cerebral elements have prepared him mentally to outthink his opponent and make split-second decisions in the heat of battle, Smith attributes his time competing in throwing elements of track and field for putting the fire in him that makes competing so satisfying. Smith was always considered undersized compared to his fellow throwers, which pushed him to work harder, develop better technique, and taught him to have the heart he needed to be successful.

Another big difference between them is their fighting styles. Although both have a strong wrestling base, DeClue has a love for jiu jitsu and is known to be a very slick submission artist. Smith's passion lies in the art of Muay Thai, oft demonstrated through his thunderous knees, powerful kicks and his heavy hands.

Feeding his urge to compete

Malcolm "The Caramel Nightmare" Smith was born and raised in Festus, MO. The oldest of seven children, Smith learned responsibility at an early age. His parents separated early in Smith's life and he had to step up and be the man of the house. His mother, who works out with Smith every morning, has worked as a CNA/nurse for many years and recently became a social worker for the nursing facility where she is employed. Smith's father, a truck driver, has worked many labor jobs through the years.

In school, Smith was a great all-around athlete. He excelled in a number of sports, but the one that really had his heart was football. Starting varsity as a freshman and having a very successful career on the field, Smith was able to obtain a scholarship to Central Methodist University. Smith decided that college life wasn't what he was looking for and he moved back home. Once back in Festus, Smith was looking for something to feed his urges to compete. His step father worked out at a local gym and introduced him to MMA coach Kevin Hahn. Since then, the two have become nearly inseparable.

Smith used MMA training as a way to stay in shape and fulfill his competitive needs as he prepared to join the military. Two days before he was supposed to leave for basic training, Smith had his first amateur bout. Smith believed that he would be able to stand and bang with his opponent, but early in the first round, his wrestling instincts kicked in. Securing a double-leg takedown, Smith planted his opponent, Brian Davis, flat on his back. From there he was able to unleash some ground and pound, forcing the referee to stop the fight just fifty-six seconds into the first round. It was at this point Smith knew what he wanted to do for the rest of his life.

Deciding to forego a military career, Smith moved in with Hahn, allowing him to train full-time and commit more time to the sport that he fell in love with. Hahn, who Smith deems his hero in multiple facets of his life, has taken Smith under his wing not only as a coach, trainer, and mentor, but as an employer. Hahn is the owner of a bug extermination business and Smith is his lone employee. Smith also teaches a children's grappling class that he is incredibly passionate about. His face lights up like a kid on Christmas when he starts talking about being a part of training the next generation of MMA stars.

The owner of two amateur titles; GFL and Spire Regional 170lb belts, Smith made a pretty good run of his amateur career. Never lacking confidence, Smith has a swagger about him that most might consider cockiness. In reality, he is rather soft-spoken, respectful, and has a sly child-like grin when he finds something amusing. The 23-year-old has bounced around a handful of weight classes. Smith fought his amateur career at 185 and 170-pounds and has moved to lighter weight classes since turning pro. After beginning his pro career with two bouts at 155, Smith has found a home and more success at featherweight.

Nothing but W's

One of Smith's primary training partners, DeClue has also been under the tutelage of Hahn since he first started training. Unlike Smith, he originally had no interest in competing.

One evening DeClue's father brought home a VHS tape of what he thought was professional wrestling. What it actually turned out to be was UFC 1, 2, and 3 all on one tape. This collection of fights was all it took for DeClue to want to learn everything he could about the sport. He joined Hahn's MMA with the intention of staying in shape and learning as much as he could absorb. After seeing DeClue's dedication and growing skill set, Hahn convinced him to take a fight.

According to DeClue, his first amateur bout was his hardest and most memorable fight to date. It really taught him a lot about himself and the sport he has immersed himself into. Admittedly unprepared and undertrained, DeClue got thrown around for a good portion of the fight. It was in the second round that DeClue found an opening and was able to catch his opponent in a necktie and earned himself the submission victory. Ashamed of his conditioning, DeClue came away from this experience knowing that he had the heart to do this and the drive to make himself be more well prepared for future bouts.

"You can't quit until you lose."

These were the words spoken to DeClue by his coaches and teammates. Now, as a professional he is still holding up his end of the deal. DeClue, now 30-years-old, has yet to lose a fight. His amateur career was short, compiling a 3-0 record before making a jump into the professional ranks. His lone professional contest to date was a convincing TKO win in the second round. When asked if he does intend to quit if he loses a bout, DeClue seems unsure. Regardless of the outcome Saturday night, DeClue is certain that he will continue to train and better himself. He has every intention of making the sport of MMA a part of his life until he is no longer able to. Other professional combat sports, such as boxing, kickboxing, and Muay Thai are not being pursued, but DeClue hasn't ruled them out completely. The plan is to take the fighting as far as he can, continue to train, and then possibly consider coaching and training other fighters.

DeClue, a banker by trade, grew up in DeSoto with his two sisters, his homemaker mother and a father that worked hard in factory jobs to support them. According to DeClue, his mother has attended all of his events but has yet to actually watch one of his fights. Her motherly instinct kicks in and she just can't bring herself to watch her child get beat up. By the looks of it, she has had little to worry about to this point.

"The Silencer" gives credit to his father for being his hero and inspiration. Growing up seeing his father's work ethic was invaluable to him. Seeing the man work multiple jobs to support the family really set a good example and instilled a desire to be the best he can be.

Three years ago DeClue married his wife Tonya, who was his high school sweetheart. After 13 total years together, he says that she is still everything to him and she will always be the love of his life. That's pretty open and heartfelt for a guy that makes money trying to choke people into unconsciousness.

Poised and ready

Both Smith and DeClue have spent recent weeks training hard with Hahn and striking coach Charlie Kelly. They have been putting in countless rounds with training partners TJ Casey, Jake Beuhler, Logan Santschi, and teen phenom Evan Elder. Trips to Finney's MMA have also been keys for them to see different looks from guys they don't typically face in the gym regularly. Also contributing are Erik Paulson, Marcus Charles, and Greg Nelson, whom all come from Erik Paulson's Combat Submission Wrestling, an affiliated gym.

Both fighters are poised and ready to get to work this Saturday at River City Casino for Shamrock FC : Devestation. Smith will be facing off against Matt Dukes in a three round battle. Smith believes that he is the more well-rounded fighter, with better wrestling and a better submission game. Smith believes these advantages are going to expose a few holes in his opponent's game and he will be able to capitalize on them en route to victory.

DeClue, the 2009 NAGA Indiana state champ, believes he will be comfortable wherever his opponent, Shane Schomidie, takes the fight as long as he keeps a level head and stays technical.

Come out and support local MMA and these two local warriors. They are sure to not disappoint.

Tickets are available, just click here.